Chekhov arrived in Irkutsk 4 June 1890, and stayed in room #10 at the Amur Podvore Hotel at #1 B, Furie Street.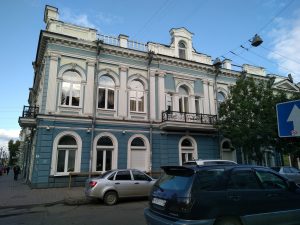 The building stands, though it is no longer a hotel. At the time Chekhov could not have known that some 130 years later, just a bit down and across the street, a fine coffee shop, the White Crow (Belaya Vorona)  would overjoy and refresh a weary Chekhov acolyte from far away.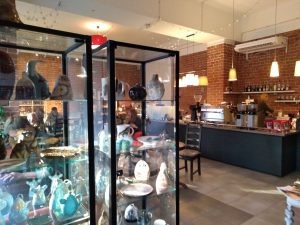 This future visitor's hotel, located in one of those venerable Siberian wooden buildings that are gradually sinking into the earth, doubles as a kind of creepy doll museum with highly breakable knickknacks in showcases.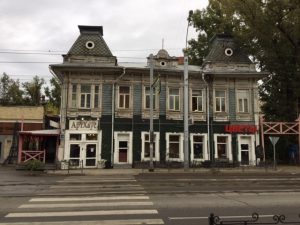 Your room looks out onto a picturesque courtyard filled with items that might come in handy someday, or possibly might become part of the museum.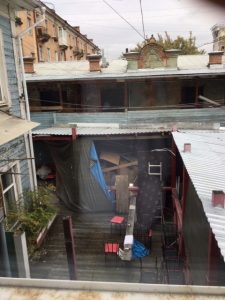 Guests are greeted by an extraordinary fish named Vitalik, who enjoys gazing at you and comes over to his window sometimes to be patted.  Down the street you can enjoy some Mongol delicacies under the watchful gaze of a Siberian bear.
Though inevitably animals are eaten in Irkutsk, they are also loved and respected.
And you can drink water from the Baikal….
Where were we? Oh, Chekhov! Chekhov liked the city, where he spent a week.
Of all Siberian cities, the finest is Irkutsk. […] Irkutsk is a splendid city. Extremely cultured. Theater, museum, a city garden with music, good hotels…There are no ugly fences, absurd signs and vacant lots with notices that one is not to loiter. There is a bar called the Taganrog. Sugar is 24 kopecks; cedar nuts are 6 kopecks a pound. …Irkutsk has carriages with springs. It's better than Ekaterinburg and Tomsk. A regular Europe…

Из всех сибирских городов самый лучший Иркутск [….]Иркутск превосходный город. Совсем интеллигентный. Театр, музей, городской сад с музыкой, хорошие гостиницы…Нет уродливых заборов, нелепых вывесок и пустырей с надписями о том, что нельзя останавливаться. Есть трактир "Таганрог". Сахар 24 коп., кедровые орехи 6 коп. за фунт…В Иркутске рессорные пролетки. Он лучше Екатеринбурга и Томска. Совсем Европа…
And there is a Chekhov street, where life in Irkutsk goes on.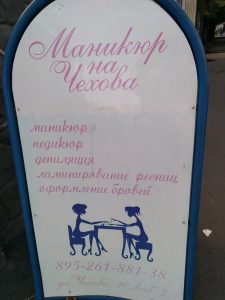 Like our other Siberian cities, Irkutsk grew on a riverbank. The Angara brings water here from Lake Baikal, just an hour's drive away; after passing Irkutsk, it bears this Baikal water north to the cold Arctic. I believe I have emphasized the Siberian clouds sufficiently, and that you do not need to be reminded to notice them.
My consultants had told me to  be sure to see some of Baikal's famous nerpas (seals). So I took my tourist map, on which the word "nerpinarium" had caught my eye, and hopped on a bus heading up the hill from the train station. The trip entailed some major hiking up the hill from the bus stop. I am pleased to say that I was able to find the Nerpinarium. This was the good news.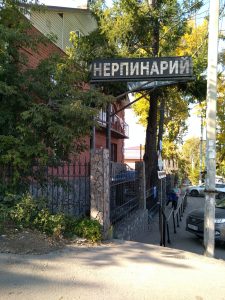 It turns out, the nerpinarium was not only closed, but closed "na remont."

(I taught you this important Russian expression a few days ago).
The na remont state of affairs might have been the bad news; but it might also have been just more good news. I'll go for the latter, for the nerpinarium closure freed some time for some Irkutsk exploration. I hopped on a random bus, to see where it would take me.
As the bus rolled off yet further up the hill from the train station and gave the impression of heading someplace quite far away, I felt the need to get to know my fellow passengers. A lady who was sitting next to me, who turned out to have had a career in the Academy of Sciences here in
Irkutsk, suggested that since I was on this bus already, I might as well take a look around the area, which is where a number of academic institutions are based: Akademgorodok. So instead of watching a performance by Baikal seals, I spent some quiet time strolling and breathing pure autumn air in a hilltop park. This is what I would have made back home, if given a choice between a seal show and a walk in the woods.
I could stay here among these birch trees forever, I think.
I could also stay in the town of Irkutsk, which has a lot of character, and might have looked like this when Chekhov visited.
My guide in Irkutsk is a fellow Chekhov enthusiast, Elena Shishparyonok, who teaches in the Journalism department of Irkutsk State University. Elena and I visit two homes commemorating famous Decembrists  who were exiled here.
The Decembrist Revolt

After an attempted coup in 1825, a number of elite officers, members of the nobility were convicted and sentenced to exile in various locations around Siberia. These were the lucky ones; five of their comrades were hanged.

Feel free to google "Decembrist Uprising" for more of this extraordinary episode in Russian history.
The Decembrists left traces all over Siberia. We first encountered them on their journey in Tobolsk, where the Decembrist wifes gave Dostoevsky the famous Gospel text that played such an important role in his live in and after prison and exile, and in his great novels.
Here in Irkutsk, there are two Decembrist "house museums." One belonged to the daughter of Sergei Trubetskoy (the original house burned down). Ekaterina Trubetskaya, originally from France, married him followed him into exile for love.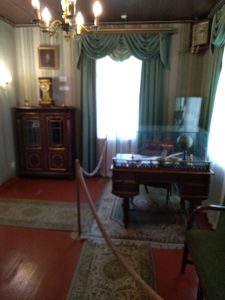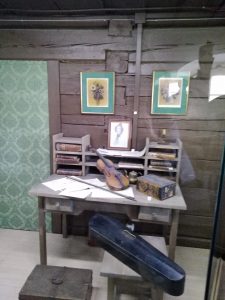 The other museum is in the original house where Sergei Volkonsky, one of the most famous Decembrists, lived with his wife, Maria Volkonsky, who was a princess, and their children.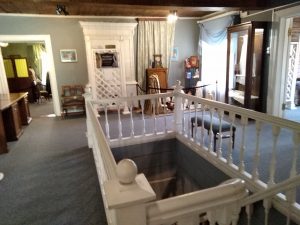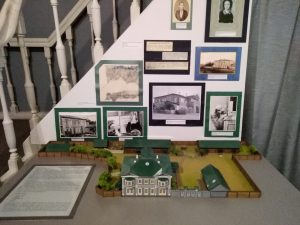 When I visited, the Volkonsky Museum was featuring an exhibit of nineteenth-century fashion.  Some Decembrists were quite wealthy  and were able to receive money from their families back in Western Russia. I was struck by the sense that these homes were centers of culture in Irkutsk–and still are.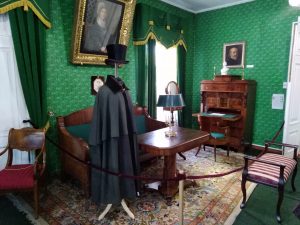 It takes some effort, walking through these rooms, to recall the suffering hidden behind the walls of these islands of civilization: the families' separation from their loved ones back home, and their knowledge that their cause of political reform had failed. Not to mention that their punishment included laboring in Siberian mines and other unpleasant activities…
The city itself has lots to offer, in addition to its museums, monuments, and the Chekhov aura that lingers in the air.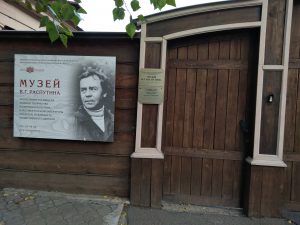 One convenient feature of Irkutsk is its many Beeline shops. Here one can receive free psychotherapy in exchange for letting the specialists admire, I mean play with, I mean use, your passport to solve your cell- phone problems.

Ultimately the therapy session led to the purchase of a second SIM card, which my three therapists assured me was truly mine. There was no mention of an Uzbek double, but his shadowy presence lurks in my phone–for his is the one of my two phone numbers that I have spent considerable effort memorizing. As has become customary in my Beeline sessions, we test the phone's two numbers and they work just fine, IN THE STORE AT LEAST.
Not least among Irkutsk's many charms is its proximity to the great Lake Baikal. Elena and her husband Roma drove me out for a day on and near the lake, first at the lakeside town (posyolok) of  Listvyanka, and then at a remarkable museum of wooden architecture on the banks of the Angara.
Chekhov left Irkutsk on the evening of June 11, traveling along the river and reaching Listvyanka (then called Listvenichnaya) on the evening of June 12. Chekhov and his companions (including an Irkutsk Technical School student Innokentii Nikitin) rented a small lakeside apartment. There they waited for a boat that they could ride across the lake.
«Байкал удивителен, и недаром сибиряки величают его не озером, а морем. Вода прозрачна необыкновенно, так что видно сквозь неё, как сквозь воздух; цвет у неё нежно-бирюзовый, приятный для глаза. Берега гористые, покрытые лесами; кругом дичь непроглядная, беспросветная. Прожил я на берегу Байкала двое суток. Забайкалье великолепно. Это смесь Швейцарии, Дона и Финляндии». (Из письма Н.А. Лейкину 20 июня 1890 года, пароход «Ермак»)
Baikal, the deepest freshwater body of water in the world, is a mile deep, and Chekhov reports that its stunning beauty sent chills down his spine, and made him curse Levitan—his friend and Russia's greatest landscape painter—for not being there. We take a few moments here to fantasize about what the trip would have been like if Levitan had come along.
I was able to dip my hand into the cold Baikal at Listvyanka, and indeed to see down through the beautiful, transparent water. To the hungry, a key feature of Listvyanka is its market, where you pick up some of the lake's famous omul' for lunch.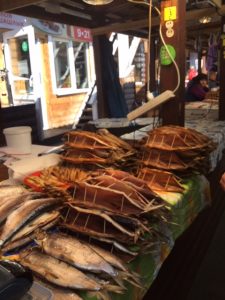 The food selection is much better than it was in Chekhov's time; he commented firmly on the abundance of vodka at the expense of pretty much else.
We have taken a little barn of a lodging […]. Just outside the window, two or three yards from the wall, is Lake Baikal. We pay a rouble a day. The mountains, the forests, the mirror-like Baikal are all poisoned for me by the thought that we shal have to stay here till the fifteenth. What are we to do here? What is more, we don't know what there is for us to eat. The inhabitants feed upon nothing but garlic. There is neither meat nor fish. They have given us no milk, but have promised it. For a little white loaf they demanded sixteen kopecks. I bought some buckwheat and a piece of smoked pork, and asked them to make a thin porridge of it: it was not nice but there was nothing to be done, I had to eat it. All the evening we hunted about the village to find someone who would sell us a hen, and found no one… But there is vodka. The Russian is a great pig. If you ask him why he doesn't eat meat and fish he justifies himself by the absence of transport, ways and communications, and so on, and yet vodka is to be found in the remotest villages, and as much of it as you please.

–June 13, tr. Constance Garnett Letters of Anton Chekhov, 1st World, 2004, p. 223
Faring much better than Chekhov, Elena, Roma and I stock up on omul', caviar, lavash, and berries, and head for the Taltsky wooden architecture and ethnography museum. The museum is an astonishing collection of log buildings from all around Siberia, brought here to the banks of the Angara and rebuilt in a beautiful natural setting.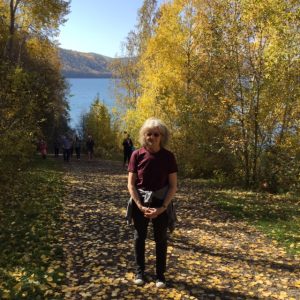 When you enter the wooden tepee hut, your head starts to spin. It happened to all three of us…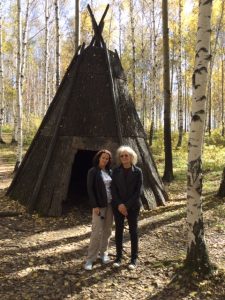 The experience did help build up an appetite.
Ultimately, the high point may have been our picnic, which in addition to the fishy bounties of the Baikal, featured tea and actual, excellent espresso from a little booth nearby.
Just about as good as life can get.