Collaborative Event Ethnography (CEE) builds on other methodological innovations in ethnography – multi-sited, team, institutional, and organizational ethnography – to account for the untraditional nature of international meetings as field sites, and the difficulties they pose for researchers working alone.
International meetings offer windows into global environmental governance, but meetings are "complex and fragmentary" (Little 1995). They typically occur over one to two weeks with multiple parallel events. They include formal plenary and working groups where delegates negotiate texts, and then contact groups, "friends of the chair" (and even "friends of the friends") groups for detailed textual revision. They include hundreds of informal side events organized by NGOs, governments, research groups, intergovernmental organizations, and others to highlight research, projects, and policies, sometimes with explicit lobbying objectives. Hallways and lobbies are filled with tables featuring small promotional gifts and documents, poster stands, and other creative displays. Social gatherings occur in the evenings on and off-site. There are press conferences, "on-message" entertainment, and protests.
In short, there is much of interest to researchers; too much for any single researcher.
To tackle these challenges, we collaborate as a team of researchers. Originally, we collaborated for practical reasons; more people can cover more events. We soon realized the intellectual benefits of collaboration, the value of not just more people, but more ideas.
"...through ongoing collaboration in process from data collection to analysis and writing, a team of researchers is better able than an individual to address crosscutting themes and to generate a comprehensive understanding of meeting dynamics. As collaborators discuss and debate each other's observations and interpretations, they produce a nuanced and powerful analysis."
Traditional ethnography entails cultural immersion, with researchers embedded in "field sites," learning local languages, participating in events, shadowing actors, gathering informal information, and recording field notes to produce "thick description." Ethnographers are attentive to the meanings people attribute  to their social and political realities, and have been critical to the study of biodiversity conservation in particular places. A goal of our work is to connect such studies to the the politics that shape the ideological and practical orientation of institutions for global environment governance. 
International meetings have mostly been studied by political scientists, often with a focus on outcomes. We are equally interested in the processes through which outcomes are achieved and the insights these provide into how global environmental governance is accomplished. We bring ethnographic attention to these non-traditional field-sites, active political spaces where, for example, epistemic communities align and can be tracked, and where their ideological work is done. Meetings are spectacles, orchestrated and structured to facilitate a renegotiated 'order' of conservation. They are sites of conservation policy-making, where the interests of various stakeholders are negotiated and traded off, in high profile, public events. At meetings, ethnographic researchers can observe and document dynamic processes of governance as they unfold in time-condensed settings.
The Collaborative Approach
"Ultimately, as we have developed CEE as an approach to collaborative fieldwork, we have inadvertently cultivated a commitment to slow scholarship. We are interested in spending time to collectively develop our ideas, rather than producing publications as quickly as possible. We are committed to long-term learning, deliberate reflection, and methodological refinement. We value one another
'
s well-being over our labor. We appreciate one another
'
s friendship as well as our ideas. We resist the demands of academic metrics for individual products. And we celebrate the collective over the individual, while still nurturing individual careers. This, we argue, produces strong scholarship and provides an innovative model of human geography fieldwork" (Gray et al., 2020)
A day in the life of a Collaborative Event Ethnographer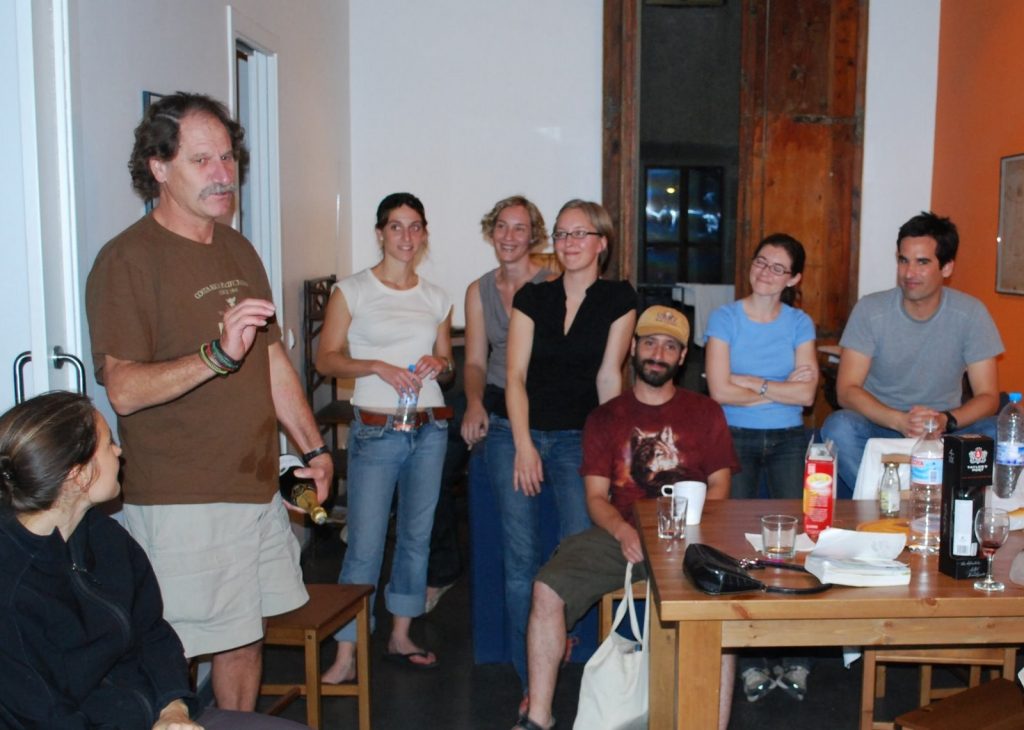 Phone calls, text messages, emails, and notes were essential for navigating the overlapping sessions of the WCC. Researchers typed notes from session meetings immediately after they were held and circulated them via email to those not present. We met as a whole group each day to discuss emergent themes and ideas, clarify scheduling, and coordinate our efforts in numerous minor ways. Other smaller meetings were frequent; a cluster of beanbag chairs in the convention centre lobby became an impromptu drop- in spot, where one or two team members could usually be found. Evenings included participant observation at the many receptions, book launches, and other informal events. The locations of our shared apartments in a lively Barcelona district proved convenient; dinner was often tapas taken at 11 pm, and our after-dinner discussions sometimes lasted into the early morning."
-- Brosius and Campbell, 2010
Each CEE takes a different shape, depending on the nature of and agenda at the meeting, the number of team members, researcher interests, and how the research is funded. Particular methodological innovations for individual CEEs are  described on the individual meetings pages.  Here, we describe general practices related to three phases of the research. 
Ideally, CEE methodology aims to engage all researchers in all elements of research.  However, CEE requires funding, ideally core funding that supports participation by researchers in all three phases of research. Thus, in practice, a small group of researchers engages in proposal writing, before the full team is assembled. This inevitably involves identifying overall research goals, questions, and methods of data collection and analysis. However, our interest in global environmental governance generally combined with broad meeting agendas means that there is ample opportunity for researchers not involved in grant writing to shape our collaborative research, during any of the three phases .
Phase 1: Before the meeting, virtually
team building
training, usually following a formal curriculum 
organizing sub-groups around emerging shared research interests
developing of shared observation guides, data collection templates, and agreements related to data sharing and authorship
Phase 2: At the meeting
meeting as full team to review daily schedule and emerging observations, ideas, and themes
meeting in sub-groups to coordinate activities
observing and recording assigned sessions
processing, organizing, and sharing data from individual sessions 
recording reflective notes
Phase 3: After the meeting
meeting as full team and sub-groups to discuss observations and emerging analyses, and to assign data processing, analysis, and writing tasks
organizing and attending a writing retreat to advance shared writing projects
disseminating results at conferences, invited talks, and through teaching
Publications related to Methodology & Methods
Brosius, J.P., and L.M. Campbell, 2010. "Collaborative Event Ethnography: Conservation and Development Trade-Offs at the Fourth World Conservation Congress." Conservation and Society 8 (4): 245-255.
Campbell, L.M., C. Corson, N.J. Gray, K.I. MacDonald, and J.P. Brosius, 2014a. "Studying Global Environmental Meetings to Understand Global Environmental Governance: Collaborative Event Ethnography of the 10th Conference of the Parties to the Convention on Biological Diversity." Global Environmental Politics 14 (3): 1-20.
Corson, C., N. Gray, L. Campbell, and P. Wilshusen. 2019. Assembling Global Conservation Governance. Geoforum. 103: 56-65 doi: 10.1016/j.geoforum.2019.03.012
Corson, C., L.M. Campbell, and K.I. MacDonald, 2014a. "Capturing the Personal in Politics: Ethnographies of Global Environmental Governance." Global Environmental Politics 14 (3): 21-40.
Gray, N., C. Corson, L. Campbell, P. Wilshusen, R. Gruby and S. Hagerman. 2019. "Doing Strong Collaborative Fieldwork in Human Geography". Geographical Review. 110 (1-2): 117-132. doi: 10.1111/gere.12352