Host: UN Development Program
Location: Rio de Janeiro, Brazil
The United Nations Conference on Sustainable Development was held in 2012 in Rio de Janeiro, the home of the first UN Earth Summit in 1992. Studying 'Rio+20' provided a opportunity to situate biodiversity conservation governance within a broader sustainable development agenda, where concerns with poverty alleviation, human health, and food security are of equal focus. 
At this third CEE, 13 researchers collaborated on site, and our efforts were enhanced by the Mount Holyoke research team that also conducted research at preparatory events at UN headquarters in in New York City.
Develop the outcome document, "The Future We Want"
Agree to develop global UN Sustainable Development Goals (SDGs)
Discuss the role of the UN in protecting marine biodiversity in areas beyond national jurisdictions, on the 'high seas'  
Team members:  Bridget Brady, Lisa Campbell, Catherine Corson, Luke Fairbanks, Angela Kim, Julianna Lord, Ken MacDonald, Emma Puka-Beals, Jennifer Silver, Peter Wilshusen, and Ahdi Zuber.
Logistics: Rebecca Gruby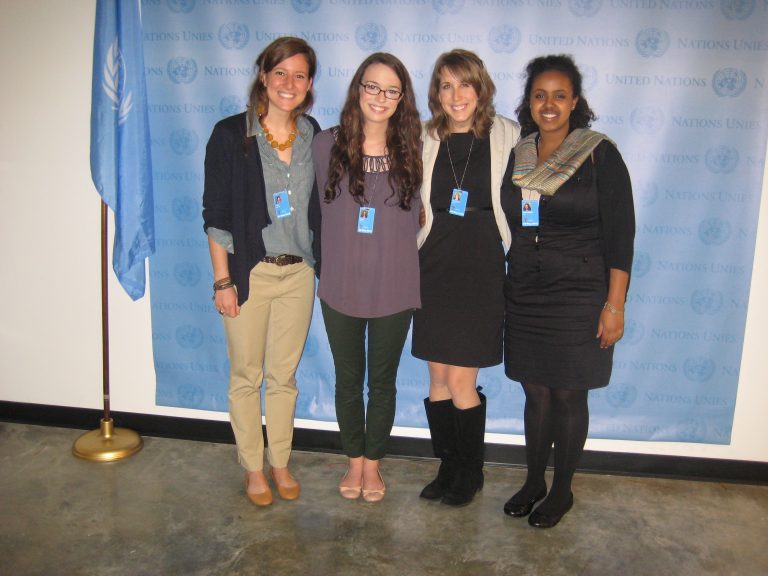 At Rio+20, we organized ourselves into three sub-groups, focused on human rights, corporate sustainability, and the blue economy.  Collaboration in the larger team was constrained by a meeting venue 30-60 minutes by shuttle from most hotels, a separate location for the UN Global Compact for corporate sustainability, a 12/hour/day formal program with few breaks, and few places to meet when breaks occurred. Without core funding for the research, we had few incentives to overcome these constraints to broad collaboration and instead prioritized our work in sub-groups. 
Sub-groups had momentum from past CEEs, and focusing more narrowly on these interests allowed us to think about meetings in relation to one another over time, which in turn influenced our emerging understanding of global environmental governance and processes of assemblage. 
Catherine Corson also involved Mount Holyoke undergraduates, and took advantage of the college's proximately to UN headquarters in New York City to initiated a pilot project to study the preparatory process for the conference. This expanded the CEE method to capture multiple stages of negotiations, which helps to better understand in what ways 'the meeting' matters.
Key Collaborative Findings
Though the 'major groups' mechanism, civil society organizations often self-discipline about procedural rules and behavioral norms, to retain formal rights to participate
In contrast to Green Economy, Blue Economy (a term mobilized by Small Island Development States during Rio+20 preparations) was mostly uncontested, but defined differently among its proponents
The UN Global Compact extends the economistic field of conservation governance 
- Corson et al. 2015, Silver et al. 2015, Wilshusen and MacDonald, 2017
"We recognize that people are at the centre of sustainable development and in this regard we strive for a world that is just, equitable and inclusive, and we commit to work together to promote sustained and inclusive economic growth, social development and environmental protection and thereby to benefit all."
- Rio+20 outcome document "Future We Want"
This research was funded primarily by internal resources at the home institutions of the authors. Additional support for Mount Holyoke students was provided by a private donor Ron Oehl. Rebecca Gruby received support from the Oak Foundation. 
Campbell, L. M., Gray, N. J., Fairbanks, L. W., Silver, J. J., & Gruby, R. L. (2013). Oceans at Rio+20. Conservation Letters, 6(6), 439-447. doi:10.1111/conl.12035
Corson, C., S. Brady, A. Zuber, J. Lord, and A. Kim, 2015. "The Right to Resist: Subordinating Civil Society at Rio+20." The Journal of Peasant Studies 42 (3): 859-878. 
Silver, J.J., Noella J. Gray, Lisa M. Campbell, Luke W. Fairbanks, and R.L. Gruby, 2015. "Blue Economy and Competing Discourses in International Oceans Governance." The Journal of Environment and Development 24 (2): 135-160.
Wilshusen, P., and K.I. MacDonald, 2017. "Fields of Green: Corporate Sustainability and the Production of Economistic Environmental Governance." Environment and Planning A 49: 1824-1845.