It all started with Bobby. ​
Bobby's Coaches is named after Bobby Menges, a Duke University student, patient, advocate, Pi Kappa Alpha fraternity brother, and force of nature for doing good in his community. Bobby survived childhood cancer and embraced life head on and passionately as he grew up navigating cancer and survivorship at a young age. 
While studying at Duke University, Bobby received the news of his childhood cancer returning. He re-entered a world he unfortunately knew well. A world of doctor appointments, treatments, side effects, and one that seems overwhelming and isolating.
But now, Bobby was facing this world through a new perspective. That of a young adult, filled with the excitement of independence, and on the brink of making his mark on the world.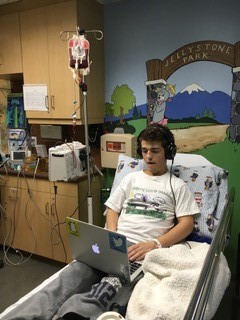 After the diagnosis, Bobby began treatment while continuing to pursue his education at Duke University. Bobby was constantly fundraising, volunteering, or speaking at events to benefit the cancer community and raise awareness. He began to mentor other students at Duke living with chronic illnesses. 
As a member of the Duke Teen and Young Adult Oncology Patient Advisory Council, he voiced the need for specific young adult care in a world where cancer patients are typically pediatric or geriatric. Bobby recognized this gap in care and championed for change for himself and other young adults experiencing cancer.
"When Bobby walked into a room, you felt like you could do anything. Bobby's Coaches strives to continue in this spirit – to meet cancer patients where they are and support them in navigating what comes next."
To honor Bobby, the Menges family created the I'm Not Done Yet Foundation that focuses on adolescent and young adult patients with cancer and other serious, chronic, and long-term illnesses.
Through this foundation and other generous ongoing donations, Bobby's Coaches was established at Duke University in order to impact young adults in which the way Bobby championed for himself and others.
As a result, Bobby's Coaches is focused on peer support and coaching during and after the cancer diagnosis to increase independence throughout adolescence and young adulthood.