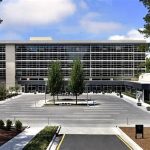 The workshop will take place at the JB Duke Hotel, located on 230 Science Drive, Durham, North Carolina and will be extended to hybrid on-line/in-person format via Zoom Webinar.  The hotel is situated on Duke University's campus just a short walk to any of Duke University's East campus.
Guests can relax and enjoy a full, finely tuned seasonal menu at the MarketPlace restaurant in addition to daily refreshments provided during the sessions.  Parking is free for all attendants.  
Guests wishing to attend the event in person need to make a request during the registration process.