---
Lieutenant Adam M. Beauregard, United States Navy
Adam received his commission in May 2009 and was designated a Naval Aviator in September 2011 following completion of Naval Flight Training. He is excited about assisting with the Hacking for Defense Program. He has experience with aviation operations and maintenance as well as running a University. He is particularly interested in the use of data to improve outcomes for government organizations and have taken courses on innovation and product development during his MBA study. LT Beauregard holds a Bachelor of Arts in Political Science from Duke University and a Master of Business Administration from the Wharton School of the University of Pennsylvania.
---
Major Ben Spain, United States Air Force
Ben is a 2007 grad of the Duke Computer Science Department. He chose to go into the Air Force after graduating from Duke, where he has been flying C-130Js (short-haul cargo/passenger aircraft) for almost a decade.  Initially, he was stationed in Germany and flew throughout Europe, Africa, and Asia.  For the past 5 years, he has been an instructor in the Air Force's C-130 school where he teaches pilots both new and old how to fly and employ the venerable "Super Hercules" in combat.  Though he has little computer science experience since graduation, he is certainly familiar with the pains of government run IT systems.  He does possess experience with purchasing aviation related software for the DoD, so he could help explain some of how that process works, as well as helping with any other generic military questions.
---
Lieutenant Chris Gierl, United States Navy
Chris is a proud Duke graduate in Public Policy Studies with the class of 2012. From 2012 to 2018, his role was a Weapons System Officer in the F/A-18F Super Hornet. For the past several months, he has worked for the Chief of Naval Personnel in efforts across the fleet to improve the transformations in manpower, personnel, training and education. In these roles, he has gained experience operationally aboard carriers and in airborne combat; managed divisions of sailors and officers in maintenance and administration in an aviation squadron; and has knowledge regarding how the DoD recruits, mans, trains, promotes, pays, retires and provides family related services to the fleet.
---
Lieutenant Daniel Stefanus, United States Navy
Daniel graduated from Duke in 2014 with degrees in Economics and International Comparative Studies. He commissioned through Duke NROTC as a Surface Warfare Officer, serving as the Combat Missiles Division Officer on USS Anchorage and the Assistant Operations Officer for Amphibious Squadron Six. He has deployed three times – (1) Around Yemen (2) Operation Odyssey Lighting – the destruction of ISIS in Libya (3) Baltic Operations 2017. He has won 5 naval essay contests and worked with ProjectAthena, the Defense Entrepreneurs Forum, and Johns Hopkins Applied Physics Laboratory's design thinking program (TANG). He has briefed the Commandant of the Marine Corps on building systemic resiliency and prepared policy proposals for Sec. Mattis, which were briefed by the Secretary to his principals. He currently serves on the Chief of Naval Personnel's strategy and innovation teams, responsible for transforming the naval personnel system through agile feedback processes and rapid prototyping. He is completing a Master's in Defense and Strategic Studies with an Asia-Pacific concentration from the Naval War College. Daniel's strengths are design/systems thinking, strategic communications, and operational planning. For the team, he'd like to help with problem deconstruction, holistic solutioning, and developing resonant messaging.
---
Captain Dillon Buckner, United States Army
Dillon was a member of Army ROTC for 4 years while at Duke and graduated with a BA in Public Policy in 2013. He joined the Army immediately after graduation and served 4 years as an Armor officer where he was a tank platoon leader, a tank company executive officer, and filled several planning and operations roles. He deployed twice, once for 10 months in Kuwait and Egypt under operation Spartan Shield and once for 9 months in Eastern Europe with an armored brigade under operation Atlantic Resolve. Last year he attended the Military Intelligence Captain's Career Course and am now serving as a military intelligence observer/trainer for national guard brigades. He hopes to be of assistance by translating military problems/jargon and institutional challenges to students without military experience. Effective communication with military personnel can have a steep learning curve and he hopes to be able to bridge the academic and military divide. Additionally, he has access to resources including contacts at Fort Bragg, contacts in the Special Forces community (including several Duke alumni), and access to military email databases and resources.
---
Professor Eric L. Ferraro, Defense Acquisition University
Mr. Ferraro joined the DAU faculty in November 2017 from the Naval Sea Systems Command, where he served in the CIO office as the Enterprise Information Systems Program Manager. He was the Accountable Executive for e-government shared services within the Federal Acquisition Service, which included the operations and modernization of IAE(SAM.gov) and establishing the GSA's Integrated Common Acquisition Platform to enable greater acquisition analytics capabilities, reduced system duplication, and greater use of user-centric deign and expert decision support.  Previously, Mr. Ferraro worked for IBM Business Consulting Services and PricewaterhouseCoopers as a Senior Consultant and project manager. He is a retired Naval Supply Corps Officer, which numerous sea and shore duty assignments, an MBA from the University of Virginia, and a Duke alumnus with a degree in Biomedical and Electrical Engineering.
---
Colonel Jeff Donnithorne, United States Air Force
Colonel Donnithorne is the Chief Academic Officer at Air University, Maxwell AFB, Alabama. He is a 1997 graduate of the Air Force ROTC program at Duke University. His Air Force career includes two operational assignments as an instructor weapon systems officer in the F-15E Strike Eagle, with over 300 combat hours in Iraq and Afghanistan. He also served as an Air Force intern, with experience on the Joint Staff, the Checkmate division of the Air Staff, and in the Air Force Legislative Liaison office. Following an instructor tour at undergraduate navigator training in Pensacola, FL, Col Donnithorne attended the School of Advanced Air and Space Studies (SAASS) at Maxwell AFB, AL. He then attended Georgetown University, where he earned a PhD in International Relations with a focus on American civil-military relations. Col Donnithorne commanded the 31st Student Squadron at Squadron Officer School (SOS), Maxwell AFB, AL, and served as director of the Air Force's Center for Strategy and Technology before his current appointment as Chief Academic Officer.
---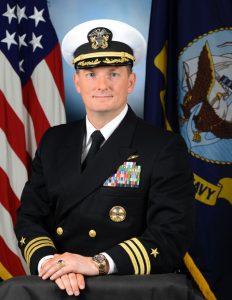 Commander Mark Monturo, United States Navy Reserve
CDR Monturo is a GEMBA'17 Alum and lives in Raleigh, NC. He is a pilot for JetBlue based in New York.  He has been in the Navy for a total of 20 years, 8 active and 12 reserve.  The first 15 years were spent flying maritime surveillance patrols around the globe. He was then the Office-in-Charge of a unit of High-Altitude Long Endurance (HALE) Unmanned Aerial Vehicles (UAV). Most recently he developed human resource policy for the Department of Defense while serving in the Office of the Secretary of Defense.  He could best assist teams in areas of policy, transportation and unmanned systems.
---
Captain Ian Crawford, United States Air Force
Ian is a special operations pilot with the United States Air Force. He attended Duke University where he graduated from Trinity in the class of 2011. He commissioned as an Air Force officer through ROTC and reported to flight training in Mississippi. Upon graduating pilot training, Ian was selected to fly the U-28A and moved to Hurlburt Field, FL to continue his specialized training. He has since deployed five times to combat zones and data masked locations around the world. He is now a mission aircraft commander, in charge of a crew of officers and enlisted personnel. He has acquired more than 700 combat hours and supported numerous overseas operations against extremist networks. Ian is the chief of tactics for his deployed site and integrates closely with multiple ground force and other airborn units. Ian has experience working with and leading military think tank groups in the past and looks forward to joining with this effort and this team in tackling some of the issues facing our force today.
---
Marjorie K. Eastman, Author of The Frontline Generation: How We Served Post 9/11
Marjorie served in the US Army Reserve as an intelligence officer and commander, deployed twice, was awarded the Bronze Star, Combat Action Badge, and ranked the #1 Military Intelligence Company Commander in eastern Afghanistan (OEF X). She has her MA in international security from the Josef Korbel School of International Studies; and her MBA from Owen Graduate School of Management, Vanderbilt University. She is a champion for veterans, women and innovation, a national voice described as a thought leader by PBS's Veterans Coming Home Initiative and selected as one of the nation's Top 25 Influencers Supporting the Military Community, known as Mighty 25. The breadth of her experience in public, private, and nonprofit sectors, in addition to her recent advocacy for post 9/11 military community entrepreneurs will be a one-of-a-kind resource for students enrolled in Hacking for Defense. www.thefrontlinegeneration.com
---
Major Mike Arth, United States Air Force
Mike is the director of the Commander's Action Group for a special operations air organization that supports Joint Special Operations Command at Fort Bragg in Fayetteville, NC.  In his role, Mike serves as a special assistant to the commander of a 500-person organization and focuses on strategic planning and communications, external engagements, organizational improvement, and innovation activities.  Mike previously served as a Dornier 328 instructor and evaluator pilot in Air Force Special Operation Command's Non-Standard Aviation program (NSAv) at Cannon Air Force Base in Clovis, New Mexico.  There he led airborne logistics networks in support of special operations teams on 5 continents.  In Mike's 6 years with NSAv, he flew operational missions on 5 continents.  Mike has flown the DA-20, T-34C, T-38C, Do-328, CN-235, and C-130.  He holds a B.A. in Government from Harvard College. He is excited to connect teams to operators, support personnel, and executives to facilitate their research and developmental efforts.
---
Matthew Campbell, Ph.D., P.E.
Matt graduated from Duke in 2008 with a Mechanical Engineering major and a Markets and Management Studies certificate. He went on to get a Ph.D. in Mechanical Engineering at Stanford in 2014, and earned his Professional Engineering License in Mechanical Engineering that same year. In his first year of graduate school he studied design methodology, working for a year with an eight-student team on an engineering project in collaboration with the company Autodesk Inc. This gave him extensive experience with team dynamics, need finding, corporate sponsors, and engineering uncertainty. Later in graduate school, as well as during postdoctoral work at Sandia National Laboratories, he studied thermal-fluid science. His specific emphasis was energy resources, with projects that dealt with subjects such as hydrocarbon fuel combustion and soot formation. These projects gave Matt practice in public speaking at conferences and publishing his work in peer-reviewed journals. For the past two years, Matt has been working with a non-profit organization in the southern Philippines, doing a combination of mentoring and teaching at a local university among underprivileged minority students. This experience working with a different culture and socioeconomic group has enlarged his worldview and deepened his capacity for cross-cultural understanding. http://www.mcampbell.info
---
Michael Jelen, Director in the Global Applied Technology Practice at Berkeley Research Group
Mike also serves as the lead architect of the DRIVE™ Technology Platform. He is an expert on digital technologies and has authored reports and testified in US Federal Court on issues of computer forensics and data integrity. He has approximately 15 years of experience working with various tools to manage and analyze large quantities of complex data for clients across many industries. Whether the need is to turn Big Data into actionable insights, forensically investigate complex or disparate datasets, advise on technology policy, build bespoke software, or implement advanced technologies including blockchain and artificial intelligence, Mr. Jelen fuses business acumen and technology to engineer creative solutions to complex business problems. Inspired by his client work, Mr. Jelen saw the BRG DRIVE web platform as an opportunity to liberate data beyond technical analysts to key business stakeholders. His experience gained from building and managing an online software platform has led to investigatory and advisory roles related to many areas of software and web development. He has served as the expert technical advisor in several cases involving data privacy breaches at large multinational firms, and engineered solutions to detect and prevent unauthorized logins for geographically restricted content. Currently Mr. Jelen is co-authoring the blockchain adoption policy framework for a prominent government in the Middle East, in addition to advising them on other advanced technologies. Mike has a number of contacts across a wide array of industries and have experience building strategic implementation plans for advanced technology.
---
Major Mike Williams, United States Army
Mike is an Infantry officer with over thirteen years of active duty service and multiple deployments to Iraq and Afghanistan. He is a recipient of the U.S Army's General Wayne A. Downing Scholarship and holds a Master of Arts in National Security & Strategic Studies from the U.S. Naval War College and a Master of Public Policy from Duke University. Major Williams is currently a staff officer assigned to the United States Army Special Operations Command with duty in Washington D.C.
---
Mitch Heath, Chief Operating Officer at Teamworks
 Teamworks is a Durham-based leader in Sports Tech, providing athlete engagement and operational technology to athletic organizations across the Professional, Collegiate, and Olympic levels. Mitch joined Teamworks as a co-founder in 2011 while a senior at Duke (Economics & Public Policy) and returned to Duke for an MBA through Fuqua's Cross Continent program in 2016. Outside of work, Mitch is an avid sports fan, frequent traveler, and proud Durhamite.
---
Mayer K. Ngomesia, United Nations Economic Commission for Africa
Mayer would love to spend lots of time simply trying to make breakfast for his folks. Most days though, his time is spent addressing issues that highlight how the mining sector is about politics as much as economic development. Currently working as mineral sector advisor at the United Nations Economic Commission for Africa, Mayer provides technical advisory support to African governments and their mining sector stakeholders. This work cuts across mining-related political economy, geopolitical/geostrategic, policy and regulatory matters. Previously, Mayer coordinated strategic socioeconomic development processes with global diamond industry entities, governments and CSOs. He has served on advisory bodies for responsible minerals initiatives and helped develop mineral traceability mechanisms. Building on deep experience fostering international development agendas in difficult policy environments, Mayer will deploy his expertise and contacts, as a team resource/H4D Course Advisor. In his spare time, he'll indulge in a penchant for enjoying radio from all over the world, sometimes even without quite understanding the language. Mayer has lived in Africa, the Caribbean, Europe, Middle East and North America and been lucky to travel in fifty countries. He was a Rotary World Peace Fellow at Duke University, where he obtained a Master's degree in International Development Policy.
---
Rayner Jae Liu, Fama Technologies
Rayner is currently the lead content marketer and market researcher at Fama Technologies, a Los Angeles-based AI startup focused on human intelligence and risk management. He can assist with questions on content strategy, user psychology, presentation design, incentive creation, policy change, market research, and business viability. In short: anything creative, human, tactical, and systems. He is a 2016 Duke graduate, with a BA in Cultural Anthropology & Political Science: Security Peace & Conflict.
---
Rick Spillane, Retired Air Force Officer and Teacher
Rick served as a Colonel in the US Air Force prior to retiring in 2011. The majority of his military career was in logistics/ sustainment/ maintenance assignments that ranged from aviation sustainment at the squadron level to fleet wide requirement oversight at the Pentagon. Following military retirement, Rick was certified and worked for General Electric as a LEAN Six Sigma Black Belt for about 4 years, leading project teams focused on both efficiency and effectiveness, teaching Green Belt courses, and mentoring Green Belt project leads. As an advisor, he would be happy to share my perspective/experience with any of the H4D teams both as a prior military stakeholder and from lessons learned leading LEAN Six Sigma projects in the corporate world.  Currently, Rick teaches a Marine Corps Command & Staff College seminar at Camp Lejeune and also teach War College for the Air Force in the distance education program. This provides a continued connection with military officers that experience some of the "national security problems" and that hopefully will benefit in some way from the projects chartered in the H4D course. Rick also teaches part time for the Department of International Affairs at UNCW and occasionally teach LEAN Six Sigma Yellow Belt courses for a local community college.
---
Scott Frederick, United States Marine Corps Reserve
Scott has been in the USMC in a reserve and active role for 18 years.  Since 2013, he has served in the role of a resource or finance officer.  More recently, he is with the Marine Corps Forces Cyber Space Command as a resource and budget officer responsible for the fiscal long-term planning and day-to-day execution.  This entails working with DOD and the private sector to provide the tools necessary for the cyber Marines to fight our cyber enemies around the globe.  Scott is very fluent in how the monies come from congress all the way to the key strokes on an operator's laptop and all the twists and turns along the way. Scott can best help teams as they try to plan out how to fiscally implement any changes and to allow the teams to plan accordingly at a pace that the government can absorb or would approve.  Additionally, he can speak to the procurement process which is very complex.  This would include not just physical cyber tools such as laptops or servers but software, training, and the private sector or other DoD assistance.
---
Stephen Thompson, Subsea Controls Engineer, Shell International Exploration and Production Inc.
Stephen works in project delivery for a major international energy company.  His engineering discipline background is in control and automation systems with 10 years project delivery experience in various areas, including technology development, R&D pilot facilities, and subsea production systems for ultra-deep-water projects.  These projects come with technical challenges in the areas of remote operations & sensing, tenuous communication channels, diverse system integrations, and the need for very high reliability.  Non-technical challenges on these projects include logistics, stakeholder management, and often fast-moving business environments.  Outside of his day job, Stephen has worked with a few other Duke alums to develop software for the analysis and execution of quantitative trading strategies and have lived through many of the challenges that small startups deal with.  Prior to all of this, he served 6 years as a Submarine Officer in the US Navy.  His assignments included 3 years aboard the USS KEY WEST and 2 years as a Naval ROTC instructor at Georgia Tech.  He graduated from Duke in 2002 with a BSE in Electrical Engineering, Computer Engineering, and Computer Science and completed an MSE in Electrical and Computer Engineering at the Georgia Institute of Technology in 2008.
---
Tucker Bailey, Partner at McKinsey&Company
Tucker helps clients address digital, advanced analytics, and technology strategy issues. Focusing principally on supporting public and private-sector clients with strategic challenges related to innovation, security, digital risk management, public safety, and digital enablement, Tucker empowers clients on a broad range of industries to improve strategy and better achieve their missions. An expert on cybersecurity, Tucker coleads McKinsey's digital risk work globally. In this role, he coordinates McKinsey's client service on cybersecurity issues, convenes several chief information security officer roundtables, and drives McKinsey's research agenda on the topic. In addition to his core client work, Tucker is a frequent contributor to our publications and is the coauthor of the book Beyond Cybersecurity: Protecting Your Digital Business (Wiley, 2015). Before joining McKinsey, Tucker served as a US naval officer and a special agent with Naval Criminal Investigative Service. He also cofounded Harbinger Technologies, a security technology company that was acquired by Acxiom Corporation. He received his MBA from Harvard Business School and is a 1996 Duke graduate with a degree in engineering.
---
Andy Gilbert, Booz Allen Hamilton
Andy provides executive leadership to Booz Allen Hamilton's International and Defense business in the Pacific, with focus in Korea and Singapore. He is responsible for delivery of asymmetric operations, strategic planning, transformation and restationing, engineering, and logistics capabilities. Prior to transferring to his current assignment, Andy delivered systems engineering capabilities supporting the Operational Army (e.g., US Forces Command, US Army Reserve Command) and Program Executive Office Simulation Training and Instrumentation (PEO STRI) clients (e.g., Joint Urban Test Capability).  He has had a broad client base with Booz Allen including Departments of Justice, the Treasury, Homeland Security, National Communications System, US Marines, and the US Army.  Andy served in the U.S. Marine Corps as a KC-130 navigator leading the planning and development of the Marine Corps' Operation Desert Storm aerial refueling missions.  Mr. Gilbert has a Bachelor's Degree in International Relations from the University of Southern California, a Master's Degree in Regional Economic Development from the University of California – Los Angeles, and a Master's of Business Administration from Duke University.
---
Ginny Badanes, Director, Strategic Projects Defending Democracy Program @ Microsoft
Ginny's work focuses on increasing the security posture of campaigns and elections, while also addressing the issue of disinformation as it impacts democracies around the world. Ginny led the launch of Microsoft AccountGuard, a security service available to political campaign customers with the aim of increasing their security posture. The program has since been expanded to the UK and Ireland. Her work previous to this role focused on engagement with political organizations and their use of data, analytics and other emerging technologies. Prior to joining Microsoft in 2014, Ginny was the Vice President for Political Accounts at CMDI where she supported Presidential and Senate campaigns. Ginny has over 15 years of experience in political technology.  She has been recognized as one of Campaigns & Elections "Rising Stars" and has also received the American Association of Political Consultant's "40 Under 40" award. Ginny holds a B.A. in Political Science from Duke University. She lives in Arlington, VA with her husband, David, and their three sons.
---
Major Kati Samerigo, United States Army Reserve; Verizon
Kati is an Army reservist assigned to the Special Operations Command with 12 years of project management experience across the following industries: IT, cybersecurity, and aerospace manufacturing.  She is on military leave from her civilian job to complete the Joint Special Operations Master of Arts program at Fort Bragg with National Defense University.  Her thesis focuses on the role of the DoD in public-private partnerships for cybersecurity defense.  In her civilian job with Verizon as an Enterprise Cybersecurity Defense Program Manager for a DoD customer with over 100,000 endpoints, Kati led multiple projects which integrated security tools and services, including the DoD's largest instance of 8021.x high-security mode using Cisco Identity Services Engine (ISE).  She performed proofs of concept to evaluate new security tools, authored security gap analyses which assessed the implementation of their security products based on best business practices and standards, and participated in Command Cyber Readiness Inspections (CCRI), as well as blue team and red team events.  She additionally completed a major Enterprise Resource Planning software conversion to SAP.  Kati is very familiar with DoD cybersecurity requirements, including their certification and accreditation process, Risk Management Framework (RMF), and Security Technical Implementation Guides (STIGs).  She hopes to help translate customer requirements into actionable tasks and milestones which comply with the DoD's cybersecurity standards.  Her certifications include Project Management Professional (PMP) and Certified Information System Security Professional (CISSP).
---
Nick Setterberg, Associate Director at Kessel Run
Nick serves as an Associate Director at Kessel Run, a software company inside the U.S. Air Force. As an AD he implements principles practiced by most successful tech companies to ensure delivery of high-quality software. He leads eight 10-person product teams by raising, advocating, and resolving their needs to help them get into production and deliver user value. He drives outcomes across teams to achieve cross-team goals for two portfolios of apps. Communicating priorities and risks with stakeholders both internal and external is essential to delivering the best possible software. Other responsibilities include tracking and improving four software delivery performance metrics (deployment frequency, lead time, mean time to repair, change fail rate), monitoring team health, conducting personnel assessments, removing blockers, and ensuring successful delivery of working software into users' hands. Nick is an active duty Air Force Captain, commissioning from Duke's Air Force ROTC program in 2012.
---
Patrick Nevins, Senior Consultant at Deloitte
Patrick is a consultant at Deloitte Consulting in the Government & Public Services practice. Patrick's primary client work focuses on supply chain strategy for Headquarters Air Force's Directorate of Logistics. In addition, he also helps with the firm's Robotic & Intelligent Automation business, helping oversee the go-to-market strategy for the global public sector practice. Patrick is both a 2007 (A.B.) and 2016 (MPP) graduate of Duke University. Between his stints in Durham, he served seven years as an infantry officer in the Marine Corps, spending time in Camp Lejeune, Camp Pendleton, and deployed to Afghanistan (2009 & 2011).
---
Rachel Fefer, Congressional Research Service
Rachel graduated from Duke with a BA in Public Policy and returned to Duke to get her MBA. She currently works for Congress, consulting members and their staff and conducting research on international trade issues, including digital trade. She previously worked in the tech industry conducting market intelligence in the U.S. and abroad. She can assist on market research analysis and public policy questions and is happy to make introductions to other policy experts on and off Capitol Hill.
---
Dr. Jared Dunnmon, Ph.D., Postdoctoral Fellow at Stanford University
Jared is currently a postdoctoral fellow in the Department of Computer Science at Stanford University, where his research focuses on using machine learning methods to enable effective decision support (see jdunnmon.github.io for details).  Jared was part of the first H4D cohort at Stanford, and has assisted the teaching team with following iterations of the course.  Jared can be helpful in understanding course objectives and the process of customer discovery, and can provide technical guidance on a number of topics including artificial intelligence, energy systems, and medical applications of computation.
---
Colonel Joe Blanton, United States Army
Joe earned a bachelor's degree in English and an active duty commission as an Infantry officer in 1997 through the University of South Carolina.  Joe's foundational experiences were with the 75th Ranger Regiment and 82nd Airborne Division with several combat deployments.  He transitioned to the Army Acquisition Corps in 2010.  COL Blanton is experienced in complex project management, materiel development and rapid systems acquisition. He attained an MBA in Systems Acquisition Management from the Naval Postgraduate School in 2014.  Joe's most recent assignment was serving as the Chief of Acquisition Operations for the Joint Special Operations Command at Fort Bragg, NC.  His next assignment will be in a key leadership position with SOCOM—Program Executive Officer, SOF Support Activity—responsible for rapid prototyping, manufacturing and sustainment globally.
---