Last Saturday I took Levi up to Gramma and Grampa's place in Watauga County, NC, otherwise known as "Mielke Mountain." At 4,000 feet, the temperatures are usually 12-15 degrees cooler than Durham. It was wonderful to escape the oppressive heat for a little while.
This time we didn't bring our tent, due to the presence of two black bears  on the property. A couple of nights before, one of the bears decided it would be fun to visit the front porch and eat some birdseed out of one of Gramma Sue's feeders. Unfortunately, bear habitat destruction and a rebounding black bear population in the area means we are seeing more of them.
Gramma Sue was a little freaked out about us romping around the 12-acre property with the bears so close by. Since we  forgot to bring our bear bells, she hooked us up with some cow bells from my great grandfather's village in Switzerland. How fitting, since the flag of the Canton Bern is the bear!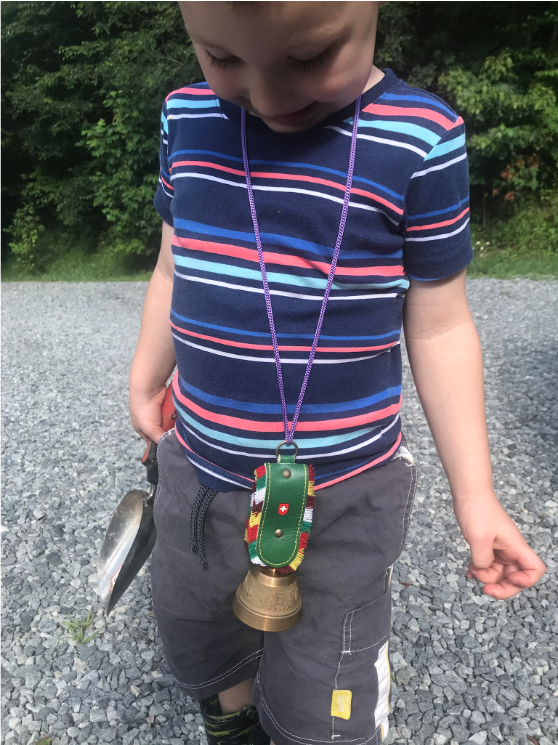 As we played, I was filled with immense gratitude for having grown up in one of the most beautiful places in the country. It was wonderful having the opportunity to share  some of those same childhood experiences in nature with my own son.
Our first day there we headed down to the creek to see if the dam we built last summer was holding.  There it was, still intact, holding back a nice pool of water—and some crawdads had moved in. I told Levi we'd created a crawdad hole and showed him how to pick up a crawdad without getting pinched. His excitement was contagious and I just had to get it on video.
We also found several large salamanders–too elusive for us to catch or photograph. I was glad to see them, as it seems there are fewer of them than in the past. North Carolina has over 60 species of them.
We woke up one morning to a beautiful scene of cloud-draped mountains. Levi exclaimed, "The clouds fell on the mountains."
The whole week I'd been thinking about that wonderful summer of 1979, 40 years ago, in Boone, NC. Those beautiful, sometimes foggy summer mornings where you needed a light jacket, at least for the first hour of the day. Days spent swinging on grapevines, catching salamanders, picking wildflowers.  A more innocent time for sure. Our town seemed like a small village back then. That summer, when, for a brief period of time our little town was in  the national spotlight after the world's largest windmill, built on Howard's Knob, was completed.
How fun it was to relive some of those experiences.