The beauty of Daytripper is in its ability to encapsulate universally-relatable aspects of human nature and jarringly powerful emotions in its short, simple scenes. Ba and Moon are masters of shedding light on the human condition, and through the tangled arrangement of vignettes that make up Bras's life they are highly effective in creating an emotional connection with readers.
For example, the scene in Chapter 2 where Bras and Jorge overlook a canyon captures humans' indescribable wonder at nature's beautiful creations. The two young men can neither describe the view with words (all that Bras can say is "Wow…" (Moon 36)) nor capture the moment with a picture. Most people have experienced the feeling of trying to take a picture of something beautiful and finding that the picture is inadequate, and Ba and Moon do an excellent job of displaying this sense of awe.
Another scene, where Bras's son watches TV while his father is gone in Chapter 8, is powerful in demonstrating the emotional importance that parents have for their children. The scene appears to reference Disney's The Lion King, when the death of Mufasa leaves his son Simba alone. This also foreshadows the later death of Bras (which is not much of a surprise by this point in the graphic novel).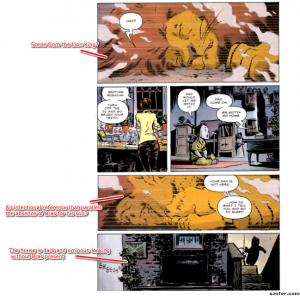 In Chapter 9 an elderly Bras rides the train alone through a mountainous region. Bras has been doing a lot of thinking, and he comes to a sort of revelation while riding the train. Ba and Moon use the passage of the train from the forest into a clear region with excellent views to show the epiphany that Bras has had in clearing his mind. The scene also presents an interesting contrast between the natural beauty of the landscape and the futuristic elegance of the train.
Arguably the most heartbreaking death in the graphic novel occurs at the hands of the truck in Chapter 3. Bras has suddenly become intoxicated with the enchanting possibilities of life, and is literally sprinting to take advantage of all that the world has to offer him. All of this is wiped out in an instant by the truck, and the illustration of the death has an unforgettable blood-red color scheme. For Bras to be so hopeful and optimistic and to have it all sniffed out by a random accident certainly provokes a strong emotional reaction, and reminds all readers of the reality of human mortality and the fleeting nature of life.
Works Cited:
Moon, Fábio, Gabriel Bá, Dave Stewart, and Sean Konot. Daytripper. New York: DC Comics, 2011. Print.
The Lion King. Walt Disney Pictures, 1994. Film.