In a stroke of absolute luck and incalculable coincidence, I got to hear Joel Sartore speak, just three days after watching his photos project across buildings worldwide in the final minutes of Racing Extinction. Sart0re travels month after month in an attempt to photograph each of the almost twenty-thousand species currently living in captivity; a project called the Photo Ark. Through his work, Sartore has seen species after species pushed out of their habitats by human consumption, and left to fade into existence only on the pages of history books.
His portrait-style photos aim to capture charismatic vignettes of the animals, which he then gives back to the zoos to use in promotional material, or publishes online. During the Q&A session after his talk, someone asked Sartore why, if these animals are so endangered, he takes character shots, instead of more scientific ones? He replied that science already has the anatomical shots of dead animals, and that his job is to make people care about the still Very Much Alive ones. Dead animals unfortunately don't get much press, like the extinction of the Rabb's fringe-limbed tree frog, which was allocated a trivial 264-word story by the Associated Press. That's shorter than this blog post, and far shorter that their 798-word story on Taylor Swift's concert at Formula One.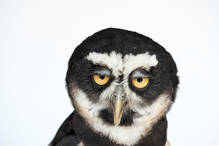 Sartore's photos are meant to alleviate apathy, and to give the public something to connect with. Most of the animals, like those below, face this ambitious task with direct eye contact. In his talk, Sartore mentioned that his focus on the eyes is meant to humanize animals and help people find something in them worth saving.
The Photo Ark started as a passion project, and now the photos have acted as catalysts for species conservation and education worldwide. It is his hope that the Ark photographs will change the way our world views the loss of biodiversity. In addition to his environmental art, Sartore uses public speaking as a platform to call young minds action. He speaks primarily for younger audiences, imploring them to find something that they care about. He finished his Duke talk with the following:
People ask me what they can do to save these animals. You have to find something that you are fiercely passionate about and become the best at it- which will happen if you have enough passion, trust me- and then use that thing to change the world. It is folly to think that we can destroy one species and ecosystem after another and not affect humanity. When we save species, we're actually saving ourselves.
All photos courtesy of Joel Sartore.