We are featuring The Washington Duke Inn this month. The Washington Duke Inn can help with every part of your event, from meeting rooms, lodging, catering, and so much much. We are extra excited to feature the WaDuke because they are so kindly inviting all SEPC members to a luncheon on December 16. Keep an eye on the events page for more details.
1.What would you like the Duke community to know about The Washington Duke?
What makes you stand out as a venue?First and foremost, it's important to note that we are Duke. We are owned by the University, and all profits benefit Duke.  The hotel was designed to serve our extended Duke Family.  We also believe that what really makes the Washington Duke Inn successful is our staff.  We all strive to ensure we provide the best service possible, because we are committed to serving our Duke Community.
2. What is your most popular/signature dish and/or beverage you would like people to try?
The Inn is known for several staple dishes:   WaDuke Shrimp, Corn, & Bacon Chowder (a huge crowd favorite), Shrimp & Grits, and Angus Steak Frites.  And we cannot forget our scrumptious desserts!
3. Do you offer event packages or is everything a la-carte?
We offer several packages: a Complete Meeting Package, a Modified Meeting Package, Day Meeting Package, and a Bed & Breakfast Package.  If a group feels that a package is not the best option, we are happy to customize any event to fit the needs of the program.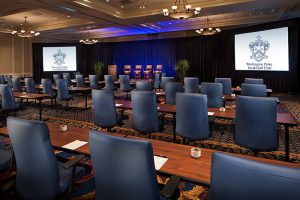 4. What dietary restrictions can you accommodate, if any?
Our talented culinary team is able to customize menus to meet the needs of attendees. In addition, all menu offerings in our dining outlets and room service are labeled with dietary notes to make it easier for guests.
5. What is an event trend that you would like to see disappear?
Since there are endless opportunities to enhance any event, we would like to see fewer things like Chocolate Fountains and Mashed Potato Bars, and more customized, unique touches.
6. How can a department make an event at The Washington Duke a signature "Duke" event? (do you offer any Duke lighting, decor, signature drinks etc.)
Our skilled planners are ready to help our clients enhance their events with that perfect Duke touch!   They can assist with adding a huge "WOW" factor, or adding small, personalized touches.  Simply hosting an event at the Washington Duke Inn makes it a signature Duke event.   We welcome alumni, current students, professors, and planners to come and experience what makes Duke so special.
Thanks Washington Duke Inn for your partnership!