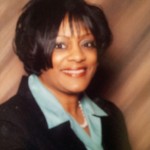 For this week's spotlight we present a member of our administrative staff, Harriett Ware. While she may be fairly new to GIM, she's not new to Duke. When you read about her you will believe this is someone you want to know, both for her responsibilities to the Division Chief and for her passions for "shopping, traveling, watching old movies, or curling up on the sofa with a good book". Besides all this she's a published poet! What's not to like?
How long have you been at Duke? How long have you been in the Division? What did you do before coming to the Division?
I am happy to say I've been at Duke for four years.  I have been in the GIM Division since January 2014 as a Staff Assistant.  Before coming to GIM I worked in the Lung transplant division.  I also worked in the Chancellor's office, and several other divisions.
What does your work as a Staff Assistant involve? What does a typical day for you look like?
Working as a Staff Assistant, a typical day for me consists of several different tasks, such as providing administrative support to the faculty and staff, assisting with managing the division Chief's calendar, scheduling recruits, and coordinating traveling arrangements for their visit to Duke.  I reconcile corporate card charges for the division, coordinate meetings/conferences and applicable venues.  Basically, I serve as liaison to ensure the office runs smoothly.  I take great pride and personal integrity in performing my daily duties.  I believe that who we are is shown by what we do.
What do you enjoy most about working at the Division?

One of the things I enjoy most about being a part of this division is working with Dr. Ebony Boulware, the GIM division Chief.  She is very knowledgeable and hardworking.  In the GIM division, we focus on research, outstanding healthcare services and diversity. We strive to achieve excellence in all that we do!
What passions or hobbies do you have outside of the Division?
Some of my happy pleasures are cleaning and decorating my home!  I find it to be very therapeutic.  I enjoy spending time with my family and friends, as well as serving others.  Another passion of mine is writing poetry, as I am a published poet!  Also at the top of my list of favorite things to do are shopping, traveling, watching old movies, or curling up on the sofa with a good book!