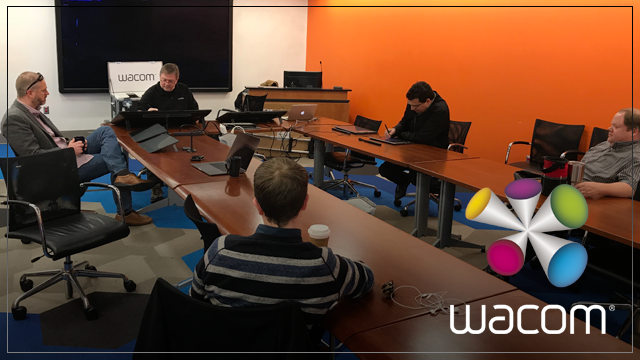 This past week, Bill Lindsay of Wacom visited Duke's Technology Engagement Center (TEC) to showcase their recently announced product line. Wacom provides interactive pen displays, pen tablets, and styluses to equip and inspire everyone make the world a more creative place, so says their website, and they do deliver a number of exciting offerings for use in educational environments.
The star of the session was the Cintiq Pro displays and Cintiq Pro Engine. Basically, The Cintiq Pro display comes in either a 24″ or massive 32″ screen size and acts as an incredibly accurate (98% RGB) 4K touch surface for annotation and drawing. The texture of the surface is hard to describe, but it's clear Wacom's engineers did a good job at simulating the feel of paper when drawing or writing. The palm cancelation is top notch, and we understand why artists gravitate toward these devices. On its own, the Cintiq Pro can be connected to a standard computer to take advantage of the unique surface, but this can be a bit of a cable management nightmare. Enter the Cintiq Pro Engine… this is a computer specifically designed to connect to the back of the Cintiq Pro display in a specially designed slot. At launch, Wacom has two Cintiq Pro Engine configurations, a mid-range Intel i5 version and a very robust Intel Xenon option. This configuration also has an optional Ergo stand, that looks perfect for a learning environment. Also, a special thanks to Wacom for using a standard 4K resolution when considering lecture capture. Some manufacturers are using 4.5K screens at odd aspect ratios… that generally don't play well with our integrated AV systems.
Also showcased at the session was Wacom's 13 and 16-inch Cintiq offerings. These are a nice upgrade from the previous generation with additional levels of pressure accuracy and higher quality color representation. We did note that they have removed the buttons from the surface (but you can purchase an alternative pad to reproduce this, but it could have "walk off" concerns in higher education). But, the pad also gives the user greater flexability in how the device is controlled.
Finally, at the entry level (<$100) zone, we looked at a Wacom Intuos pen tablet. In essence, it's a traditional pad for writing or drawing, but where you could also place a standard piece of paper, and use a pen to write as you normally would. But, all of the content is captured with the device. This is ideal for faculty or staff that prefers a more traditional learning experience (pencil/paper) but would like to dip their toe in a new technology. It's capable of capturing hundreds of pages before being downloaded to a computer.
Copy