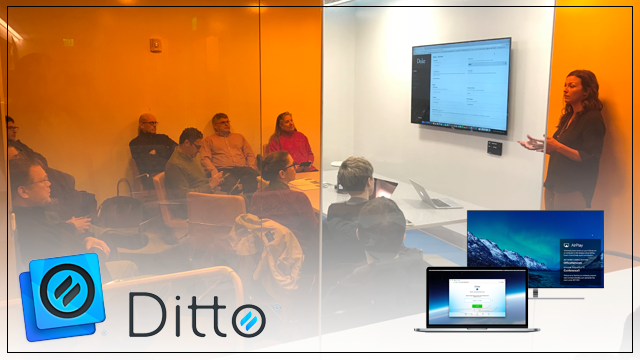 On March 6th, the Duke Digital Media Community (DDMC) welcomed Danielle Walker from Squirrels to showcase their new product called Ditto. Ditto allows Windows users to wirelessly share content to an Apple TV. While this capability has been available with other software in the past (including Squirrels' own AirParrot), Ditto flips the model where instead of paying a per computer software license, you pay for a per AppleTV license, making the software much more interesting for large organizations.
During our testing, we found the software to be easy to download and install by following a simple URL for each space. Ditto installs a small piece of software on the local Mac or PC, and you are up within minutes. Sharing content from a PC was as easy as sharing from a Mac. From a screen management perspective, adding a screen was easy yet flexible. Ditto allows the "screen manager" to enhance a number of the standard features of an Apple TV including the ability to manipulate access codes, etc. The back-end software itself also has the ability to be rebranded with your organization's logo, etc. It's also worth mentioning that if you are a Mac user and would prefer to continue using AirPlay to connect to your AppleTV, Ditto doesn't override that functionality.
We are currently evaluating the service, but if you are a member of the Duke community, feel free to ask us about a demo account. We'd be interested in hearing your thoughts on this product.