The InFocus 55′" Mondopad was demo'd on October 25th, 2013 at the Link.   This is an all-in-one Windows 7 based HD touchscreen monitor designed to present, annotate and collaborate with participants in the same room  and globally. The device is currently on display in Group Study 7  located at the Link through November 1st, 2013. (See below for available times.)
Video Conferencing:
You can add a SIP endpoint on the existing conference server or service. Interacts seamlessly with Cisco WebEx, Tandberg and Cisco VTC endpoints as well as Skype.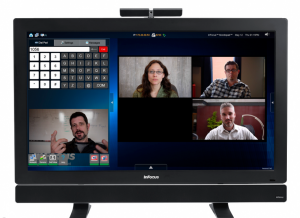 Mobile Apps:
There are two apps, Mondopad Connect and ControlView, for sharing, viewing, and controlling content from a tablet, PC or smartphone. The ControlView App was demo'd and worked very well. It basically replicates the Mondopad desktop. It gives you full control from that device. This would be great in an academic environment where the instructor is active in the classroom and then wants/allows participation from the students from their own devices via the ControlView App.
Schedule of available times to see it in person:
Today, 10/29 –  2pm to 4pm
Wed,  10/30 – 2pm to 4pm  (Video Conferencing demo w/InFocus rep at 2PM)
Thurs, 10/31 – 2pm to 4pm
Friday, 11/01 – 10am to noon