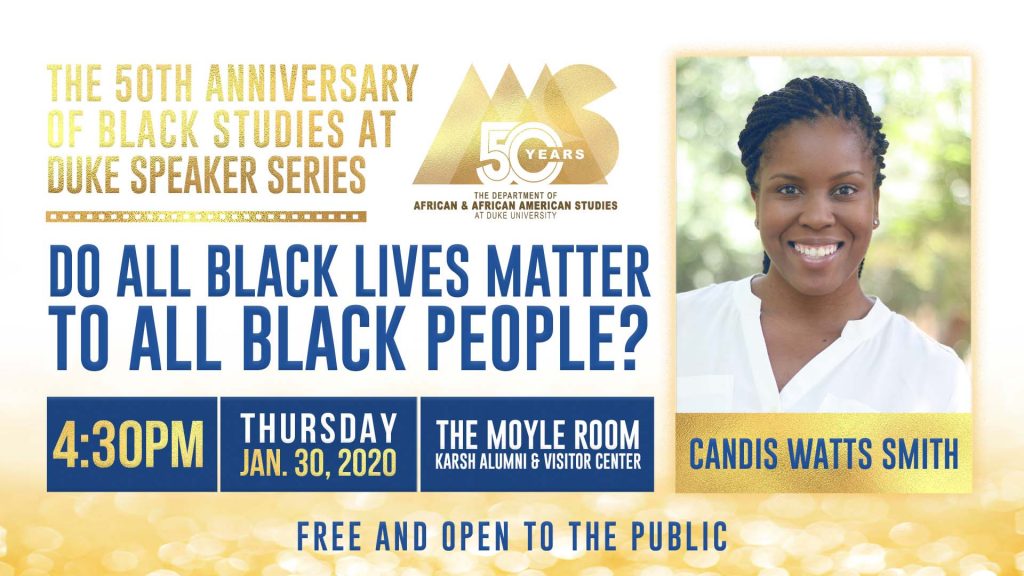 This spring the Department of African & African American Studies continues to commemorate the 50th anniversary of black studies at Duke with a speaker series featuring prominent Duke alumni.
Candis Watts Smith, Ph.D. '11, associate professor of political science and African American studies at Pennsylvania State University, kicks off the speaker series this month with a talk, "Do All Black Lives Matter to All Black People?"
The talk will be held in the Moyle Room at the Karsh Alumni and Visitor Center on Thursday, Jan. 30, at 4:30 p.m. It is free and open to the public.
Kerry Haynie, chair of Duke's Academic Council and an associate professor of political science and African & African American studies, will join Smith to discuss her latest book, Stay Woke: A People's Guide to Making Black Lives Matter.
Haynie chaired Smith's dissertation committee while she was a doctoral student in Duke's Department of Political Science. Smith also received a B.A. and M.A. from Duke.
Smith's expertise highlights race and ethnicity's role in shaping the American political landscape. Her research agenda illuminates the ways in which demographic dynamics influence citizens' and denizens' of the U.S. understanding of their own identity, their political attitudes, and their policy preferences. She is also the author of Black Mosaic: The Politics of Black Pan-Ethnic Identity, and the co-author of Racial Stasis: The Millennial Generation and the Stagnation of Racial Attitudes in American Politics.
Haynie directs Duke's Center for the Study of Race, Ethnicity, and Gender in the Social Sciences, and is one of the editors of the journal, Politics, Groups, and Identities. Haynie's research and teaching interests are in race and ethnic politics, intersections of race and gender, southern politics, and comparative urban politics. Haynie has traveled widely, attending invited talks in France, Germany, and South Africa. He is the co-winner of the American Political Science Association's Women and Politics Research Section's Best Paper Award for 2012.
Candice Jenkins, WSTC '01, University of Illinois, Urbana-Champaign, will discuss her new book, Black Bourgeois, at 4:30 p.m., Feb. 27. Jenkins' talk will be held in the Ahmadieh Family Lecture Hall in Smith Warehouse.