The Duke-Chan Zuckerberg Initiative Network invites you to join our Neurodegenerative Disease Biomarker Symposium! We aim to connect researchers and clinicians from the Research Triangle Park in North Carolina that view neurodegenerative diseases not as monoliths, but as an opportunity to practice personalized medicine, research, and discovery centered on individuals and their specific disease. We will host leading researchers and clinicians in the neurodegenerative disorder biomarker research field, and learn from successful biomarker programs such as the Cincinnati Cohort Biomarker Program. Lastly, our interactive symposium agenda will provide opportunities for attendees to network and connect to encourage future collaborations.
NOTE: This event is currently planned to be in person, but may switch to a virtual format given the COVID-19 situation closer to the event date. All in-person attendees must be vaccinated against COVID-19. Paid parking is available for non-Duke affiliates at various garages across campus. For more parking information visit https://parking.duke.edu/visitor.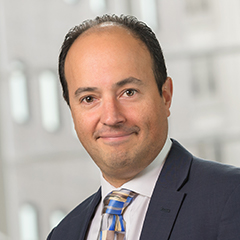 Dr. Alberto Espay is Professor and Endowed Chair of the James J. and Joan A. Gardner Center for Parkinson's disease at the University of Cincinnati. He has published over 300 research articles and 8 books, including Common Movement Disorders Pitfalls, which received the Highly Commended BMA Medical Book Award in 2013 and Brain Fables, the Hidden History of Neurodegenerative Diseases and a Blueprint to Conquer them, coauthored with Parkinson patient and advocate Benjamin Stecher, selected by the Association of American Publishers for the PROSE Award honoring the best scholarly work in Neuroscience published in 2020. He has served as Chair of the Movement Disorders Section of the American Academy of Neurology, Associate Editor of the Movement Disorders journal, and in the Executive Committee of the Parkinson Study Group (PSG). He currently serves the International Parkinson and Movement Disorders Society (MDS) as Chair of the Task Force on Technology and as President-Elect of its Pan-American Section. With colleagues at the University of Cincinnati, he recently launched the first biomarker study of aging (CCBPstudy.com), designed to match people with neurodegenerative disorders to available therapies from which they are most biologically suitable to benefit, regardless of their clinical diagnoses.
Nicole Calakos, M.D., Ph.D. is a physician-scientist who cares for patients with Movement Disorders and maintains an active laboratory research program. Dr. Calakos is the Lincoln Financial Group Professor of Neurology and Neurobiology and Chief of the Movement Disorders section in Neurology at Duke University Medical Center. Her laboratory studies how synaptic plasticity generates learning and adaptive behavior; and how its disruption causes diseases of the basal ganglia circuitry including Parkinson's. Dr. Calakos' contributions have been recognized through a number of awards, leadership and service opportunities. She is a Fellow of the American Association for the Advancement of Science and American Society for Clinical Investigation.  Dr. Calakos advocates for basic and translational neuroscience through activities that have included serving on the Board of Directors for the American Neurological Association, Governance Committee for the Duke Institute for Brain Sciences, NIH study sections, and scientific advisory boards for Tourette's Syndrome and Dystonia.
https://www.neuro.duke.edu/research/faculty-labs/calakos-lab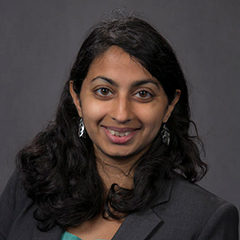 Dr. Sneha Mantri is director of the Trent Center's Medical Humanities Program. Dr. Mantri is a neurologist who cares for patients with Parkinson disease and other movement disorders. She pursues academic interests in the imaginative formation of physicians, particularly the use of creative writing to improve physician understanding of patient experience and to mitigate physician burnout. Her narrative medicine projects have been presented at the inaugural conference of the International Narrative Medicine Network (2013), the Innovations in Medical Education conference (2016), the annual meeting of the American Academy of Neurology (2018, 2019), and the annual conference of CHCI Health and Medical Humanities Network (2019). As a clinical movement disorders specialist, she is also involved in patient-physician communication initiatives sponsored by the Michael J. Fox Foundation and the Parkinson's Foundation. She was a founding editor of The Intima: A Journal of Narrative Medicine, a former writer for Synapsis, and is currently working on a historical novel on the eugenics movement of the early 20th century.
Dr. Miriam Sklerov received her medical degree from New York Medical college. She completed her Neurology residency training at Columbia University Medical Center in Manhattan, followed by a post-doctorate fellowship at Columbia University in movement disorders. During her fellowship, Dr. Sklerov concomitantly completed an NIH T32 program in neuroepidemiology, earning her master of science degree from the Mailman School of Public Health at Columbia University. She has cultivated her research and clinical interests in the areas of atypical parkinsonism syndromes and non-motor symptoms of Parkinson's disease. She has used neuroimaging, non-invasive brain stimulation, genetic, and biochemical tools in her research in parkinsonism disorders. Dr. Sklerov is an assistant professor of Neurology at the University of North Carolina, where her research focuses on the search for markers of disease in atypical parkinsonism disorders and Parkinson's disease, as well as the discovery of novel treatment modalities for symptoms of these diseases. She is the director of the CurePSP Center of Care and the autonomic laboratory at UNC. 
Dawn Skirpan graduated from California University of Pennsylvania with a Master's Degree in Counseling. She has worked in the clinical research field for over 12 years, during this time she has worked in neurology, women's health, pulmonology, gastroenterology and neurosurgery. A lifelong Pittsburgh resident, she moved to Cincinnati to work with Dr. Espay on the CCBP program. She works with both internal and external collaborators on the study and oversees the day to day operations.
Meeting Agenda
Time (Eastern Time)
Morning
9:00-9:45 Breakfast/networking
9:50-10:00 Start of program and introduction
10:00-10:45 KEYNOTE The Cincinnati Cohort Biomarker Program Highlights: Clinician & Patient Perspectives
Albert Espay, MD
Director and Endowed Chair, Gardner Family Center for Parkinson's disease and Movement Disorders, Professor of Neurology, University of Cincinnati Academic Health Center
10:45-11:00 Break and Social
11:00-11:45 Panel Discussion
Topic: Understanding individual differences to redefine neurodegeneration successfully
Panelists:
Dr. Nicole Calakos (Duke)
Dr. Miriam Sklerov (UNC)
Dr. Sneha Mantri (Duke)
Dawn Skirpan (University of Cincinnati)
11:45-12:00 End and open networking