Here in Moscow I find myself in what we can only call a blog jam.  Lots of exciting experiences have been piling up, and just when you think it's time to clean house and shlep everything over here into "Chekhov's Footprints," something else exciting happens and what, you're going to ignore it? And so things just get even more clogged up.
I guess this is kind of what real writers grapple with, I mean actual writers like Chekhov and Dostoevsky, not feeble, blocked imitators with a P card. On 18 (30) September 1863, Dostoevsky writes from Italy to  his colleague back in Russia, Nikolai Strakhov.  As usual he's asking for money and sort of promising a novel (which, at this point, exists only in his mind):
"I even was about to start writing, but it's impossible here. It's hot, and 2nd-ly, I have come to a place like Rome for one week; how can one write during this week, in Rome? Plus I get really tired from all the walking."
Truly, are you going to crawl into a basement in ROME and write that novel during your one week there? Or are you going to give up and look around some more? Anyway: when in Moscow…
Speaking of blocks, I read a great Vanity Fair article a couple of years ago about an American writer (you know his name but I'm a bit fuzzy on it at the moment) who had a terrible block, couldn't get down to writing up a huge, months-long journalism project whose deadline was careening his way.  The magazine had given him an advance, and was paying for all his travel and hotels. The night before the deadline, nothing. So the writer makes a contrite call to his editor, thinking it's over–the article, the career, and plus, how's he going to pay back all those hotel and bar bills? The editor tells him just to write it all down in a personal letter to him, and to forget it's an article on deadline. And the writer sits down and writes the whole huge thing overnight like a letter, and meets his deadline, and becomes super famous.
(Sidebar: editors deserve way more credit than they ever get.)
But of course the point here is letters. Maybe we should look at everything we write basically as letters. If you're not trying to communicate with someone, after all, why are you writing? Think of who your reader might be, and ideally it's more than just that one scary and distant person who might decide whether to publish it. And yes of course, this applies to tweets too, and all that other stuff people are doing out there, that you have to be cool to know about.
Now as for Chekhov, his letters are masterpieces like his fiction and drama. And though we usually don't give this fact much thought, much of what he wrote went through the postal service–not just letters. When Chekhov was looking for a place to live outside Moscow in 1891, one of his criteria was that there be a post office.  He bought Melikhovo (bear with me a couple of minutes here) near the town of Lopasnya, and though it did have rudimentary mail delivery, there wasn't really an actual post office.  So one of Chekhov's countless "service" activities–cholera and famine relief, providing free medical care to peasants, volunteering in the 1897 census, donating to libraries, giving scholarships and schoolbooks to students, mentoring beginning writers, and many many more–as I was saying, one of his service activities was to establish a post office in Lopasnya. And this came to pass.
The post office–the actual building–has become a charming museum in the town of,
wait for it, ….
…the town of Chekhov, Russia.
If you're a sports fan, you should know that the town of Chekhov (formerly Lopasnya) breeds fearsome, Olympic-caliber handball players. In fact, many know Chekhov
(the town, that is, not the metro station, the street, the theater, the statue, the mini-hotel, the bar, the cafe, or the writer)
better as the Handball Capital of Russia, and the home of the fighting "Chekhov Bears." Take one short minute to watch this informative little masterpiece:
I am basically in ecstasy about the very concept of the fighting Chekhov Bears.
OK, the team has had its moment; but we have even more exciting things to think about here in Chekhov, where the writer lived between 1892 and 1898, and where he wrote some of his most famous works, from "Ward No. 6," "The Black Monk," and "My Life" to The Seagull, "In the Ravine, and "The Man in the Shell."
Тhe  A.P. Chekhov Letters Museum is in the energetic and capable hands of Evgenia Evgenievna Bovshik,  who can tell you all kinds of fascinating things about the history of the Russian postal service (from pre-literate town criers to peasant yamshchiki carrying birchbark documents, to the relay service resembling our US Pony Express, to the system of post offices that extended all across Russia.
One of these people is not real, but extremely convincing, and the other runs the museum. I was particularly struck by the photo behind them of Lopasnya during Chekhov's time. The town square was in fact a very busy place, as you can see even from where you are at this moment, though you would not suspect that from reading Chekhov's letters and stories.
The postal service gets many shout-outs in Chekhov's letters; clearly it was efficient and reliable, and he often received money through the post. Now by the time the Lopasnya post office opened, Chekhov had had to leave Melikhovo for climates more hospitable to his health. But his efforts were instrumental in bringing it into being. There's the postman's desk and supplies, the counter where he would serve customers, and a multitude of intriguing objects, documents, and photos from Chekhov's time.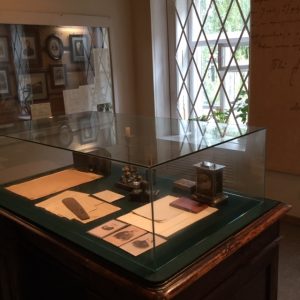 Not only does the museum give a tangible feeling of what the post office was like at the end of the 19th century, when it came into being; it is actually a functioning post office.  One member of the two-person editorial team that produced the book Chekhov's Letters was able, during this visit, to write a postcard, stamp it, actually cancel the stamp with an official Russian stamp, and deposit it in a real, official Russian blue post box outside.
The Post Office is just a short walk from the town's train station. After visiting it, you can hop in a van and make your way along smooth paved streets to Chekhov's estate of Melikhovo, 12 kilometers away. During the ride you recall that during Chekhov's time there, the street you're on now was a crude tract; it snowed over in the winter, and was a muddy mess for much of the spring and fall; getting from the station to Melikhovo was an arduous and unpleasant ordeal. But, as visitors inevitably reported, and as I will report at some time, it was worth it.