You think you've come to Uglich on the Volga to see the site where the poor little Prince Dmitry was savagely murdered on May 15, 1591, provoking Pushkin to write a tragedy about it (Boris Godunov), eventually.
And indeed you see the site, the porch of the building where he lived his short life: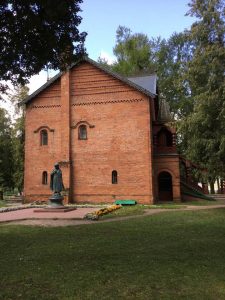 That's him there. The fatal steps are on the right. Dmitry is a saint now, and after a few years here, his body was taken to Moscow, where it is buried in the, uh, Archangel Cathedral in the Kremlin. Go see it.
Right here on these steps stood the doomed little 8-year-old prince with his nanny and mom, when….(…but no, I can't, it's too horrible….google it)…but you can see the whole story on the frescoes in the 17-th-century church dedicated to his memory, the Church of St. Dmitry on the Blood here in Uglich. Naturally the locals' version differs considerably from that of the murderers, who, according to our guide Galina, claimed that he accidentally stabbed himself to death during an epileptic fit. Um…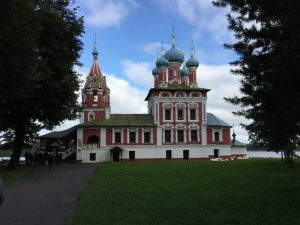 But no, you are actually here in Uglich to figure out what's going on with your brand-new Russian mobile phone. You put it on your windowsill on the ship and suddenly a church tower rises up out of the Volga: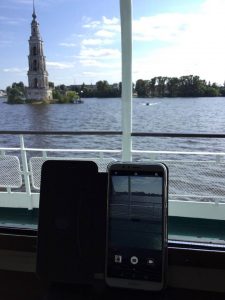 That kind of weird Russian stuff. Plus it won't text or access the internet, or send photos or anything (And don't even ask where THIS photo came from).
I'd like the miraculous church-tower pictures PLUS the usual phone services, please
Across from the extremely tempting watch and linen stores (the Chaika factory is in Uglich!!) and a bit up the street is the Beeline cell-phone store. Inside, Olga and Venera (yes, that's on her name tag) helpfully show you how to turn on the network button (ahem), and the phone makes delightful little dings. And they show me how to check how much data I have used. Despite the threatening messages I've been receiving about how I'm out of my original zone and there might be extra charges, I have used absolutely none of my allotted data. Life is good. Oh…
Ah…
It is so pleasant in here. But something is twitching quietly in my memory, a Chekhov thing. Do my newest friends know whether Anton Pavlovich Chekhov might have visited this little town? Well yes, now that you ask, his brother Mikhail lived right here in Uglich. Holy @#$%&*. There is a nice old full-on babushka in the store, complete with the scarf and cloth bag. Is the house standing? Why yes it is! 7 minute-walk from …. (I'm thinking, why did I spend all that time fingering Chaika watches and linen tablecloths? The boat leaves in 40 minutes)…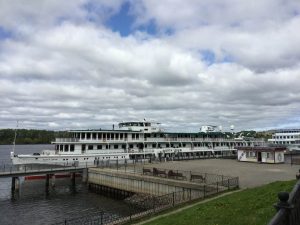 But Mikhail Chekhov's house!?!?!?!  Just down Spasskaya Street?!?!?  A mad dash for the shop door.
But what is this story without Olga and Venera and the babushka?  I turn back, rush in the store…..The babushka is gone.
Off in a Beeline ("билайн", хи, хи, хи, xи, хи)…
oh…
…down Spasskaya Street! The boat is at the pier BEHIND ME.  In my brain: how much would it cost for me to pay an Uglichian to drive me to Moscow later?
30 minutes to departure.
But what is all this when you're hot on a Chekhov's trail? Run, run, run. There's a monastery at the end of Spasskaya Street: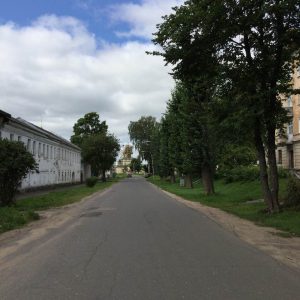 People taking a walk: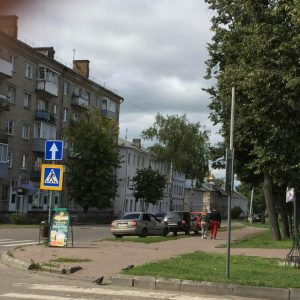 A stately-looking though slightly disheveled old house on the left: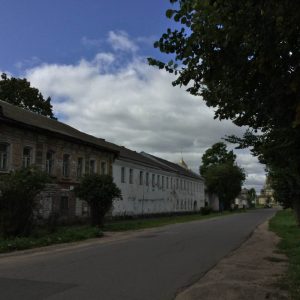 Oh, and oh, and oh! and OH!
Bingo. Here at, uh, 15, actually, I think sort of,….17, Spasskaya St., lived Mikhail Pavlovich Chekhov, the youngest brother of Anton, when he worked in Uglich as a, um, tax (податный) inspector between 1894 and 1898. And married Olga Vladykina, and worked to establish a free public library. He lived over the arch, says the plaque.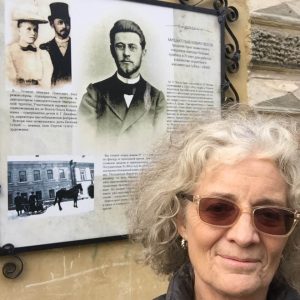 Well, Anton must have visited here. I'll check later. For now I'll just breathe some of this air.
This is what Mikhail's courtyard sort of looked like (though 130 years have passed, it feels like the real thing).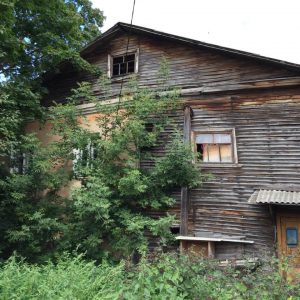 Oh, how I wish I'd asked someone this question in Yaroslavl.
Another brother lived there I think…