BOOST (Building Opportunities and Overtures in Science and Technology) is a multidimensional program is designed to excite young people – particularly underrepresented minorities, girls, and kids from economically challenged backgrounds – about science and inspire them to pursue careers in medicine and related fields.  BOOST is funded through a grant from the National Institutes of Health (NIH) Science Education Partnership Award.
UPCOMING EVENTS 
SCIENCE Saturdays (every 3rd Saturday of the month)
– BOOST, XL & XXL (6th,7th, and 8th Graders)
– Duke University, East Campus Building, 1304 Campus Dr, Durham NC
– XG (High Schoolers)
– Duke University, Mary Duke Biddle Trent Semans Center, 8 Searle Cntr Drive, Durham NC
ANNOUNCEMENTS
Parent Action Committee –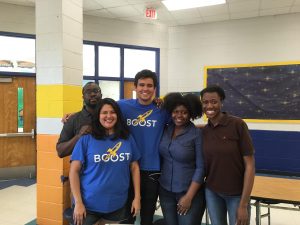 This year we are excited to share the start-up of our Parents Advisory Committee!  To be a part of this important next step in BOOST, send us an email with PAC in the subject line.
BOOST XG (Next Gen)
Starting this year, High school participants will focus on hands-on engineering, college/industry tours and then internships.  Next Gen seeks to get students more college and career ready.