BOOST (Building Opportunities and Overtures in Science and Technology) is a multidimensional program is designed to excite young people – particularly underrepresented minorities, girls, and kids from economically challenged backgrounds – about science and inspire them to pursue careers in medicine and related fields.  BOOST is funded through a grant from the National Institutes of Health (NIH) Science Education Partnership Award.
UPCOMING EVENTS 
SCIENCE Saturdays (usually every 3rd Saturday of the month)
– BOOST, XL & XXL (6th,7th, and 8th Graders)
– September 17, 2016, 10AM – 2 PM,
– Duke University, East Campus Building, 1304 Campus Dr, Durham NC
– XG (High Schoolers)
– September 17, 2016 10-2p
– Duke University, Mary Duke Biddle Trent Semans Center, 8 Searle Cntr Drive, Durham NC
Black Girls Code Raleigh Durham Presents: Women of Color in STEM  Panel
The Raleigh Durham Chapter of Black Girls Code will host a spirited and lively morning of conversation and connection, featuring some of the Raleigh's and Durham's leading voices of Women of Color in STEM. This event will be an educational experience for girls, between the ages of 7 and 17, and their parents/guardians. They will hear from a panel of women working in the fields of Science, Technology, Engineering and/or Mathematics (STEM).
This event will be held Saturday, September 17, 2016 from 10AM to 12:30PM in the Mary Towns Science Complex, Room 1111, on the campus of North Carolina Central University, 1801 Fayetteville Street, Durham, NC.  To attend please click here to register or to if you are interested in volunteering click here.  For more information about Black Girls Code click here.
ANNOUNCEMENTS
Parent Action Committee –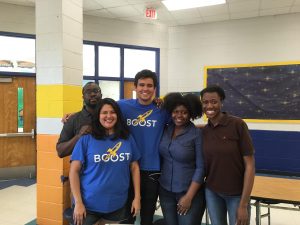 This year we are excited to to share the start-up of our Parents Advisory Committee!  To be a part of this important next step in BOOST, send us an email with PAC in the subject line.  We're planning our first conversation early October.
BOOST XG (Next Gen)
Starting this year, High school participants will focus on hands-on engineering, college/industry tours and then internships.  Next Gen seeks to get students more college and career ready.
UPCOMING FIELD TRIPS
BOOST (6th Graders)

BlueJay Point                                3/11/2017
Trinity Center                           4/28-29/2017
BOOST XL (7TH Graders)
Duke Marine Lab                        12/9-11/2016
BlueJay Point                                2/25-6/2017
War Wilson College                        3/3-5/2017
BOOST XXL (8th Graders)
DIBS Tour/Gross Anatomy         12/17/2016
UNC Brain Weekend                     2/11/2017
NASA SFC                                    5/13/2017
BOOST XG (High Schoolers)
SMIF Lab/Gross Anatomy               9/10/2016
CISCO                                             12/7/2016
Charlotte College Tour                     5/13/2017