WATER TOWNS PRESENTS:
This exhibition explores issues of representation of the idea of place. It problematizes the notion of territory as a concept bounded by geographical limits and administrative arrangements to an expanded understanding of the contextual forces that constitute territory.
Mobility, dislocation, political terra/formation, and transformation are explored from the perspective of designers, visual artists, photographers, and performance artists.
Artist participating:
Zhou Ruizhuang. China
Wang Hongcai. China
Libia Posada. Colombia
Xingyao Zheng. China
Kong-Ning. China
Jiuliang Wang. China
Rafael Osuba. USA-Puerto Rico
Adicional photography by:
Coraline Goron. France
Virginie Arantes. Belgium
Curated by Miguel Rojas-Sotelo and Coraline Goron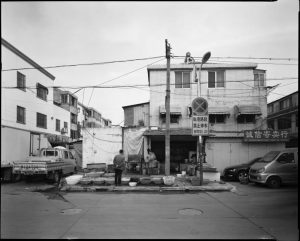 Special Exhibit:
Propitious Wind and Rain
Photographs from Kunshan by Tom Rankin
Propitious Wind and Rain features photographs made by Tom Rankin in and around Kunshan, China in the Fall of 2016. While in Kunshan Rankin taught documentary film, participated in campus life, and explored the city via tricycle along with his 8×10 view camera in tow. Rankin focused on photographing "the social and cultural landscape" surrounding the new Duke Kunshan University campus, particularly, "the ways in which culture, business, and daily life are perpetually in negotiation with land and water." By looking to unfamiliar mostly transient spaces Ranking is able to fix the gaze on those textures, shadows, ghosts of the fleeing moment of a passerby creating sorts of visual time-machines.
The slowing process of capturing such visions in real film in the fashion of camera obscura and then through the alchemy of the dark room into silver prints, Rankin is able to return a sense of sacredness to what other wise are a collection of mundane moments.
By carefully composing the frame a sort of validation of the minimal, the essence of the everyday life is brought to the fore in this series of absconding moments.
A photographer, filmmaker, and folklorist, Tom Rankin has been documenting and interpreting American culture for nearly twenty years. His books include Sacred Space: Photographs from the Mississippi Delta (1993), which received the Mississippi Institute of Arts and Letters Award for Photography, 'Deaf Maggie Lee Sayre': Photographs of a River Life (1995), Faulkner's World: The Photographs of Martin J. Dain (1997), and Local Heroes Changing America: Indivisible (2000). He is a Professor of the Practice in the Department of Art, Art History & Visual Studies and Director of the MFA in Experimental and Documentary Arts at Duke.
Special Exhibit:
Marine Pollution for you to see!
According to the Center for Biological Diversity, plastic waste is accumulating in our oceans and on our beaches for the past five decades. Now it has become a global crisis. Billions of pounds of plastic can be found in swirling convergences that make up about 40 percent of the world's ocean surfaces. At current rates plastic is expected to outweigh all the fish in the sea by 2050.
The Shenzhen Zero Waste Alliance & Toxic-Free China share this educational exhibit on the impact of plastics on the food chain in the oceans.
With photographs and texts by: M. Landos, B. Diggles, G. Gilson, and number of scientific sources.
Location. Duke Kunshan University.  Academic Building and Conference Center (Various locations)
No. 8 Duke Avenue, Kunshan, Jiangsu Province, China 215316