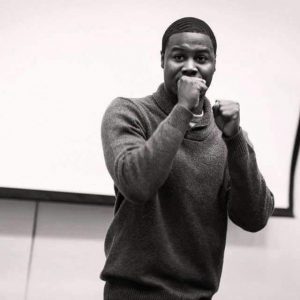 LeJuane (El'Ja) Bowens is an award-winning spoken word poet and author. Born in Detroit, El'Ja joined the United States Army in 2000. During his six years of service, which included two deployments to Iraq, El'Ja began to commit his thoughts to paper. In 2005, at the urging of a friend, he posted several poems online. The positive feedback opened his eyes: poetry was his calling.
In 2014, El'Ja was recognized as the first ever NC Poet to compete and win in three different Grand Slam Finals. He went on to win the 22nd Southern Fried Poetry Slam alongside the Bull City Slam Team, and in 2015 was nominated for Spoken Word Artist of the Year at the 5th Annual National Poetry Awards.
El'Ja is the author of So Many Things to Say (2007) and Anywhere … But Here (2017), two books of poetry. He helped found and currently directs the annual Southeastern Regional NC Poetry Festival held in Fayetteville, NC, and is a featured poet on Poetry Slam Inc's Youtube channel and All Def Poetry, a Youtube channel produced and facilitated by Russell Simmons, co-founder of the hip-hop music label Def Jam.
In 2016, he received the Rising Star Male Poet Award for the State of North Carolina as well as the GANSPA Award.