Principal Investigator
Dr. Michael Tomasello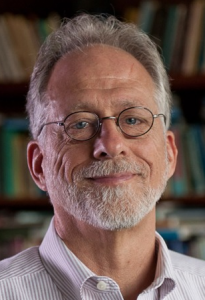 Mike obtained a B.A. in Psychology in 1972 from Duke University and then a Ph.D. in Psychology in 1980 from University of Georgia. He was a Professor of Psychology at Emory University and an affiliate scientist at Yerkes Primate Center from 1980 to 1998. Since 1998, he has served as the Co-Director of the Max Planck Institute for Evolutionary Anthropology in Leipzig, Germany. Currently, he is also a Professor of Psychology and Neuroscience at Duke. His research interests focus on the processes of social cognition, social learning, and communication/language in human children and great apes. His recent books include Origins of Human Communication (MIT Press, 2008), Why We Cooperate (MIT Press, 2009), A Natural History of Human Thinking (Harvard University Press, 2014), and A Natural History of Human Morality (Harvard University Press, 2016).
________________________________________________________________________________________
Graduate Students
Leon Li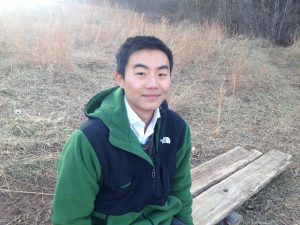 Leon is a fifth year graduate student in the Tomasello Lab. He received a BS
cum laude
in psychology from the University of Maryland, where he investigated language representation with Dr. L. Robert Slevc and moral development with Dr. Melanie Killen. Before attending Duke, Leon also conducted research on mindfulness meditation and language at the Center for Advanced Study of Language and worked as a lab manager for Dr. Susan Courtney at Johns Hopkins University. At Duke, he is excited to continue investigating topics related to language and morality, such as how the linguistic framing of a situation influences children's actions and interpretations of events or how children engage in moral reasoning when interacting with other people. 
---
Jared Vasil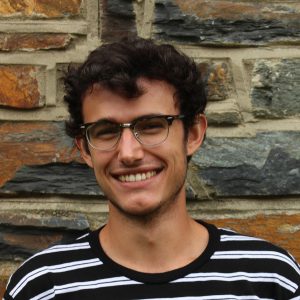 Jared is a fourth year graduate student in the Tomasello Lab. Under the mentorship of Dr. M. J. Farrar, Jared received a BS in Psychology (
summa cum laude
), a BA in Linguistics (
cum laude
), and a minor in Philosophy from the University of Florida. Broadly, Jared's interests are in the evolution and development of human communication and cooperation. Jared's experimental work studies the effects of 'we'-framing on preschool children's cooperation with a partner (i.e., the effects of describing a dyadic activity as a collaborative, joint venture on children's social behavior). Additional work relates the active inference formulation of biological systems to human communication. In his spare time, Jared enjoys running, rock climbing, and reading.
________________________________________________________________________________________
Trisha Katz
Trisha is a first-year PhD student at Duke and she is co-advised by Dr. Michael Tomasello and Dr. Tamar Kushnir. Trisha started her psychology journey at Boston University, where she graduated Magna Cum Laude and completed an honors thesis on the efficacy of a play-based intervention for children with Autism. She then spent two years at UC-San Diego, where she worked as a lab manager for Dr. Caren Walker and Dr. Federico Rossano, investigating a variety of topics related to causal reasoning and social cognition in young children. At Duke, Trisha hopes to design studies related to costly signaling, respect, and reputation management during early childhood. Additionally, Trisha has conducted fieldwork on cultural behaviors in Japanese Macaques, and she hopes to design modified versions of her studies that can be run with non-human primates.
________________________________________________________________________________________
Lab Manager
Kayley Dotson
Kayley is from Birmingham, AL and graduated from Duke in May 2021. She earned a B.A. in Psychology and a B.A. in French. She worked as a research assistant in the Tomasello lab for over 3 years and conducted an honors thesis on joint attention and social bonding during her senior year. Her research interests include joint attention, prosociality, and emotion, as well as the applications of these topics in parenting. In the future, she hopes to pursue a PhD in developmental psychology. In her spare time, she loves hiking, biking, and traveling.
________________________________________________________________________________________
Undergraduates

Senior Thesis Students
Camryn Capoot
Camryn is a senior from Denver, Colorado. She is majoring in Neuroscience with minors in Psychology and Chemistry. She is interested in the intersection of social behavior and cognitive function in the context of development. She loves working with children, volunteers at the Duke Children's Hospital, and works with a program dedicated to promoting the participation of female-identifying middle schoolers in STEM.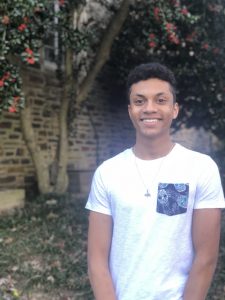 Aren Tucker
Aren is a senior from New York City pursuing majors in Philosophy and Psychology. He is very interested in how youth trauma impacts development and mental health, and intends to become a clinical psychologist.
Research Assistants
 Sarah Teixeira
Sarah is a senior from São Paulo, Brazil, pursuing a major in Psychology and minors in Neuroscience and Cultural Anthropology. She is interested in social development, bilingualism, and the developmental impacts of culture. She loves working with children and tutored students of all ages in after school programs. Her hobbies include digital photography, crafting, and baking.
Jocelynn Murphy
Jocelynn is a senior from Creedmoor, NC. She is majoring in Psychology on a premed track. She loves working with kids and plans to go to medical school upon graduating Duke where she will either focus on Psychiatry or Pediatrics.
Bella Lars
en
Bella is a junior at Duke from Chapel Hill. She is double majoring in psychology and public policy and is especially fascinated by empathy & cooperation and how the field of psychology can be used in restorative justice. After graduation, she plans to pursue a graduate degree in psychology. Bella enjoys hiking, has two dogs named after food (Cheese and Waffles), has a younger brother, and thinks that kids are awesome.
Maya Provençal
Maya is a junior from Denver, Colorado currently pursuing a B.S. in Psychology with a minor in Neuroscience. Later, she hopes to attend graduate school for clinical psychology. Her research interests include empathy, social psychology, and joint attention specifically within children. Maya enjoys midday naps, Thai food, and very brief walks on the beach (because she does not particularly enjoy sand).
Alissa Rivero
Alissa is a freshman from Arlington, Virginia. She is hoping to major in psychology and evolutionary anthropology. She is especially interested in using primate studies to better understand children's cognitive and psychosocial development.
________________________________________________________________________________________
Lab Alumni
Rachel Gallegos (Honor's Thesis RA 2017); Chandler Cissel (RA 2017); Emma Koltun-Baker (RA 2017); Abby Muehlstein (RA 2017); Mackenzie Roberts (RA 2017); Julia Weber (RA 2017); Fernando Moreno (Visiting Scholar 2017); Andrea Lin (RA 2017); Leila Milanfar (RA 2017); Paige Scarbrough (Lab Manager 2016- 2018); Amy Zhang (HS RA 2018); Mareike Heinrich (Visiting Scholar 2019); Bari Britvan (Honor's Thesis RA 2017-2019); Vivian Iva (Honor's Thesis RA 2018-2019); Hope Morales (RA 2018-2019); Yeonju Suh (RA 2018-2019); Theresa Nardone (RA 2019); (Krystal Hu RA 2019); Chandler Warren (RA 2019); Sawyer O'Keefe (RA 2019); Ainsley Buck (RA 2018-2019); Caitlin Luby (RA 2018-2019); Amanda Nafe (Lab Manager 2018-2020); Kayla Harris (Honor's Thesis RA 2018-2020); Paula Moreno (RA 2019-2020); Dayna Price (Honor's Thesis RA 2020-2021); Sydny Long (RA 2019-2021); Anna Fink (RA 2019-2021); Lucy Pruzan (RA 2019-2021); Julia Thielhelm (Honor's Thesis RA 2018-2020 & Lab Manager 2020-2021); Wouter Wolf (Graduate Student 2017-2021)