#ReadingTheStone participants have been sharing wonderful external resources. This is an ever-evolving list of general interest material with no attempt at scholarly bibliographic control or mastery (i.e. don't use this as your HLM Generals list). And please do feel free to share links for us – including your own work! – to grow this resources page for general readers of The Stone.
CHARACTER LISTS and PRONUNCIATION GUIDES
The Dream of The Red Chamber Wikipedia page has a really solid list of character descriptions
Shelly Kraicer made a brief list of the novel's main characters in Pinyin and traditional Chinese characters
Handan Bao and Kate Laird created a pronunciation guide for major HLM character names
GENERAL REFERENCE (BOOKS, ARTICLES)
Ann Waltner, Dream of the Red Chamber: Afterlives 
Andrew Schonebaum and Tina Lu, eds., Approaches to Teaching The Story of the Stone (Dream of The Red Chamber)
Susan Chan Egan and Pai Hsien-yung, A Companion to The Story of the Stone: A Chapter-by-Chapter Guide
PODCASTS and LECTURES
Kevin Wilson and William Jones, Rereading The Stone podcast
白先勇人文講座 ─ 紅樓夢導讀 Pai Hsien-yung NTU lecture series on Dream of The Red Chamber (in Chinese) 
歐麗娟人文講座 紅樓夢導讀 Ou Lijuan NTU lecture series on Dream of The Red Chamber (in Chinese)
红楼慢炖:幸福里斜杠青年 (HLM podcast in Chinese, recommended by reader @Shan_qd)
TRANSLATING THE STONE
Again, the HLM English Wikipedia page is quite solid on the history of translations into Western languages.
Not aiming at a full list but rather noting the translation editions that participants have mentioned that they are reading.
The Dream of the Red Chamber. by Tsao Hsueh-Chin and Kao Ngoh. Translated and Adapted by Chi-Chen Wang, with a Preface by Arthur Waley (1929, English, abridged; 1958, 60-chapter expanded version)
The Story of The Stone (5 vols.), translated by David Hawkes and John Minford (1974-86, English)
A Dream of Red Mansions (3 vols). translated by Hsien-i Yang and Gladys Yang (1978-80, English)
Sueño en el pabellón rojo (2 vols). Translated into Spanish by Zhao Zhenjiang and José Antonio García Sánchez (2018)
Dream of the Red Chamber (2 vols).Translated into Hebrew from the Chinese by Andrew Plaks and Amira Katz (2018-21)
De Droom van de Rode Kamer. (4 vols). Translated into Dutch by  Silvia Marijnissen, Mark Leenhouts and Anne Sytske Keijser (2021).
MULTIMEDIA / ADAPTATIONS
1944 紅樓夢|上海中華電影聯合有限公司|卜萬蒼執導,周璇、袁美雲、王丹鳳、白虹主演  [1944 A Dream of Red Mansions, Shanghai film adaptation]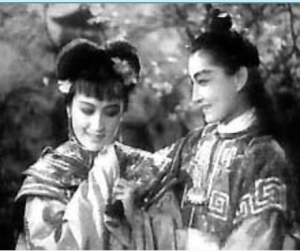 1962 紅樓夢 香港邵氏電影 袁秋楓執導,樂蒂,任潔 [1962 Shaw Brothers Huangmei opera film version with Betty Loh Ti]
1962 越劇 《紅樓夢》 徐玉蘭 王文娟 [1962 Shanghai Yueju opera version with the great Xu Yulan and Wang Wenjuan]
1978 金玉良緣 紅樓夢  李翰祥執導,林青霞,張艾嘉 – 片段 [1978 HK/Taiwan Huangmei opera film version dir. Li Han-hsiang, with Brigitte Lin and Sylvia Chang – excerpt]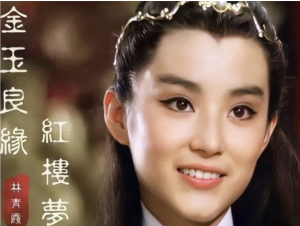 (face it- there's never going to be a handsomer Baoyu than Brigitte Lin -e)
1987版红楼梦-央视 [1987 A Dream of Red Mansions, CCTV 36-episode TV adaptation
(And I acknowledge that many feel about Chen Xiaoxu's Lin Daiyu in the 1987 epic HLM adaptation the same way people think of Colin Firth as Darcy – that there can be no other. Also, the actor's early death from cancer, shortly after becoming a Buddhist nun, solidifies her tragic Daiyu aura.)
2010《紅樓夢》韓三平總製片,李少紅執導,蔣夢婕、于小彤、楊洋、白冰、李沁、王龍華、姚笛 [2010 A Dream of Red Mansions, 50-episode PRC TV adaptation]
2014 紅樓夢 'What is Sex', dir. 林奕華 Edward Lam – cross-gender stage play of Dream of the Red Chamber
In June 2022, the San Francisco Opera will be staging a revival of Dream of the Red Chamber, an original opera by Bright Sheng and David Henry Hwang. Prof. Ann Waltner has a section in her e-book with interviews with the creators, a review, and more info on the 2016 world premiere: https://open.lib.umn.edu/redchamber/chapter/world-premiere/