How can fiction positively or negatively shape our narratives of the design of nature's future(s)?
[Note: I've read a couple of other students' posts and they seem to be answering how fiction can both positively and negatively affect our narratives. I interpreted the question as asking me to select how it either positively or negatively shapes narratives, pose an argument as to why, and give examples. So that's what I'm going to do.)
Fiction and literature are blank canvases for social experimentation. These narratives can be experimented with in their structure ("Evidence", short story by Alexis Pauline Gumbs; The Silent History by Eli Horowitz) or the 'radical' tendencies of their claims (Amonite by Nicola Griffith; The Handmaid's Tale by Margaret Atwood). Central to their design – and their contribution to the design of nature's futures – is the language they utilize, disembody, or debunk. This is the same popular, culturally-embedded language we will use to shape our own narratives, and that's why I believe fiction can positively shape the future.
I'd like to look a little deeper into the culture around The Handmaid's Tale as an example. Initially released as a novel in 1985, it's recently been adapted as a television show (and, also, a somewhat frightening "avant-garde" film with Robert Duvall, shot on Duke's West Campus). In the summer months when it was released as a streamable tv series, there were interesting comparisons between Gilead and the onslaught of a "Trumpian" America. The notable similarities: an oppressive government structure built around white supremacy and anti-feminism; and a world behooved by extensive environmental degradation (I would go so far as to the say that similar to Atwood's toxic no-man's-land where "unwomen" were sent to work and die, the modern sites of oil pipeline leaks and spills, or of improper nuclear waste disposal, also pose the same complete destruction and poisoning of a natural environment – examples I can think of now include areas of the Gulf of Mexico, the Amazon rainforest, the Niger River delta, etc).
Source: http://www.mommyish.com/wp-content/uploads/2017/05/real-life.jpg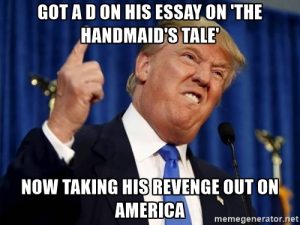 Source: http://www.theloop.ca/wp-content/uploads/2017/02/Donald_Meme.jpg
Once people were introduced to the fictional story of The Handmaid's Tale through its adaptation into television, it became clear from the nature of the comparisons made and reactions shared that most people were disturbed by the likely allusions between the two worlds. Even in the purposefully hyperbolic nature of fiction, one would never want a similar world to exist. It is the definition of a dystopia. But it was provocative enough to make the resistance to the Gilead world something that we absorbed into feminist language and its fourth wave, web-based sensibility [see memes]. This fictional story – not so much in its fear-mongering, but in the strong voice of its central female character – contributes another outlet within the feminist response to Trump. Women who are against the values and actions of the 45th's administration has been one of the strongest and most persistent liberal responses [see Women's March on Washington]. I have always believed that feminist and environmental movements cannot be mutually exclusive from one another, but in fact benefit from each other's momentum and passion. Although the novel is dystopic, I'd argue that it enforces a positive, eco-feminist response and provokes conversations that could be essential to designing nature's futures.