The Duke MBA Energy Club serves as the hub at the Fuqua School of Business for students interested in the energy sector.
13th Annual Duke University Energy Conference
November 10, 2021
Virtual format for non-Duke affiliated attendees' In-person format for Duke students, faculty, staff; Free Admission for all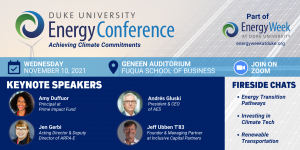 Student organizers of the sixth annual Energy Week at Duke invite students, scholars, and energy professionals worldwide to attend the  Duke University Energy Conference (Wed., Nov. 10, 2021), where industry experts will share insights on advancing the clean energy transition and achieving climate commitments. Register here!