Welcome to the official website of the Duke Asian Pacific American Law Students Association. 
The Asian Law Students Association was established in 1995 to serve the needs of the Asian American student community at Duke University School of Law. In 2017, the organization officially changed its name to the Asian Pacific American Law Students Association (APALSA) in order to create a more inclusive environment. More than two decades later, not only has APALSA grown to become one of the largest student organizations on campus, but we have also preserved an unwavering dedication to the foundational goals established by our predecessors: to be champions of diversity & inclusion, shepherds of professional development and members of a tightly-knit & supportive community. 
We thank you for your interest in our organization and we hope you will spend a moment to get to know us a little better. 
---
DIVERSITY & AWARENESS
APALSA is dedicated to promoting a culture of diversity and inclusion within the Duke Law family. We strive for a deeper understanding of the political, historical and legal roles of Asians and Asian Pacific Americans in local and international communities. To this end, our Executive Board facilitates collaborations with internal and external organizations to organize a host of events, debates, and panels to provide members a forum to collectively learn and voice opinions.
APALSA also attempts to bridge the gap between the academic world and the greater legal community. APALSA participates in Harvard APALSA's Annual National Asian Pacific Conference on Law and Public Policy, which invites prominent jurists, public interest advocates, corporate partners, and government policymakers to speak in panels and meet with law school students from around the country. In 2015, APALSA sent 14 of its members, the largest represented group among the participating law schools, providing an invaluable opportunity to discuss pressing political, cultural, and social issues.
CAREER & PROFESSIONAL DEVELOPMENT
APALSA is committed to nurturing the professional development of the talented students the legal community has grown to expect from Duke Law. First-year students are provided a variety of avenues to benefit from the experiences of our upperclassmen through initiatives like our Mentorship Program and the Resume & Cover Letter Exchange. Members are also given access to APALSA's comprehensive databank of alumni that establishes an international network of Asian and Asian Pacific American students and lawyers.
APALSA's dedication to professional development extends beyond our members and into school-wide programming aimed to orient students to the legal profession and guide career decisions. In January, APALSA co-sponsored the "Succeeding as a Summer Associate" presentation to provide students with the tools necessary to thrive in law firm environments. APALSA's annual three-part series, "Big Law in a Bite," invites Asian Pacific American attorneys from particular geographic markets (New York, California, D.C., Secondary and International Markets) from the nation's best law firms to provide insight into the region and to address issues of diversity, hiring, and retention.
ACADEMIC SUCCESS AND SOCIAL SUPPORT
Duke Law is defined by the diversity of our member's experiences, the collective accomplishments of our students and the unmistakable culture of collegiality. APALSA truly embodies these values and is committed to creating an open and welcoming environment, not just among ourselves, but with the entire Duke Law family. We encourage a culture of mentorship, sharing and collaboration, while maintaining our individual uniqueness. APALSA strives to provide our members an unwavering source of support.
Academically, we offer formal guidance through our Mentorship Program, co-sponsorships of events like "Tips, Tricks & Other Strategies for Effective Casenote Writing," and through access to our comprehensive Outline Bank.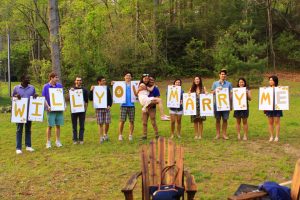 Recognizing that time to unwind is a vital ingredient to any successful academic career, APALSA also seeks to cultivate a fun school environment and a sense of community by organizing a large assortment of social gatherings. Our yearly launch Kickoff Event, the Annual Legacy Gala, and our Year-End 3L Sendoff Dinner are just a few of our events that bring together three generations of Dukies in celebration.
With each year's experiences as guides, APALSA continues to work tirelessly to make an impact at Duke and in our local communities. We hope you will join us in our mission expand opportunities, strengthen ties, and build a collective identity we can all be proud of.
---