John Myers
John Myers, Ph.D., MSPH, serves as the Director of the Biostatistics Core as well as the Clinical Research Unit within the Duke University School of Nursing. Dr. Myers has over 15 years of experience working with clinical researchers and leading data analytics teams. Leveraging his expertise directing advanced biostatistical and econometric support for projects performed by clinical researchers. His collaborative experience spans a wide range of clinical research areas, including fire safety and burns, women's health, postpartum depression, diabetes, smoking cessation, childhood obesity, mental health issues, asthma, infectious diseases, cardiology, oncology, health services research, and substance abuse. In his career, Dr. Myers has published over 140 manuscripts in peer-reviewed journals, been a member of research teams awarded nearly $40M in funding, and serves on numerous review panels for the NIH and the CDC.
Christin Daniels

Christin Daniels is the Assistant Dean for Research Development and one of two Research Quality Officers at the Duke University School of Nursing (DUSON). She co-leads the DUSON Research Racial Justice Task Force and is co-PI of Breaking Research Barriers: Conversations to Ensure Racial Justice and Equity in Research Practices, a grant funded by the Duke Office of Faculty Advancement Seed Grant program to support this podcast. Christin has spent over two decades working to support diversity, equity and inclusion initiatives at major research Universities. Earlier in her career, Christin's research focused on improving quality of life in children with chronic conditions, most of whom lived in rural or underserved communities. Christin's training is in cognitive psychology. As for the podcast, she is looking forward to connecting with great thinkers whose ideas may help inform a systemic overhaul of the research enterprise as we know it.
Hanzhang Xu
Hanzhang Xu is a gerontologist by training. Her research interests center on social determinants of health and disparities in health care and outcomes among diverse older adult populations. Her current program of research falls under two themes: (i) the analysis of health disparities in a multinational context, with a particular focus on the cognitive function and dementia care; and (ii) the integration of patient-reported social factors in cardiovascular outcome research.  As part of the Breaking Research Barriers podcast team, she is excited about connecting with a wide group of audiences to come up with innovative and practical solutions to address inequities in research and healthcare delivery.
Allison Lewinski
Allison Lewinski is a health services researcher with a focus on virtual care and chronic illness self-management. She has an interest in developing, implementing, and disseminating, sustainable interventions that are routinely used in clinical practice and health care delivery. She is excited about the Breaking Research Barriers podcast because of the opportunity to learn about how to improve health equity and racial justice in research from our guest interviewees. Dr. Lewinski believes sharing research findings, procedures, practices, and discussions with the larger community, in innovative and understandable methods, is essential to developing robust, rigorous clinical research that improves health for all populations, contexts, and settings.
Stephanie Ibemere
Stephanie Ibemere, PhD, RN is a health disparities and health services researcher. Her research focuses on improving provider capacity and the clinical model for SCD management in low to middle income settings in sub-Saharan Africa and the United States through tool adaptation, implementation science, maximization of technology, and community-engaged research. Dr. Ibemere believes the "Breaking Research Barriers" podcast is an opportunity to boldly describe the ways in which we can engage in health equity research. Dr. Ibemere hopes the "Breaking Research Barriers" podcast can be a catalyst for advancing health disparities research beyond describing differences to developing interventions and transforming health policy.
Jessalyn Byrd

Jessie Byrd, MEd, NCC is a Clinical Research Coordinator in the School of Nursing and School of Medicine (Dept. of Orthopaedic Surgery). Her research interests include promoting equitable health and social services to improve patient outcomes.  She is excited to be involved with the Breaking Research Barriers podcast series as it provides a unique platform to engage in important conversations with experts and disseminate to the broader community. Jessie believes Breaking Research Barriers will help to raise awareness and provide useful strategies to ensure equity in clinical research and clinical practice.
Yazmin Spearman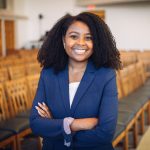 Yazmin Spearman is a graduate student with a focus on community organizing and advocacy at Duke Divinity School. She serves as the Program Manager (PM) of the Breaking Research Barriers podcast. Her research interests include addressing intersectional oppressions and how they create compounded vulnerabilities for marginalized communities. Prior to working for Duke, she worked as a Project Coordinator to construct the first Center for the Study of Race & Ethnicity at Wheaton College. She also partnered with the Co-Chair of the Correctional Ministries and Chaplains' Association, Dr. Karen Swanson to publish the first training book in America on incarcerated women for re-entry workers and chaplains entitled All Rise: Ministry with Justice-Involved Women. She is excited about Breaking Research Barriers because the podcast challenges its listeners to examine the historical inequities of the past in order to create a more equitable future.