HPREP Program Description:

The Health Profession Recruitment and Exposure Program (HPREP) is a program that aims to provide professional development and mentoring to historically underrepresented students interested in pursuing a career in health care. With the help of dedicated volunteers, many of whom are medical students and professional faculty, HPREP seeks to provide not only role models who are pursuing careers in healthcare, but also multiple experiences and interactions with medicine.
Sessions are held on Saturday mornings and include hands-on activities such as CPR training and small group activities to allow for team-building and interactions with mentors. During the group sessions, mentors generally share their experiences, offer advice to students, and provide feedback to students regarding writing, public speaking, and interviewing. Many of our participants find this to be a very valuable time.
Participants are required to compete in a case competition, perform a mock interview, and submit a personal statement/reflection.
Awards: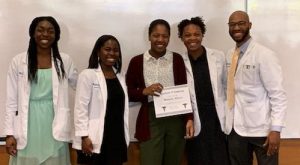 It is our tradition to award exceptional participants in the program with special recognition during the closing ceremony. Criteria for the awards will be based on performance on the case competition, team building activities, personal statement, attendance, and mock-interview.
Statement regarding COVID-19:
Based on the current COVID-19 guidelines, our sessions in 2023 will be IN PERSON. 
Meet our co-directors: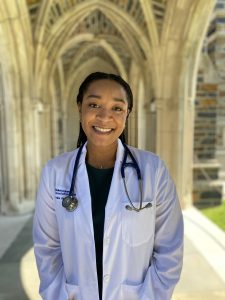 Amika Ekanem 
Amika is a MD student from New Martinsville, West Virginia. She graduated from Duke University in 2020 where she studied Biology. She is also an Ensign in the US Navy through the Health Professions Scholarship Program. Her interests include addressing the medical needs of underserved communities, playing tennis, rollerblading, and trying out new restaurants in Durham.

Raiven Harris 
Raiven is a MD student from metro Atlanta. She graduated from Cornell University in 2019, where she majored in Performing and Media Arts and minored in Biology. Her interests include understanding the health disparities in patient outcomes, sewing, fashion design, cooking, and baking.
Contact us:
Email: DukeHPREP@gmail.com