A lot can happen in two years, and in a hundred-thirty. Acute things like a pandemic and chronic things like the passage of time. Here it is July 25, 2021, and my Chekhov journey began, if you're counting by this blog, July 30, 2019, if by reality, then earlier that same July.
After a scary year cloistered indoors, the zombies began to emerge.  Have to say, those two Pfizer shots felt good.  At least a dozen conferences, mostly to celebrate the Dostoevsky bicentennial (stay tuned, please), shrank to the size of my computer screen in 2020-21. The talks were great, better than usual, but it all felt like a series of cartoons. Are those really my beloved colleagues in there, or is this some rabbit hole kind of thing? The last one, a Dostoevskian heartbreaker in Genoa, got sucked into the computer too. If you look at the map, you'll see that Genoa is a hop and a skip from one of Chekhov's major stopping places, Nice, France. Originally my Chekhov odyssey was to continue, oh so easily, from there to there. Italy decided otherwise, and so be it: the conference took place, like so many others over this dreadful year, on my desk, and it was actually very exciting, even without the wine, the castle, the sailboats rocking in the harbor, and the great Italian food. We choose to read these Russian writers for the intellectual stimulation, for the deep questions, for their own intrinsic value, not for what you can eat along the way.
Still glowing from the Genoa Dostoevsky conversations, I chained the COVID motorcycle to the chain-link fence (just above the poison ivy patch), stowed the social-distancing helmet, locked my door, packed a dozen masks, and rolled up my sleeves for more Chekhov-tracking. And here I am in Nice, somehow. The 130 years I mentioned is the time between Chekhov's first visit here, in 1891 with Suvorin, and mine, this very minute.
The south of France is basically the not-Siberia. This, for example, is the view from a stunning place called Eze, a 1-euro bus ride from Nice:
Though let's not forget about Lake Baikal–which lacks all the buildings and yachts, we hope, still.
Alexei Suvorin, Chekhov's publisher, was for quite a long time one of Chekhov's closest friends. Though Suvorin's letters to Chekhov were lost, Chekhov's to Suvorin remain, giving half of one of the world's great epistolary dialogues. More tantalyzing are the references Chekhov makes to their long conversations about anything and everything.
All of this, now, is air.
Only the tiniest record remains in those letters–and, guys, it's good stuff so go read it.
After Chekhov and I got back from Sakhalin (fall 1890, fall 2019), we took a break and sat in one place, mostly, writing and doing our day jobs, and worrying about illness. But then we both set out for Western Europe–Chekhov for something like the grand tour (his first visit abroad), me, a shrunken version–five days in Nice, France. Chekhov traveled with Suvorin, who was extremely wealthy. Suvorin by then was one of Chekhov's major sources of income and had funded much of the Sakhalin trip, for which he was paid in various pieces of writing. For which we thank not only our man, but also Suvorin, despite everything. Suvorin was used to living well and throwing money around. Chekhov, no. (Me too, no.) You can catch glimpses of this dynamic here and there in his stories, and in his letters, which often give a detailed accounting of his income and expenses. Chekhov was in the man's debt. But, truth be told, Suvorin was often in Chekhov's debt, too. Despite his wealth, his office was pretty disorganized, and often was behind in paying Chekhov. Somehow this spills over, how could it not, into his (their?) writing.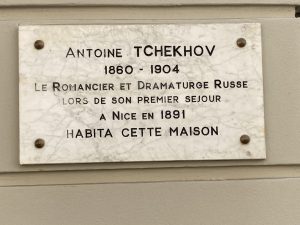 In short, traveling with Suvorin, Chekhov found himself in luxurious accommodations, and one cannot be sure he felt completely comfortable in them, aware as he was of their cost. He WOULD be paying for this, by writing. Now the full disclosure at this point is that some of this trip is being covered by my employer, so what you're reading here is a weird kind of payment for that. After viewing the major Italian sites,  Suvorin and Chekhov settled in Nice, in the luxurious Beau Rivage hotel, on the Promenade Des Anglais, which is just as fancy as it sounds, though I found it more beautiful to look at the actually indeed azure sea than at the buildings lining it: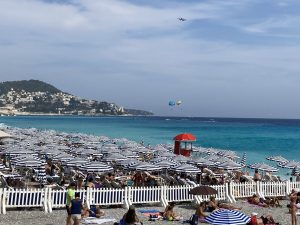 Tracing Chekhov's footprints, I felt it necessary to promenade along the shore, and to visit places he mentions in his letters, or which memoirists mention him visiting, and, as you will see in another couple of posts, to stay where he stayed later, and to lose some money at gambling in Monte Carlo, as he (and some of our other favorite Russian writers) did. But first, his first stopping place, the Beau Rivage hotel. Already lodged in the Oasis, aka Pension Russe (in fact in his very room–i repeat, details to come), I forewent the pleasure (and shocking expense) of a few nights in the Beau Rivage. But to get into his mind-set, I decided at least to buy a drink at the bar there, and be shocked at its expense. (Be it known that none of my employer's funds were spent on this particular part of my research trip.)
My first stab at this on my first day in Nice failed; the lobby guy told me the bartender had not showed up to work, so the bar was closed. Finally, today, success. I managed to get through the screens (mask, sanitizer, and, interestingly, a written declaration that I do not have COVID that even the lobby guy didn't know about, including my phone number, which I had to make up, since I don't have one that works over here, and about all of which I was transparent).  Finally, success. I'm a beer drinker, normally, but tonight called for a Black Russian, of course, mostly for thematic reasons, but also because I know how to say that in French.  Bravely I ordered, not inquiring as to the cost.
The drink was fine, for a beer drinker.  I did raise a toast to him, and to you. I do admit I was wondering about the cost, as maybe Chekhov did at moments like these.
I repeat a disclaimer here, that I shared earlier on this journey, I think it was in Ekaterinburg: I am traveling alone, without a trip organizer, photographer, fashion consultant, hairdresser, or interpreter. And be it known, my French is way worse than my Russian, though, to judge by people's reactions when I speak, somehow kind of funny.
I sat, sipped, and read. A couple of giggly teenage girls came in and asked about the price of water ("eau") –5 euros, btw. And a couple behind me was having one of those practically invisible and inaudible, but still detectable quarrels under a very decorous exterior. I am reading Maggie O'Farrell's book Hamnet, and the saddest part happens right there in the Beau Rivage, and I started to cry, but then thought WWCD (what would Chekhov do?) and pulled myself together enough to ask for the check, thinking, maybe I'll need these tears in real life, anyway, in a minute.
Fifteen euros.
Not bad, really, given everything they bought me.