Meeting minutes document discussion and decision-making during your meetings. Combined with meeting agendas, they provide an excellent record of your organization's activities.
Transfer to Archives: Annually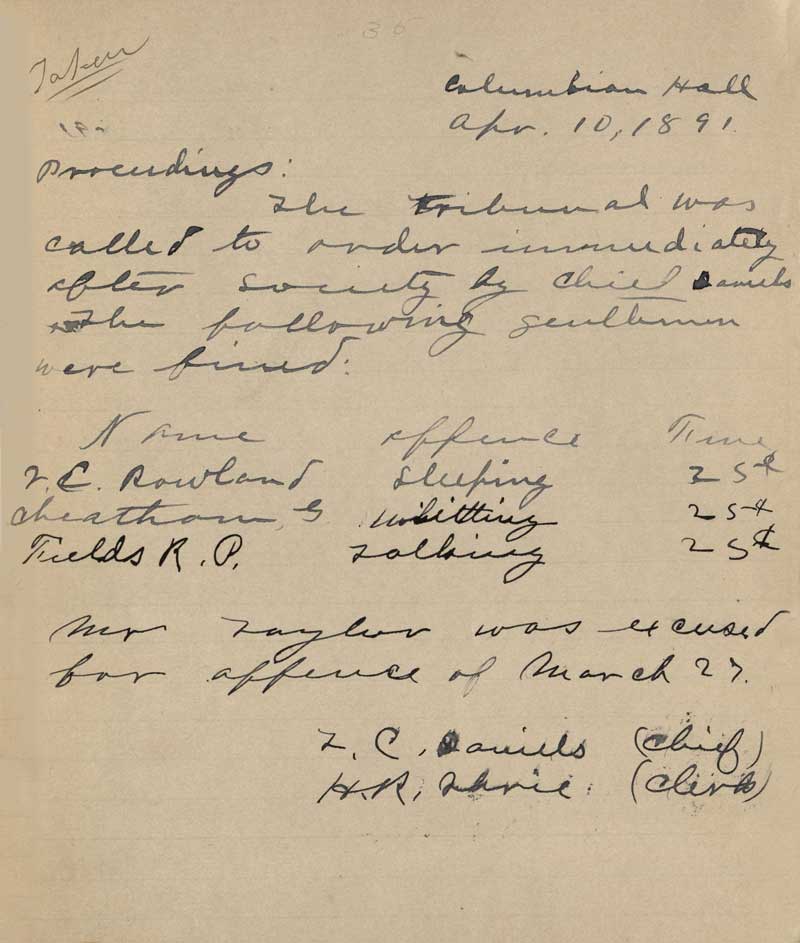 From 1846 to 1938, students interested in debating contemporary issues with their classmates might have joined the Columbian Literary Society. It was one of a pair of debating societies: the Hesperian Literary Society was founded in 1851 and intended for students from the Western half of North Carolina, while the Columbian was intended for students from the Eastern half.
While the recording secretary took the official minutes of the society's weekly debates, the censor recorded transgressions against the society's rules and fined the transgressors appropriately. This page from the censor's notebook shows that Mr. Goode Cheatham, a first-year student from Henderson, NC, was fined $.25 for whittling during the society's April 10, 1891 meeting. Mr. Isham Cheatham Rowland, a preparatory student also from Henderson, was fined the same amount for sleeping.
Later minutes from a 1967 Windsor House (a living group based in Few Quadrangle) meeting are notable for their inclusion of two "signs of the times": students are beginning to be involved in the Vietnam War and the purchase of a color TV for the house was a major decision!
Why is this historically important?
Both help us to understand how the Columbian Literary Society and Windsor House were organized and the responsibilities assigned to its officers.
We also get a sense of what the average student's financial situation might have been in 1891 and in 1967. ($.25 in 1891 is the equivalent of about $6.50 today.)
Page from Censor's Book, 1890-1892. From the Columbian and Hesperian Literary Societies Records, 1848-1942.
Windsor House Meeting Minutes, May 18, 1967. From the Residential Life Reference Collection, 1922-2001.