P.I.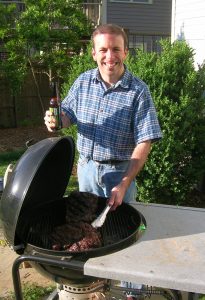 John Willis
919.660.7340
jwillis@duke.edu
Postdocs and Research Scientists
Elen Oneal
919.684.3368
eo22@duke.edu
CV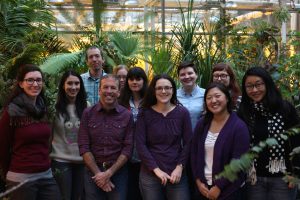 Spring 2014 Lab Photo First Row, Left-Right: Laryssa Baldridge, Katherine Toll, John Willis, Elen Oneal, Annie Jeong, and Chenling Antelope.
Second Row, Left-Right: Kevin Lehner, Päivi Leinonen, Jessica Selby, Jenn Coughlan, and Ashley Troth.
Undergraduate researchers (old school)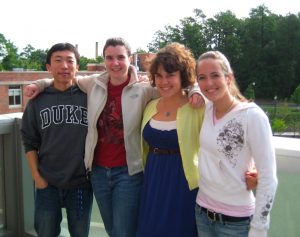 Undergraduates in the lab – taking a break from their independent study
projects! Left-Right: Mike Yan, Laura Nutter, Meg Peterson, and Megan Rommel.
Distinguished Lab Alumni
Jessica Selby · Research Scientist, Monsanto
Laryssa Baldridge · Lab Instructor, Duke University
Katherine Toll · Postdoctoral Researcher, Michigan State University
Annie Jeong · Program Manager, School of Medicine, Johns Hopkins University
Ashley Troth · Extension Agent Agriculture, Durham, N.C. Cooperative Extension
Jennifer Coughlan · Postdoctoral Researcher, University of North Carolina, Chapel Hill
     Paivi Leinonen · Postdoctoral Researcher, Natural Resources Institute Finland
    Joshua Puzey · Assistant Professor, College of William and Mary
    Kathleen (Katie) Ferris · Postdoctoral Researcher, University of California, Davis
    Jen Modliszewski · Postdoctoral Researcher, University of North Carolina, Chapel Hill
    Kevin Wright · Postdoctoral Researcher, Harvard University
    Ben Blackman · Assistant Professor, University of California, Berkeley
    Lex Flagel · Computational Genomicist, Monsanto
    Jannice Friedman · Assistant Professor, Syracuse University
    Young Wha Lee · Research Scientist, Monsanto
    David Lowry · Assistant Professor, Michigan State University
    Carrie Wu · Assistant Professor, University of Richmond
    Arielle Cooley · Assistant Professor, Whitman College
    Amy Bouck-Knight · Bioinformatics Support Scientist, Illumina
    Andrea Sweigart · Assistant Professsor, University of Georgia
    Sarah Ribstein · Lawyer at Robbins Russell
    Megan Hall · Associate Specialist, Energy Biosciences Institute, UC Berkeley
    Andrea Case · Associate Professor, Kent State
    Jan Aagaard · Postdoctoral Fellow, University of Washington
    Noland Martin · Assistant Professor, Texas State
    Lila Fishman · Associate Professor, University of Montana
    Chris Caruso · Associate Professor, University of Guelph
    Leonie Moyle · Associate Professor, Indiana University-Bloomington
    John Kelly · Professor, University of Kansas
    Alan Kelly · Senior Instructor, University of Oregon