von Nick Kachulis
Zurück zu Die Frauenfußballweltmeisterschaft 2015 – ein Überblick aus deutscher Perspektive
Frauenfußball machte viele Fortschritt seit die erste Frauen Weltmeisterschaft in 1991, aber eine Frage immer noch bleibt. Was ist die Rolle für Frauen Trainerinnen in dem Sport? In den USA sehen wir viele Trainerinnen bei den Jugend und College Spiele, aber nicht so international. Nur acht von den 24 Mannschaften bei der 2015 Frauenweltmeisterschaft haben Trainerinnen führend ihre Mannschaften. Die anderen sind alle Männer. Diese Ländern mit Trainerinnen kommen aus verschieden Umstände. Für viele spielen sie in ihre erste WC, eine Chance von den erweiterten Bereich Mannschaften. Es gibt Sorge, dass Trainerinnen gerade weg von dem Spiel gestoßen sind. Diese Sorge war besonders von Englische Managerin Hope Powell ausgedrückt. Neulich machte FIFA eine neue Regeln, dass jede Mannschaft in der U17 Frauen WC nächstes Jahr mindestens eine Trainerin/Co-Trainerin und eine Frau Medizinerin Personal haben müssen. Trainerinnen in Kanada, Australien, China und Russland verloren ihren Jobs kürzlich zu Männer.[1] Während des Kampf für eine größer Frauen Anwesenheit macht weiter, trainieren diese acht Frau bei dem WC 2015:
Jill Ellis -USA
Jill Ellis at the Algarve Cup (wikimedia commons: http://commons.wikimedia.org/wiki/File:Jillian_Ellis_2015.jpg)
Jill Ellis ist die neunte Trainer von der Amerikanische Frauen-Fußballnationalmannschaft, aber sie ist nur die vierte Trainerin in der 30 Jahre Geschichte. Sie übernahm in 2014, nach Tom Sermanni entließ war. Sie trainierte in jedem Aspekt des Frauen Nationalsystem vor ihrem Anfang als Cheftrainerin. Ellis war in England geboren und kam nach Amerika als sie 15 Jahre alt war. Ihr Vater ist einen bekannten Trainer aus England, John Ellis, der Fußball-Programme weltweit entwickelt. Sie spielte vier Jahre bei der Universität mit dem College of William and Mary. Im Jahre 1988 fing Jill gerade mit trainieren bei Universitäten in den USA an. Sie war Co-Trainerin von 1988 bis 1997 mit NC State University, University of Marlyand und University of Virginia. Ellis hatte eine tolle Karriere mit UCLA von 1999 bis 2010 wo sie 229 Spiele gewonnen und nur 45 verloren. Während sie die Trainerin des UCLA war, trainierte sie auch die U-21 Frauen-Nationalmannschaft im 2000 & 2005 und die U-20 Mannschaft im 2007. Mit Pia Sundhage war sie eine Co-Trainerin mit der Senior-Nationalmannschaft, die die Olympiaspiele 2008 und 2012 Gold gewonnen. Weil sie sehr beteiligt mit der Nationalmannschaft Entwicklung in der Vergangenheit war, kennt sie viele über die präsent Mannschaft und das Wachstum Frauen Fußball. Die Spielerinnen sagten, dass Jill sie gute kennt. Der Amerikanische Hintergrund von Ellis ist auch ein Positiv unter den Spielerinnen. Sie fanden es schwerer mit früher Trainer, die nicht aus Amerika wurden, Beziehungen zu machen. [2][3][4][5]
Silvia Neid – Deutschland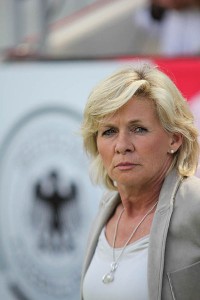 Deutsche Trainerin Silvia Neid (Wikimedia commons: http://commons.wikimedia.org/wiki/File:Silvia_Neid_2013_1.jpg)
Silvia Neid ist seit 2005 die Deutsche Bundestrainerin. Sie trainiert ihr letztes Turnier bei der WC. Neid ist einige der äußerst gefeiert Figuren in Deutsche Frauen Fußball und hat eine sehr erfolgreiche Karriere als eine Spielerin. Nach dieser WC wird Steffi Jones Neid als Bundestrainerin ersetzt. Neid war ein Teil von jeden bedeutend Sieg in deutschen National Frauenfußball. Der deutsche Frauenmannschaft hatte nur drei Trainer in seinem Geschichte (Neid der dritte) und Neid ist die zweite Trainerin. Entweder als Spielerin oder als Trainerin hatte Silvia Neid mit Deutschland für beide WC Siege und alle acht Euro Meisterschaften gewesen. Sie trainierte auch in 2004 den U-19 Frauenmannschaft und gewann die Weltmeisterschaft. In 2010 war Neid die erste Frau Gewinner von FIFA für am besten Trainerin in Frauenfußball. Jetzt führt Neid ein deutscher Mannschaft, der weltrangerste ist. [6][7]
Vanessa Arauz – Ecuador
Vanessa Arauz ist sehr jung, nur 26 Jahre alt! Trotzdem ihres Alter ist sie revolutionär für Frauen in Ecuador. Im Jahre 2011 war sie die erste Frau mit einem offiziellen Trainerin Titel in Ecuador zu graduieren. Sofort wurde Arauz die Co-Trainerin mit der Frauen-Nationalmannschaft und im 2013 übernahm sie als Cheftrainerin für alle Frauen Mannschaften. Sie verknüpft gut mit ihren Spielerinnen und ist ein toller Anreiz. 2015 ist die erste Frauen WC für Ecuador nach einer überraschende Qualifikation Phase. Arauz beachtet, dass es eine historische Jahre für die Frauen Mannschaft ist und das Land zeigte viele Stolz. Der Fußballbund gab Arauz viel Unterstützung und sie ist begeistert über den Fortschritt des Frauenfußball, der ein Sport einst nur für Männer in Ecuador war. [8][9]
Clementine Toure – Côte d'Ivoire
Côte d'Ivoire beendete in dritten Platz in African Women's Championship um die WC zu qualifizieren. Clementine Toure hat vorher Erfahrung als Co-trainerin für Äquatorialguinea als sie in 2008 die AWC gewonnen. Fußball ist ein vereinigendes Hilfsmittel in einem Land, das eine Geschichte voller Bürgerkrieg hat. Das ganze Land jubelt zusammen von dem Erfolg der Nationalmannschaft. Die Auswirkung von Fifa half auch die Entwicklung des Frauenfußball in Côte d'Ivoire durch finanziell Möglichkeiten. Es gibt jetzt mehr Gelegenheiten für Mädchen in jungem Alter Fußball zu spielen. [10][11]
Amelia Valverde – Costa Rica
Amelia Valverde und Costa Rica war nicht so vorbereiteten als der Nationaltrainer Garabet Avedissian am Januar 5. zurück trat. Valverde kam zu dem Job mit vier Jahre Erfahrung als Co-trainerin mit dem Programm. Sie kennt die Spielerinnen gut und die Spielerinnen akzeptieren sie. Sie ist glücklich, dass der Fußballbund sie vertrauet, aber sie sorgt über die kurz Zeit, dass die Mannschaft mit ihr zubereiten hat. Costa Rica qualifiziert für die WC in den zweiten Platz von CONCACAF.
Neungruethai Sathongwien – Thailand
Die erste Frauen Trainerin für Thailand. Es gab viele Kontroverse über ihre Ernennung, weil es gerade bevor der Women's Asia Cup war. Thailand brauchten mindestens zwei Siege um die WC zu qualifizieren, und viele Leute stimmten nicht zu mit dem plötzlichen Trainer-wechselt. Thailand schlug Vietnam in einer dramatische Finale und wird in der WC erstmalig spielen. Es war einen großen historischen Moment für Frauen in Thailand, besonders mit einer Frau Trainerin. [12][13]
Martina Voss-Tecklenburg – die Schweiz
Einher mit Silvia Neid ist Voss-Tecklenburg eine Star Spielerin von deutschem Fußball. Sie ist vor drei Jahre die Trainerin der Schweiz. Sie spielte in drei Weltmeisterschaften bis 1999 mit Deutschland. Sie gewann die deutsche Meisterschaft 6 mal und Europa Meisterschaft 4 mal mit Deutschland. Sie gewann auch die DFB zwei mal als eine Trainerin. Ihre vorher Trainerin-Erleben war mit ein Paar Bundesliga (Frauen) Mannschaften. Voss-Tecklenburg führt einen schweizerischen Mannschaft, der eine starke Gruppe ist, obwohl sie nur ihre erste WC in 2015 spielen. Martina sprach ihre Aufregung aus von 24 Mannschaften in der WC, anstelle von 16, dass die letzte WC hatte. [14]
Pia Sundhage – Schweden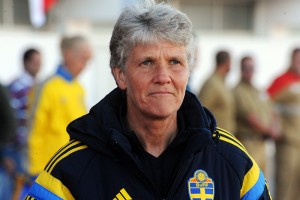 Pia Sundhage 9 March 2015 (wikimedia commons: http://commons.wikimedia.org/wiki/File:Pia_Sundhage_(16154407534).jpg)
Pia Sundhage ist äußerst verehrt Trainerin weltweit. Sie trainierte die USA Frauen Fußballnationalmannschaft von 2008 bis 2012 gewinnend zwei Olympiaspiele und nehmend zweite Platz in der WC. Jetzt trainiert sie ihre Heimat Land in Schweden. In 2012 war Sundhage die Fifa Trainerin der Jahre. Sie hatte eine sehr erfolgreich Karriere als eine Spielerin und auch als ein Trainerin mit verschieden Clubs bevor ihre international Trainerin Karriere. Sie hatte über die Anwesenheit Frauen Trainerin viele gesprochen und spielt eine wichtige Funktion in Fortschritt. "Es gibt keine Männer und Frauen Fußball. Es gibt nur Fußball." [15][16]
Wie gesehen jede Nationalmannschaft hat eine verschieden Geschichte mit Spielerinnen, Trainerinnen und in der WC.  Viele Nationalmannschaft teilnehmen in ihre erste WC. Andere hatten in jeden WC gespielt. Für einige Lander gab es nie eine Frau Trainerin. Für anderen wie Deutschland und die USA sind die Trainerin die dritte oder vierte Frau. Eine Untersuchung von Kari Fasting und Gertrud Pfister forschte einen Unterschied zwischen Männer und Frauen Trainer von der Perspektiv Spielerinnen. Die Untersuchung fand, dass Trainerinnen kommunizieren besser und sind besser Psychologen mit Frauen Spielerinnen. Insgesamt waren die Spielerinnen mit Trainerinnen mehr zufrieden. Gibt es eine bessere Trainerinnen Philosophie für Spielerinnen?[17]  Das bringt eine Frage für diese WC. Gibt es Verursachung zwischen Mannschaften mit einer Trainerin und ihren Erfolg. Es ist etwas wir vielleicht bei der WC diese Sommer sehen.
Sources:
[1] http://www.theguardian.com/football/2015/mar/27/womens-football-hope-powell-fifa-world-cup
Kessel, Anna, "FIFA fights for more women in football but Hope Powell issues warning," the guardian, 27 March 2015.
[2] http://www.ussoccer.com/stories/2014/05/16/10/45/140516-wnt-ellis-head-coach-hire
"Jill Ellis Named Head Coach of Women's National Team," ussoccer.com, May 16, 2014.
[3] http://www.si.com/soccer/planet-futbol/2014/10/24/jill-ellis-uswnt-usa-world-cup#
Wahl, Grant, "Coaching wasn't Jill Ellis' first aim, but she's all in on USA's World Cup Quest," si.com, Oct 24, 2014
[4] http://en.wikipedia.org/wiki/United_States_women's_national_soccer_team
[5] http://en.wikipedia.org/wiki/Jillian_Ellis
[6] http://www.fifa.com/womensworldcup/teams/team=1882879/index.html
Fifa Women's World Cup 2015 – Profile: Germany, fifa.com,
[7] http://en.wikipedia.org/wiki/Silvia_Neid
[8] http://www.fifa.com/womensworldcup/teams/team=1885022/index.html
Fifa Women's World Cup 2015 – Profile: Ecuador, fifa.com
[9] http://www.conmebol.com/en/12122014-0658/ecuadors-womens-national-team-vanessa-arauz-shows-appreciation-support-fef
Source: FEF, "Ecuador's Women's National Team Coach, Vanessa Arauz, shows appreciation for the support of FEF," conmebol.com, Dec 11, 2014.
[10] http://www.fifa.com/womensworldcup/teams/team=1887476/index.html
Fifa Women's World Cup 2015 – Profile: Côte d'Ivoire, fifa.com.
[11] http://www.fifa.com/development/news/y=2012/m=10/news=football-cote-ivoire-uniting-force-1746168.html
"Football, Côte d'Ivoire's uniting force," fifa.com, 08 Oct 2012
[12] http://www.thai-fussball.com/en/News-New-coach-just-weeks-before-the-Womens-Asian-Cup-item-454.html
"New coach just weeks before the Women's Asian Cup," thai-fussball.com, April 15,2014.
[13] http://www.pattayamail.com/news/thailand-s-national-women-s-football-team-makes-historic-entry-into-world-cup-finals-37896
MCOT, "Thailand's national women's football team makes historic entry into world cup finals," pattaymail.com, 24 May 2014.
[14] http://www.fifa.com/womensworldcup/teams/team=1884203/index.html
Fifa Women's World Cup 2015 – Profile: Switzerland, fifa.com
[15] http://www.fifa.com/womensworldcup/teams/team=1882883/index.html
Fifa Women's World Cup 2015 – Profile: Sweden, fifa.com
[16] http://en.wikipedia.org/wiki/Pia_Sundhage
[17] http://epe.sagepub.com/content/6/1/91.short
Fasting, Kari & Pfister, Gertrud, "Female and Male Coaches in The Eyes of Female Elite Soccer Player."