L'eau
Eau de robinet
L'eau du robinet n'est pas potable au Brésil. Si de l'eau en bouteille n'est pas disponible, on peut bouillir l'eau du robinet pour environ une minute. Dans un restaurant, on doit commander de l'eau. [1] La plupart des restaurants servent uniquement de l'eau minérale en bouteille. Les bouteilles d'eau sont moins chères aux supermarchés.
Les boissons non alcoolisées
Vitamina de abacate ("le smoothie")
Ce smoothie mélangé (appelé vitaminas en portugais) est fait avec de l'avocat, du sucre et du lait. Au Brésil, l'avocat est considéré comme un fruit et est souvent sucré (plutôt que d'être utilisé comme un ingrédient salé). [2]
Guaraná Antartica
Bien que vous puissiez trouver des produits Coca-Cola et d'autres boissons gazeuses typiques, choisissez de boire le Guaraná Antartica, une boisson brésilienne avec la saveur de guaraná (une plante brésilienne). Guaraná a été liée à l'amélioration cognitive en raison de sa caféine. [3]
Agua de coco ("l'eau de la noix de coco")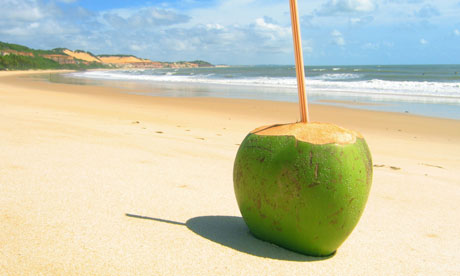 Cette boisson classique brésilienne vient de noix de coco réelles que l'on trouve le long des plages (avec des noix de coco vertes ayant plus de liquide que les mûres). Demandez des noix de coco qui sont gelado– cela signifie froid en portugais!
Caldo de cana or garapa ("le jus de sucre")
Garapa signifie «jus de sucre » en portugais et il fait de cannes à sucre pelées qui ont été liquéfiées  "par une machine de pressage." La boisson contient « entre 40% à 50% de la saccharose," donc préparez-vous à consommer beaucoup de sucre. [4]
Chimarrão ("le thé")
Une expérience culturelle autant qu'une boisson, Chimarrão est un thé spécial qui est partagé entre groupe d'amis. "Le thé est passé autour d'une tasse de métal … et tout le monde boit." [5] Cette boisson est plus fréquente dans le sud du Brésil.
Les boissons alcoolisées
Les bières brésiliennes
Bien qu'il existe beaucoup de bières au Brésil, les plus typiques sont Antartica, Brahma et Skol. Cependant, pour ceux qui cherchent à voyager "hors des sentiers battus,"essayez Indica IPA, qui est faite dans une brasserie à Saõ Paolo. Une autre bière artisanale est « Devassa's Tropical Red Ale, » qui peut souvent être trouvée dans les restaurants et bars de Rio de Janeiro. [6]
Porradinha
Bien que n'étant pas la plus chic des boissons, porradinha est une boisson populaire parmi les jeunes brésiliens. La boisson a une demi-tasse de cachaça (une liqueur brésilienne faite à partir de jus de canne à sucre), et un peu de soda. Puis, on doit "couvrir la tasse avec votre main…et frapper la table" et regarder "le volume de la boisson … croître rapidement" et vous la buvez en une gorgée. [7]
Batida
C'est un smoothie alcoolique (fait avec cachaça) qui utilise une varieté de types de fruits et jus de fruits. Choisissez une saveur et les vendeurs vous feront une boisson personnalisée juste en face de vous.
Caipirinha
Sans doute l'une des plus célèbres boissons brésiliennes (et le cocktail national), caipirinha est un batida qui est faite avec cachaça, du sucre et du citron vert. La boisson est dérivée d'une recette populaire qui a été utilisée pour les malades de la grippe espagnole et comprenait à l'origine de l'ail et du miel. [8]
---
[5] "Chimarrão – The Gaúcho Way to Drink Erva-Mate." Flavors of Brazil (blog). Accessed December 8, 2013. http://flavorsofbrazil.blogspot.com/2010/03/chimarrao-gaucho-way-to-drink-erva-mate.html.
[6] Cliff and Natalie. "Brazilian Beer — 5 Brazilian Breweries You Should Know About." Pasture Braised (blog). Accessed December 8, 2013. http://pasturebraised.com/libations/brazilian-beer/.
[7] Rowe, Laurena. "8 Brazilian drinks you didn't know about." MatadorNetwork (blog). Accessed December 8, 2013. http://matadornetwork.com/nights/8-brazilian-drinks-you-didnt-know-about/.
[8] McCormack, Ben. "History of Caipirinha." Squared Meal. Accessed December 8, 2013.  Web.
Comment citer cette page : "Les boissons traditionnelles brésiliennes (sans alcool et alcoolisée)" Écrit par Rosa Toledo and Vinay Kumar (2013), World Cup 2014, Soccer Politics Blog, Duke University,  http://sites.duke.edu/wcwp/world-cup-2014/world-cup-2014-fan-guide/francophone-version/les-attractions-touristiques-au-bresil/les-boissons-t…-et-alcoolisee/  (accessed on (date)).
Retourner à la page précédente