Overview
Brazilian cuisine varies greatly by region. Its colonial history added diversity to its food. Many distinct eating experiences are offered by Brazilian restaurants. For example, Churrascaria is a very typical type of Brazilian barbecue that is a staple in the country. In most parts of Brazil, the churrasco is roasted with charcoal; however, in southern Brazil, embers of wood are used. This type of cooking was inspired by the way ranchers cooked in the early 1800s. The ranchers would then slice thin pieces of meat onto each person's plate. [10] The communal/buffet component of the churrascaria is an important part of the experience. If you are in Rio de Janeiro, a recommended churrascaria to visit is Porcão, which features an all you can eat meat and buffet. As an alternative, fixed price dining options exists as well.
Ten Authentic Dishes
Açaí
This superfood berry has made waves in the United States and around the world for its nutritional qualities; however, the berry is native to South America and Brazil. [1] Try it in fruit bowls and smoothies or make a granola bowl with honey.
Brigadeiro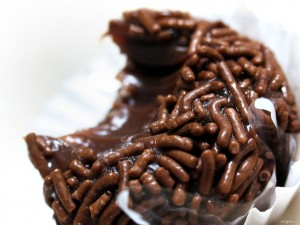 Allegedly created in the 1920s, brigadeiro is named after Brazilian politician Brigadeiro Eduardo Gomes who was an Air Force general (and enjoyed the snack). The candy is essentially a chocolate truffle that is made with condensed milk and covered in chocolate sprinkles. The women who supported Gomes' presidential campaign in 1945 sold the sweet in fundraisers. [2] Although the campaign was unsuccessful, the name stuck with the dessert.
Coxinha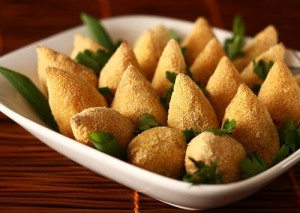 A famous salgados or savory snack for any time of day, coxinha ("chicken thigh" in Portuguese) consists of shredded chicken meat that is typically fried in batter. The name describes the shape as it is typically molded to look like a chicken leg.These are easy to find on the street and are a quick and economical snack before the game. [3]
Farofa
One of the most popular side dishes in Brazilian cuisine, farofa is a smoky, salty combination of flour and bacon that vary by recipe. The dish is most commonly eaten with meats and is meant to accentuate the flavor of the grilled meats. [4] When you go to a churrascaria, make sure to order this with your meats.
Feijoada
For a heartier meal that is more similar to a stew, try feijoada. This meal is a typical Portuguese dish that consists of beans with beef and pork. The word feijão is Portuguese for beans. [5] This stew is typically eaten with rice or sausage sides and has an extremely strong following. Some consider this to be the national dish of Brazil.
Pão de queijo
Literally meaning "cheese bread," this snack uses a unique type of flour (yuca or cassava) which gives it a texture unlike typical bread. The dough is known for its elasticity and the recipe does not have a leavening process.
Requeijão
This Brazilian cream cheese is often used on toast in the morning. It is generally a loose, ricotta-like cheese spread. [6] Be sure to try this on a variety of foods and even use it as a dip.
Quindim
This popular Brazilian baked dessert consists of sugar, egg yolks and ground coconut. It is most similar to custard and is extremely popular around the country. The name is very interesting as it comes from a Bantu language and meant "the gestures, or demeanor, or humor characteristic of adolescent girls." [7]
Queijo minas
Brazil has several cheeses that will satisfy cheese lovers. This one is made from cow's milk and can be found fresh, slightly matured or matured. The matured cheese is known as curado and can be found in dishes such as pão de queijo. [8] The fresh cheese is typically not used in cooking and is a delicacy.
Rabanada
This is Brazil's version of "french toast." This dish is most popular around Christmas time; however, it can be found for breakfast year round. It comes from a 15th century recipe that was supposed to be a recovery from childbirth. [9] Similar to french toast, the bread is soaked either briefly or overnight in custard and then lightly fried and sprinkled with cinnamon sugar.
---
[5] Flavors of Brazil. "The Origins of Feijoada – Another Urban Legend is Debunked." Flavors of Brazil (blog). Accessed December 6, 2013.
http://flavorsofbrazil.blogspot.com/2010/03/origins-of-feijoada-another-urban.html.
[6] De Cunha, Juliana Alves. "'Requeijão' – Brazilian Cream Cheese." Brazilian Food with a Twist (blog). Entry posted May 27, 2013. Accessed December 7, 2013. http://brazilianfoodwithatwist.blogspot.com/2013/05/requeijao-brazilian-cream-cheese.html.
[7] Schneider, T. John (1991). Dictionary of African Borrowings in Brazilian Portuguese. Buske Verlag. p. 254.
[8] Ribeiro, Patricia. "Quiejo Minas – Minas Cheese – Definition of Queijo Minas." About Brazil Travel. Accessed December 7, 2013.
http://gobrazil.about.com/od/brazilianfooddrink/g/minascheese.htm.
[9] Díaz-Cañabate, Antonio (1963). "Historia de una Tavern", Sec: "Las torrijas" Southern collectors, 4th Ed No. 711, pp :19-23
[10] The Grill from Ipanema. "Churrascaria History." The Grill from Ipanema. Accessed December 7, 2013. http://seattlegrillfromipanema.com/about/history.
How to cite this page: "Traditional Brazilian Food" Written by Rosa Toledo and Vinay Kumar (2013), World Cup 2014, Soccer Politics Blog, Duke University,  http://sites.duke.edu/wcwp/world-cup-2014/world-cup-2014-fan-guide/anglophone-version/exploration-away-from-the-pitch/traditional-brazilian-food/ (accessed on (date)).