Written by Austin Ness in 2013
Edited by Camil Craciunescu in 2015
Attacking Midfielder, #10, 24 Years Old

As the World Cup of 2018 approaches, the people of Russia and its adored football team will prepare financially, physically, and mentally for this momentous occasion, a chance to show their national pride and unity. Russia will not only be looking to make it as far as they can in the tournament, they want to show the world that they deserve a spot among the world's best footballing cultures. Now, in 2015, Russia not only seeks to establish success after a chaotic campaign in Brazil, but consistency to build on into their spot in the limelight.
After the summer of 2012, the Russian football association hired Fabio Capello to become the manager of the team, and only two years into his reign he has already signed an extension to stay through 2018 [1]. Over the next 5 years, Capello will be in charge of integrating talented young players such as Aleksandr Kokorin and Denis Cheryshev into the senior team. Without a doubt, however, Russia's most promising player for the future is Alan Dzagoev. Already considered a veteran of the national side, Dzagoev is only 23 years old, and should be in his athletic prime when Russia hosts the world's biggest competition in 2018.
Alan Dzagoev (pronounced "Cha-Goh-Ev") was born in June, 1990 in Beslan before the fall of the Soviet Union. His parents had moved from what is now the country Georgia, settling down in the North Ossetia-Alania region of present day Russia. He joined a local club at a young age before he and his family moved to Vladikavkaz, the capital of North Ossetia-Alania. There, he joined another youth team before leaving to attend the Konoplyov football academy at age 15. After only a year, he signed with the Akademiya Tolyatti club in the second league of Russian football, before eventually signing with CSKA Moscow in the Russian Premier League in 2008 [2].
Dzagoev's progress from relative obscurity to playing for one of the biggest clubs in the country was surprising, but his success at CSKA Moscow so far in his career has been shocking in comparison. He was only 18 years old when he signed with the club, and although the team regarded him as a promising prospect, the expectations weren't extraordinarily high for his first year in Russia's biggest league. Dzagoev, however, shocked everyone with a tremendous first campaign. He scored 29 goals in 13 appearances, and registered three assists in CSKA's 5-1 league win against city rivals Spartak Moscow [3].
After winning the Best Young Player of Year award for his stellar first year at CSKA, Dzagoev has proved to be a consistent performer. Over five seasons with the team, he has accumulated 44 goals, including crucial strikes in European play against teams like Inter Milan and Manchester United [3]. Playing attacking midfield, Dzagoev's play is similar to that of English and Chelsea player Frank Lampard, who Dzagoev says is one of his role models. He possesses a great engine on the field and good pace, and can provide incisive, accurate passing playing behind the striker, while also providing goals at crucial moments.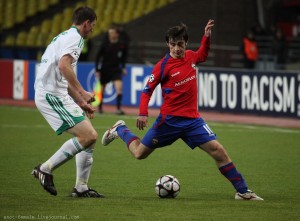 Image Courtesy of http://www.flickr.com/photos/ekaterina_photos/4137223512/
Unfortunately, Dzagoev was sidelined with a thigh muscle injury suffered in September 2013 [4]. He therefore missed a significant part of Russia's qualifying campaign for Brazil, and while his position in the starting lineup doesn't seem to be in jeopardy, he needed to come back strong, stay healthy, and regain his prior form in order to be ready for the tournament. The Russian national team's recent history since their shock run to the semifinals of Euro 2008 has been disappointing, and they needed Dzagoev at this best in Brazil in order to progress through the tournament.
After Euro 2008, Russia was drawn into a 2010 World Cup qualifying group with re-emerging world force Germany [5]. Their ensuing second place finish was almost inevitable; however, the following two-leg playoff defeat to Slovenia and their complete failure to qualify was completely unexpected. Dzagoev had earlier made his international debut against Germany in October 2008, but hadn't played a significant role in the qualification process [6].
Although Russia qualified for Euro 2012, the pattern of failing to meet expectations continued. Out of the four groups in the preliminary stages of the tournament, Russia undoubtedly drew the weakest one. To move onto the next round, the team only had to finish second or better in a group consisting of Poland, Czech Republic, and Greece. Before their last group game, Russia had a group-leading four points; a draw against Greece would be enough to progress, and a victory would cement first place. Just as Russia seemed to be on the verge of making a run in the tournament, they played completely flat against Greece en route to a 1-0 defeat. In combination with the Czech Republic's win, Russia placed third and once again failed to progress when expected [7].
Dzagoev, only 21 years old during the tournament, was hardly at fault for Russia's disappointing exit. He scored twice in emphatic fashion in Russia's opening win, and added a third in their game against Poland to tie with 4 other players for the tournament's top scorer. His high-octane performance over the first two games failed to carry over to the third against Greece, but this could be said about the rest of the team [7].
http://www.youtube.com/watch?v=jgB_y4RFl_c
To avoid further disappointment in Brazil, Russia would have to look to seasoned internationals such as goalkeeper Igor Akinfeev, striker Alexander Kerzhakov, midfielder Igor Denisov, and midfielder and captain Roman Shirokov to lead them to success and to advance out of a manageable group consisting of Belgium, Algeria, and the Republic of Korea. Dzagoev, too, will be an exciting player to watch, but looking ahead to 2018, his importance to Russia is magnified. All of the above mentioned players will be between 31 and 35 years old by 2018, with the exception of Dzagoev at 27. He will probably be the only one of the group to be playing in their athletic prime during the 2018 World Cup.
Unfortunately, the Russian team played out a dour World Cup in Brazil and were eliminated from their group with a third place finish. Their first game against South Korea in Cuiabá saw them fall behind midway through the second half when goalkeeper Igor Akinfeev produced an absolute howler to fumble K H Lee's long range shot into his own net. An atrocious South Korean defensive routine would later allow Russian striker Alexandr Kerzhakov to equalize. The Russians were further disappointed in their second game against Belgium in Rio de Janeiro as they spurned a number of good opportunities throughout the game only to fall victim to Divock Origi's 88th minute winner. These first two results meant that Russia had to defeat a strong Algeria team in Curitiba to ensure a spot in the knockout round. An early Alexandr Kokorin header looked enough to put them through until Islam Slimani equalized via header in the 60th minute despite protests from Russian keeper Akinfeev that he was getting a laser flashed in his eyes on the incoming free kick.
As it seems, Alan Dzagoev did not have much of an impact at all on Russia's grim World Cup run. His play time was a particularly disappointing feature: he came on in all three group games as a second-half substitute and didn't register a goal or assist.
Click here to return to the Players to Watch home page.
Continue to the first profile – Group A – Brazil: Neymar
Group H – Algeria: Saphir Sliti Taider
Group H – Belgium: Vincent Kompany
Group H – Republic of Korea: Sung Yong Ki
Click here to return to the UEFA page.
Learn about Russia's National Anthem
How to cite this article: "Russia: Alan Dzagoev" Written by Austin Ness (2013), World Cup 2014, Soccer Politics Blog, Duke University, http://sites.duke.edu/wcwp (accessed on (date)).
Works Cited:
[1] Yorke, Graeme. "http://www.dailymail.co.uk/sport/worldcup2014/article-2508316/Fabio-Capello-set-sign-new-year-deal-Russia-head-coach.html." DailyMail. 16 Nov 2013: n. page. Web. 10 Dec. 2013. <http://www.dailymail.co.uk/sport/worldcup2014/article-2508316/Fabio-Capello-set-sign-new-year-deal-Russia-head-coach.html>.
[2] "Alan Dzagoev." espnfc.com. ESPN. Web. 1 Dec 2013. <http://espnfc.com/player/_/id/117351/alan-dzagoev?cc=5901>.
[3] "Alan Dzagoev." <http://en.wikipedia.org/wiki/Alan_Dzagoev>.
[4] Cowper, Sian. "Team News: Alan Dzagoev back from injury for CSKA Moscow." SportsMole.com. 10 Dec 2013: n. page. Web. 10 Dec. 2013. <http://www.sportsmole.co.uk/football/viktoria-plzen/champions-league/team-news/team-news-dzagoev-back-from-injury-for-cska_123449.html>.
[5] "World cup misery for Russia in Slovenia." Ria Novosti. 19 Nov 2009: n. page. Web. 10 Dec. 2013. <http://en.ria.ru/sports/20091119/156896522.html>.
[6] "Alan Dzagoev." <http://en.wikipedia.org/wiki/Alan_Dzagoev>.
[7] http://www.uefa.com/uefaeuro/season=2012/matches/