By: Michael McAloon
In Collaboration With: Nat Cooney and Jan Maceczek
The Task, Its Projected Impact, and Its Costs
The infrastructure project required to host the 2018 FIFA World Cup includes 292 construction jobs, including the creation or overhaul of 12 stadiums, 113 training grounds, 62 hotels, 11 airports, municipal facilities and transport infrastructure. [1] FIFA drives a hard bargain when it comes to its infrastructure requirements, demanding among a litany of other things that the minimum capacity of each of 12 stadia be 30,000 spectators and that an airport should be located no further than 100 kilometers from the venue.
The outlook from Russian officials has been positive in the media, with many stressing the ways in which the infrastructure project will spark the Russian economy and leave a lasting impact on regional development. According to Vitaly Mutko, Russian Minister of Sports and Chairman of the Russia 2018 Organizing Committee, "There is [no infrastructure program] like this [anywhere else in the world]. Over 1,000 objects have been analyzed. As a result of this work, we chose the optimal scenario of preparing infrastructure under which we have selected only the objects instrumental for hosting such a large-scale event. These objects may yield maximum returns on investments in the long-term and leave a legacy of the 2018 World Cup, contributing to the regional development and economic growth of the country." [2]
The costs of such an undertaking are absolutely staggering, with estimates ranging to upwards of $11.8 billion funded by the federal budget (57.6%), "legal entities"–a category including investment from both private and state-run entities (28.8%), and regional government budgets (13.6%).[3] According to Igor Nikolaev, the director of the Institute of Strategic Analysis at FBK (Russia's leading national audit and consulting group), the amount to be spent on the World Cup exceeds the annual federal spending on health care by 15-17%.[4]
This all comes in a country with little money to spare. Between 2014 and 2016, prices for crude oil–the crux of the Russian economy–slid from $108 to under $30. Western sanctions in response to Moscow's annexation of Crimea and aggressive meddling in eastern Ukraine "almost entirely dried up international funding for Russian companies, banks, and the government." The value of the Russian Rouble has been sliced nearly in half, GDP is shrinking (albeit not drastically), and the annual percent change on real disposable income per person has been in the negative since the end of 2014.[5]  Most Russians get by on less than $500 a month, while, according to ESPN's Garry Kasparov, "the oligarchs buy English football teams and Miami condos."[6]
Cost Overruns, Kickbacks, and Corruption: A Case Study on the World Cup's Dark Side
In late Spring 2017, the 69,000 seat Krestovsky Stadium, a Japanese-designed arena nicknamed "the spaceship," opened in St. Petersburg. The stadium is really something special, at least from the outside. Just take a look at it here: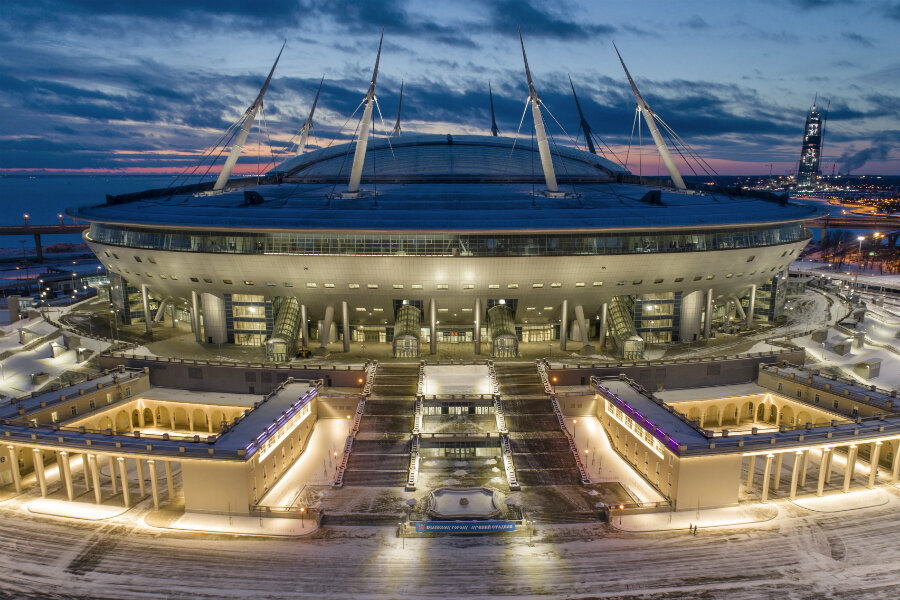 The problem, however, is that "the spaceship" arrived eight years behind schedule, 540% over budget, and plagued by corruption. Scandal has surrounded the project since construction began in 2007, and The Economist has gone as far to call it a symbol of corruption in Vladimir Putin's Russia.[7] In late 2017, former deputy governor of St. Petersburg Marat Oganesyan admitted to charges that he orchestrated the fraudulent payment of $850,000 for a display screen contract at the stadium. In exchange for kickbacks, Oganesyan arranged for a friendly subcontractor to win the contract knowing that the subcontractor had no intention of using that payment to provide the screens.[8] This is just a drop in the bucket, however, as Russian media quote St. Petersburg officials as admitting that as much as $14 million has "gone missing" from the stadium budget.[9]
The problems associated with such an expensive project are truly appalling. According to Jamal Moustafeav, president and founder of Thinktank Consulting, some of the issues encountered during the construction of Krestovsky Stadium included: [10]
The sudden death of Japanese architect Kisho Kurokawa. Apparently nobody translated his blueprints from Japanese to Russian.
Severe vibrations of the retractable field (reported by FIFA)
The "finished" stadium forgot to include a media center
"Crowd access control issues" (reported by FIFA)
Severe problems with the grass pitch, including an uneven playing surface and sinking holes
A leaking roof that resulted in major flooding
Mold resulting from that flooding
Four confirmed deaths due to safety violations (no investigations launched by the Russian Government or FIFA)
Several worker strikes due to non-payment of salaries (foreign workers deported from Russia as a result)
Cracks in concrete walls after the stadium's "completion"
Key component of retractable roof blown away by the wind
A fire in the stands due to a violation of safety procedures
A crane collapse
Reports from Norwegian football magazine Josimar in March 2017 that at least some of the workers on the project were North Korean "slaves"
I truly never knew that so many things could go wrong in one place. It gets better though. Moustafeav includes a photo comparison of the player changing rooms at Juventus Stadium in Turin and Krestovsky Stadium.
Here's a look inside Juventus stadium, home of (you guessed it) European giants Juventus. The stadium took two years to complete at a total cost of $170 million:
Wow. To be honest, that changing room is one of the most amazing sporting facilities I've ever laid eyes on. If that's the setup for a single team in Italy, the changing rooms for the world's most important sporting event have to be really something special, don't they? Here's a look at the changing room at Krestovsky Stadium, which took 10+ years and a whopping total of $1.7 billion (not a typo) to complete:
That is really just embarrassing for St. Petersburg, for Russia, for FIFA, and for football. It is an affront to the players who play the beautiful game and the fans who watch it. More importantly, it is an egregious offense against the people of Russia, who paid so much for so little. I honestly think the visiting team locker room at 80-year-old Cameron Indoor Stadium here at Duke (a place designed to be uncomfortable for visiting teams) is more luxurious than what Krestovsky has to offer. Keep this in mind before you watch the World Cup Semi-Final on July 10th, possibly featuring an immense matchup like Portugal vs. Brazil, France vs. Brazil, Portugal vs. Belgium, or France vs. Belgium. As an aside, I would be shocked if we see any other than those four teams win the privilege to take a trip to the spaceship, but that's worthy of another article. Just imagine the likes of Ronaldo, Neymar, Pogba, Hazard, Varane, Coutinho, or de Bruyne getting ready for the most important game of their lives in this abysmal little space. The only thing this room would be appropriate for would be a timeout for Luis Suarez after he inevitably does something to warrant the ire of the footballing world.
The Beautiful Game in Chains: Reports Labor Abuse and North Korean 'Slaves' 
According to a June 2017 report by Human Rights Watch, "at least 17 construction workers died and many others faced exploitation and labor abuses while working on infrastructure projects for the 2018 World Cup." The report also claims that FIFA "lacked transparency and failed to demonstrate that its monitoring system had effectively identified, prevented, and corrected stadium labor conditions."[11]
The 17 deaths at World Cup construction sites were documented by Building and Wood Workers' International (BWI), which also identified at least 70 worker deaths during construction for the 2014 Olympics in Sochi. According to Ambet Yuson, general secretary of BWI, the fact that many of the deaths came late in the construction process is telling, as Russia abandoned safety standards in an attempt to meet deadlines. Russia "should know better," he claims, especially in the wake of Sochi where the same problem arose.[12]
FIFA claims its program to monitor worker safety at Russian stadiums is "going beyond what any sports federation has done to date to identify and address issues related to human and labor rights." Although FIFA argues that it brought on a 72% decline in issues involving workers' rights through 58 stadium inspections, it failed to give details about "what kind of labor violations were found, how many workers were affected, and how improprieties were corrected."[13]
According to the HRW report, "workers at six stadium sites were not provided with employment contracts as required by law. Some were not paid at all, received only a fraction of what they were promised, or waited months to receive their wages." Moreover, many workers were frequently forced to work at temperatures as low as 13 degrees below zero despite being inadequately equipped to deal with the cold. Workers lacked the resources to speak up about the conditions they faced and feared retribution from their employers and from Russian officials.[14] As was already discussed, such a condition certainly arose in St. Petersburg, where numerous migrant workers were deported for engaging in a strike. To make matters worse, Human Rights Watch reported that their efforts were frequently hindered by "an atmosphere of intimidation, suspicion and secrecy" on the part of Russian officials.[15]
Quite alarmingly, Josimar, a Norwegian soccer magazine, reported in 2017 that at least 110 North Korean "slaves and hostages" worked on the Krestovsky Stadium project in St. Petersburg. This isn't really a new problem for Russia. There, according to Marzuki Darusman, the United Nations special rapporteur on human rights in the Democratic People's Republic of Korea, tens of thousands of North Korean laborers work in "slave-like conditions,"  and the companies that hire them "become complicit in an unacceptable system of forced labor."[16] More specifically, the Russian Ministry of Labor reported in 2015 that at least 47,000 North Koreans were working in Russia.[17]
According to The Guardian, Pyongyang earns up to $2 billion a year sending workers abroad, mostly to China and Russia. Russia recently signed agreements with North Korea to increase trade and employment of North Korean workers at agricultural and timber operations. Men sent to Russia sign five-year contracts, often working  more than 12 hours per day and earning between $930 and $1120 a month. The Pyongyang regime then takes upwards of 90% of that income for its "national defense" budget, leaving the workers without the means to buy clothing and food.[18]
At Krestovsky site, the 110 North Korean laborers were reportedly employed by the St. Petersburg-based Seven Suns and Dalpiterstroy companies. There, they were forced to work seven days a week, live in inhumane conditions, and sleep in outdated shipping containers through the bitter winter. In November 2016, a North Korean man was found dead in one of the storage containers. The cause of death, according to St. Petersburg police, was a "heart attack."[19]
In a May 2017 letter to nordic FA presidents who expressed concern about the issue, FIFA president Gianni Infantino said, "FIFA is aware of and firmly condemns the often appalling labor conditions under which North Korean workers are employed in various countries around the world," and acknowledged that a November 2016 inspection revealed "strong evidence fro the presence of North Korean workers on the construction site in St. Petersburg."After reporting the issues found to the general contractor, FIFA conducted a further inspection in March 2017 and found no more North Korean workers employed at the site.[20]
While it seems encouraging on the surface that North Koreans were removed from the World Cup site, it's more or less an empty solution. The fact of the matter is that North Koreans worked there for years and didn't draw FIFAs attention until it became a blight on their image in the international press. It's unknown what became of the North Korean laborers, but it would not be unimaginable if they were sent back to their home country and/or worse. In this sense, FIFA may have actually done further damage in trying to clean up its image.
An Overwhelming Burden: Reflecting on Past World Cup Infrastructure Projects 
These examples only remind me of the lasting pain that seems to come along with hosting the World Cup. The tournament's previous two hosts, Brazil and South Africa, faced similar issues with cost overruns and corruption, and the hangover effects of hosting the tournament still plague both nations. In South Africa, the country wound up spending $3.8 billion, 10 times more than initially planned. Maintaining the five stadiums built specifically for the World Cup has proven to be a problem, as most of them struggle to be profitable or even just to pay maintenance fees. Save for a rare event here or there, the stadiums stand barren, colossal reminders of lost opportunity and excess.[21] Instead of hosting the tournament, it is estimated that South Africa could have spent more on essential infrastructure, building upwards of 90,000 homes each year during the same period the country engaged in World Cup infrastructure projects. Instead, South Africa engaged in widespread evictions and tore up shantytowns to provide a better aesthetic for global viewers. In Cape Town, thousands were moved out of their homes and relocated to "Bikkiesdorp," a "sprawling, remote camp consisting of about 1,700 identical metal huts on a wide plain of gravel surrounded by heavy concrete fencing." Around the country, this scenario was replicated many times over.[22]
In Brazil, the World Cup has been credited with causing a sharp decline in economic activity. The Brazilian Central Bank's index of economic activity consistently declined in the years directly following the tournament as the country's labor minister blamed the World Cup for "causing a drastic drop in consumption," that led to less working days and less hiring. While Brazilian employers typically allow workers time off to watch the national team play, the International Business Times reports that Brazil's 12 host cities declared partial holidays during local matches for any team. This, along with lavish spending on infrastructure projects, has been identified as a contributing factor in declining GDP, inflation, and unemployment.[23] Projects like the $270 million Arena de Amazônia in Manus (dubbed the world's most expensive bird toilet by comedian John Oliver), stand as empty reminders to the Brazilian people of the money their government wasted.
Russia had a lot to learn from its two predecessors, but it doesn't seem that they took notes. Instead of building something that could benefit the Russian people in the long-term, the country's officials have engaged in fraud, exploited laborers, blown up the costs associated with infrastructure projects, and likely set the country back for years to come. In July, the tournament's final whistle will end the hostilities on the pitch. A champion will be crowned, the fans will pack their bags, and the eyes of the footballing world will turn away from Russia. The World Cup will not cease to have an effect on the country, however, as its negative effects will live on for years to come.
Return to Corruption and Politics at the 2018 World Cup: Russia Under the Spotlight 
_____________________________________________________________________________
How to Cite this Article:
"World Cup Meltdown: A Look into the Fraud, Corruption, and Economic Strife Surrounding Russia's Infrastructure Projects," Written by Michael McAloon (2018). Men's World Cup 2018 Guide, Soccer Politics Blog, Duke University, https://wp.me/P2Bq6D-8iE
Works Cited: 
[1] Sudakov, Dmitry. "World Cup 2018 to Be Russia's Greatest Economic Disaster?" PravdaReport, Pravda , 22 Oct. 2013, www.pravdareport.com/business/finance/22-10-2013/125968-world_cup_russia-0/.
[2] ibid.
[3] "Russia's 2018 World Cup Costs Grow by $600 Million." USA Today, Gannett Satellite Information Network, 24 Oct. 2017, www.usatoday.com/story/sports/soccer/2017/10/24/russias-2018-world-cup-costs-grow-by-600m/106953076/.
[4] Sudakov, "World Cup 2018 to Be Russia's Greatest Economic Disaster?"
[5] Hille, Kathrin. "Russia's Economy: Challenges Facing Vladimir Putin." Financial Times, 28 Feb. 2018, www.ft.com/content/3aac3faa-1bb6-11e8-aaca-4574d7dabfb6.
[6] Kasparov, Garry. "Opinion: World Cup 2018 and the Ugly Side of the Beautiful Game." ESPN, 27 Mar. 2018, www.espn.com/soccer/fifa-world-cup/4/blog/post/3427563/world-cup-2018-russia-is-the-ugly-side-of-the-beautiful-game-says-garry-kasparov.
[7] "The Cost Overruns on Russia's World Cup Stadiums Are Staggering." The Economist, The Economist Newspaper, 20 July 2017, www.economist.com/news/europe/21725330-they-have-become-symbol-corruption-under-putins-rule-cost-overruns-russias-world-cup?zid=319&ah=17af09b0281b01505c226b1e574f5cc1.
[8] "Court: Former Russian Official Admits World Cup Corruption." USA Today, Gannett Satellite Information Network, 9 Nov. 2017, www.usatoday.com/story/sports/soccer/2017/11/08/court-former-russian-official-admits-world-cup-corruption/107473696/.
[9] Weir, Fred. "Sochi Redux? St. Petersburg Stadium Echoes Battle between Investment, Corruption." The Christian Science Monitor, 16 Mar. 2017, www.csmonitor.com/World/Europe/2017/0316/Sochi-redux-St.-Petersburg-stadium-echoes-battle-between-investment-corruption.
[10] Moustafaev, Jamal. "Case Study – What Happens When Corruption Meets Incompetence – Krestovsky Stadium." Think Tank Consulting, 13 May 2017, www.thinktankconsulting.ca/what-happens-when-corruption-meets-incompetence-krestovsky-stadium.
[11] Longman, Jeré. "Report Finds 17 Deaths and Labor Abuses at Russia's World Cup Stadiums." The New York Times, The New York Times, 14 June 2017, www.nytimes.com/2017/06/14/sports/soccer/human-rights-stadiums-fifa-2018-world-cup-russia.html.
[12] ibid.
[13] ibid.
[14] ibid.
[15] ibid.
[16] Luhn, Alec. "'Like Prisoners of War': North Korean Labour behind Russia 2018 World Cup." The Observer, Guardian News and Media, 4 June 2017, www.theguardian.com/football/2017/jun/04/like-prisoners-of-war-north-korean-labour-russia-world-cup-st-petersburg-stadium-zenit-arena.
[17] "North Korean Slaves Allegedly Building Key Russian World Cup Stadium." The Moscow Times, 31 Mar. 2017, themoscowtimes.com/news/north-korean-slaves-building-key-russian-world-cup-stadium-57602.
[18] ibid.
[19] ibid.
[20] Luhn, Alec. "'Like Prisoners of War'"
[21] Lob, Emilie. "South Africa Struggles to Maintain World Cup Legacy." Voice of America, 18 Oct. 2012, www.voanews.com/a/south-africa-struggles-to-sustain-world-cup-legacy/1528895.html.
[22] Hurst, Alexander. "Economic and Social Impact of the World Cup on South Africa." Read.Be.Read, 11 Feb. 2017, rbrpublishing.com/2017/02/11/economic-and-social-impact-of-the-world-cup-on-south-africa/.
[23] Clark, Meagan. "Brazil's World Cup Hangover: A Shrinking Economy." International Business Times, 6 Dec. 2015, www.ibtimes.com/brazils-world-cup-hangover-shrinking-economy-1659890.