Written by Brian Koh
Manager
Lars Lagerback and Heimir Hallgrimsson
  Iceland is led by joint coaches, Lars Lagerback and Heimir Hallgrimsson. Lars Lagerback already experienced a successful joint coaching in the early 2000's with Tommy Soderberg in Sweden – Sweden made the knock-out stages for both 2002 World Cup and 2004 EURO. Iceland hired Lars Lagerback in 2011 to lead the indoor-kids generation. 2011 was the year Iceland started to rise in international stage. Heimir Hallgrimsson, the former manager of Iceland joined in 2013 and so far, experts are saying that the team is working quite well. Iceland, under these coaches, was just one match short to qualify for 2014 Brazil World Cup.
Lars Lagerback is looking to retire soon. Another reason Iceland has chosen to have joint coaches is to draw a bigger picture for the future. Heimir Hallgrimsson, a native Icelandic manager, will learn from his experience with Lars Lagerback and continue on to become the chief manager by himself after the tournament. Eventually, he will become the first and only Icelandic manager with an experience in a major international tournament. Of course the qualification to EURO for the first time in the nation's history itself is already being called a miracle. However, it would also be interesting to watch how far this rising team could go with more experience looking forward.
Style of Play
Iceland usually plays the classic 4-4-2 diamond formation, a not that popular formation nowadays. However, Lagerback's Iceland can be flexible with their formation depending on its opponent. For example, when Iceland was playing against the Netherlands in the qualifying stage, the formation they used was 4-2-3-1. With more players in the center midfield, Iceland was able to put even more pressure on the Netherlands and eventually succeeded in winning both games against them.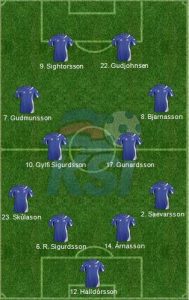 (Two different formations used by Iceland. 4-4-2 and 4-2-3-1)
Iceland is not a team with high reliance on few star players. The team's scoring distribution is well spread out. They focus on composed build-up plays starting from their four-backs, which brings diverse attack routes.
Strengths
Highly organized midfield with great amount of pressure
Low reliance on star players
Young squad
Weaknesses
Lack of star scorer who can change the momentum of the game
Inconsistent performance
Young squad (can be a double-edged sword)
How to cite this page: "Iceland: Strategy and Tactics", Written by Brian Koh(2016). European Cup 2016 Guide, Soccer Politics Blog, Duke University, http://sites.duke.edu/wcwp/tournament-guides/european-cup-2016-guide/underrated-teams-of-euro-2016/iceland/iceland-strategy-and-tactics/ (accessed on (date)).