Written By: Patrick He
Manager
Ante Cacic
Croatia began its Euro 2016 qualification campaign under Niko Kovac, who had captained the national team until his retirement in 2009 and had coached the Croatia U21 side from 2012-13. While qualification began well for the Croatian side, Kovac found his contract terminated after drawing against Azerbaijan and losing to Norway. As president of the Croatia Football Federation, Davor Suker said, "No one imagined this day before Baku and Oslo. The result is always the main guideline and it is crucial for Croatia to reach EURO 2016. We hope to overcome this crisis and see a major tournament in France once again. No coach can guarantee success, but we hope to find the right person and win the remaining two matches. Niko Kovač accepted this decision as a gentleman" ("HNS Terminates Niko Kovac's Contract" 1).
Ante Cacic, the current manager of the Croatian national team, was then appointed head coach on September 21, 2015 ("Ante Cacic" 1). Cacic was born on September 29, 1953 in Zagreb. Unlike many other coaches, Cacic did not play professionally, and in fact, he attended the University of Zagreb, where he received his UEFA Pro License and began his career at Prigorje Markusevec. For much of his career, he coached in the lower leagues of the Croatian leagues, though he did lead both Inter Zapresic and Dubrava to the Croatian First Football League. Cacic's greatest coaching success to date has been leading Dinamo Zagreb to the domestic double in 2012 and qualifying for the Champions League group stage. However, his career did not last long at Dinamo Zagreb, and Cacic was sacked in November 2012 ("Ante Cacic" 1). Cacic's appointment as manager of Croatia was controversial, as he has had little experience at such a high level, but the choice seems to have paid off so far, as Croatia won the final two games of qualification, moving from third in its group to second, securing an automatic spot in the Group Stage.
Style of Play
Under Cacic, the Croatian team has played with both a 4-2-3-1 formation and a 4-1-4-1 formation. The two are similar in that they both have one center forward, three central midfielders, and two wide players. Both formations rely on having a midfield triangle, which can keep possession by passing among itself. When attacking, up to seven players can comfortably press up the pitch. The fullbacks can support the wide midfielders by pushing up, leaving one defensive midfielder and the two center backs to remain on defense. However, the wide players have to be cognizant of the threat of a counterattack, which can happen if they press too high. In addition, it is important that the wide midfielders support their fullbacks on defense.
The 4-2-3-1 tends to play with a central attacking midfielder. The two deeper midfielders can both be holding midfielders, or they can more complementary, with one being a deep-lying playmaker. To maintain a midfield triangle, a holding midfielder can push forward into a more advanced role. The CAM often wears the number 10 shirt, and is the creative attacker of the team. He is responsible for making passes and through balls in order to supply the striker with opportunities. Good dribbling and vision are also key in the role, and the ability to take shots from long range is useful as well.
       4-2-3-1 formation       
The 4-1-4-1 looks similar to the 4-3-3 formation, except that the wide players sit deeper. This formation is versatile and flexible, because it can quickly swap into a 4-3-3, 4-2-3-1, or even a 4-4-2. Moreover, there is a lot of flexibility in the types of midfielders that can be used. While a defensive holding midfielder is necessary in virtually every formation, the two more advanced central midfielders can range from box-to-box midfielders to more attacking-minded number 10s. Moreover, with just one substitution, the team can switch formations; taking off one of the central midfielders in exchange for a CAM can change the formation to a 4-2-3-1, and pushing the wingers further up and putting on a passing-minded midfielder can create a 4-3-3.
       4-1-4-1 formation     
Strengths
With lineup that includes Rakitic, Modric, Perisic, and youngsters Halilovic, Kovacic, and Brozovic, Croatia boasts one of the strongest midfields at the Euros. Assuming they are fit, Rakitic and Modric are near-guarantees to make the starting lineup, and while the opposing team will know what they are capable of, it does mean they will be able to do anything to actually stop them. Both players are creative playmakers, able to make key passes and dribbles to break down opposing defenses. Moreover, Ivan Perisic and Mario Mandzukic are both effective attackers. Perisic is strong at cutting in for a shot on goal, while Mandzukic is a poacher inside the box and is particularly effective in the air.
On the defensive end, veterans Darijo Srna, Danijel Pranjic, and Vedran Corluka should be able to shut down opposing attacks effectively. Meanwhile, younger talents like Tin Jedvaj are likely to have an opportunity to shine. Croatia's fullbacks (Srna and Pranjic) are both attacking-minded players, meaning they will be able to support the wingers and play crosses into the box for Mandzukic.
Overall, Croatia have an abundance of experienced players that have played in previous World Cups and European Championships. Many of them, like Modric, Rakitic, Mandzukic and Perisic, are in their prime, and this is likely to be their last best chance to showcase their skills internationally.
Weaknesses
While Croatia's midfield does not lack creative talent, the team lacks a physical, defensive-minded presence. In its qualifying match against Malta, Josip Pivaric played in the holding role in a 4-1-4-1. However, he is a fullback and is not a long-term solution to the problem. Against Bulgaria, Croatia played in a 4-2-3-1 with Luka Modric and Mateo Kovacic sitting deeper and Ivan Rakitic serving as the CAM. However, this lineup lacks balance, and against opposition of the highest class, Croatia's center backs will not have sufficient support. One option that Croatia could explore more is the use of Milan Badelj, who plays for Fiorentina. He served in the holding midfield role against Azerbaijan and is probably one of the better options for Croatia, though he is still far from ideal. Ultimately, Croatia lacks a natural holding midfielder, because when the fullbacks attack, the center backs need to push farther wide to cover the space, leaving a spot in the middle that is crucial for a holding midfielder to occupy. This problem is illustrated below.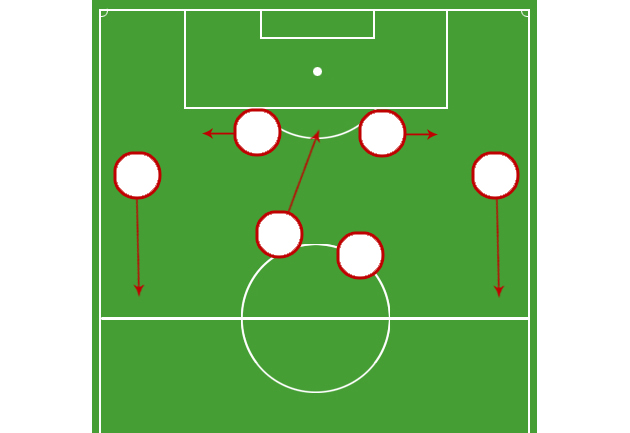 (Tighe 1).
Croatia's other weaknesses is that it does not have many wingers. While Perisic plays on the left wing, he operates more like a center forward, cutting in to shoot. This is reflected in his club statistics, where he scores twice as often as he assists ("Ivan Perisic" 1). Players that Croatia has used recently include Nikola Kalinic, who is a natural center forward, and Marko Pjaca, who naturally plays on the wing but lacks experience. This is a significant problem because Croatia's key striker, Mandzukic, requires good crosses into the box to realize his full potential. Thus, the fullbacks will be forced to assist with crossing, meaning Croatia could be exposed to counterattacks.
How to cite this page: "Croatia Strategy and Tactics", Written by Patrick He(2016). European Cup 2016 Guide, Soccer Politics Blog, Duke University, http://sites.duke.edu/wcwp/tournament-guides/european-cup-2016-guide/underrated-teams-of-euro-2016/croatia/croatia-strategy-and-tactics/ (accessed on (date)).