Written By: Patrick He
Key Players
As discussed before, Croatia has a number of players that are all integral to the squad. However, it would be unfeasible to include all of them, so below are three players that are most likely to have the biggest impact in Euro 2016 and who have been in the greatest form.
Luka Modric (CM)
A 30-year-old playmaker, Luka Modric has won the Champions League, UEFA Super Cup, FIFA Club World Cup, and the Copa del Rey with his current club, Real Madrid. He has been instrumental for both club and country, serving as one of the creative presences on the pitch.
Modric was born on September 9, 1985, in Zadar, Croatia. He began his senior career at Dinamo Zagreb in 2003, where he stayed until 2008, winning three league titles and two cup titles ("Luka Modric" 1). At the end of the 2007-8 season, Modric transferred to Tottenham Hotspur, where he initially had trouble adjusting to the physicality of the league. Following a knee injury, he was labeled a "light-weight" (Smith 1). While at Tottenham, he played in several roles, including in the No. 10 role as well as on the left wing. He resumed playing in his more favored central role following the appointment of manager Harry Redknapp. On August 27, 2012, Modric transferred to Real Madrid. He started off poorly and was initially considered one of the worst signings of the season. However, towards, the second half of the season, his form began to improve as he adapted to the La Liga style of play, and his influence on the pitch increased. During the 2013-14 season, he became one of the key midfielders at Real Madrid, and maintained a 90% pass accuracy ("Luka Modric" 1). Since then, Luka Modric has remained one of the most important players at Real Madrid, and many of the club's losses have coincided with Modric's injuries.
Modric's strengths include passing, dribbling, long shots, vision, and defensive pressing. He often plays long balls, averaging 4.3 per game, while still maintaining a pass accuracy of over 90% ("Luka Modric's Profile" 1). He is able to pass the ball with the outside of the boot accurately, giving him more versatility in direction when making passes. Modric also does well under pressure, which can be attributed to both his dribbling abilities as well as his mental composure. On the pitch, he can often be seen drifting in and out of tight spaces, making it hard for the opposition to dispossess him. This will be particularly important for Croatia if they are to dominate possession in their games this summer, because not only is Modric unlikely to be caught out in possession, he will also be able to position himself in a way to play the most effective pass. Finally, Modric is good off the ball as well, finding space behind the opposition or positioning himself in a way that a teammate can pass the ball back to him. Because Modric tends to play as a deep-lying playmaker at Real Madrid, he also makes defensive contributions, constantly pressing the opponent and cutting off passing lanes. Below is an example of the presence Modric has on the pitch in a game against Bayern Munich, where, despite his low number of total passes made, he ensured his side had quality possession throughout the game. Each pass he made was thoughtful, decisive, and accurate, with several starting counterattacks in the eventual 4-0 win.
(Johnson 1).
Modric's main weaknesses are related to his lack of defensive ability. While he contributes as best he can, at just 5'9", he lacks a physical presence in the midfield. He will not be winning aerial duels or making significant tackles for the most part. However, given his strengths in other areas, this will not trouble the Croatian team, which will have to find other players to complement Modric's weaknesses. In addition, Modric will not be a major source of assists for Croatia. While he is a playmaker, he does not play far enough up the pitch to be whipping in crosses or playing direct balls to the center forward regularly. What he will contribute, however, is the key pass right before the assist, as well as the tempo of the game. Below are some of Luka Modric's highlights from the 2015-16 season.
(Mr Bundesteam 1).
Ivan Rakitic (CM)
Like Luka Modric, Ivan Rakitic is a key creative presence in the Croatian midfield. He has won every major club trophy, including the Europa League with Sevilla in 2014 and the Champions League, Copa del Rey, and La Liga title with Barcelona in 2015.
Ivan Rakitic was born in Mohlin, Switzerland, on March 10, 1988. Though he lived much of his early life in Switzerland, Rakitic's father is from Croatia, and his mother's family is of Bosnian Croat origins. As a result, despite playing for the Switzerland U21 team, he opted to play for the Croatia national team when called up by Slaven Bilic in 2007. He began his career with FC Basel in 2005 until transferring to FC Schalke 04 in 2007. In January 2011, Rakitic moved to Sevilla, where he immediately became a member of the Starting XI. Throughout his 3.5 seasons at Sevilla, Rakitic continued to improve, before ending the 2013-14 season with 15 goals and 17 assists ("Ivan Rakitic" 1). That summer, Rakitic signed with FC Barcelona, intended as a replacement for Xavi. In his 105 appearances for the club since then, he has scored 17 times and assisted 16 goals ("Ivan Rakitic" 1).
Rakitic is one of the most creative players on the Croatian national team. His strengths lie in his passing, vision, set pieces, and shooting. However, unlike Luka Modric, he plays in a more advanced and direct role. While his long passing is accurate, where Rakitic really thrives is when he is directly involved in the attack and can make penetrative passes into the box. This has been shown several times at Barcelona when Luis Enrique wants to increase the tempo and tells his players to make short, sharp passes. As a result, he has many more assists and goals than Modric. Below are some examples of his passing style.
(InMessionante 1).
This contrasts with Luka Modric's style on the pitch, where Modric tends to set the tempo himself, controlling the midfield single-handedly. While Rakitic is skilled in executing operations, Modric tends to oversee operations himself.
Ivan Rakitic's weaknesses are similar to Modric's. As a playmaker, he is not good at defending, and though he will track back to defend and pressure the opponent, his tackles are more likely to be ineffective. However, Rakitic is a taller player than Modric; at 6 feet tall, he is much more likely to win aerial balls in the middle of the pitch.
Overall, Modric and Rakitic will complement each other well at Euro 2016. They occupy slightly different positions but have similar strengths. Both will likely be crucial to creating attacks and providing service to Croatia's attacking minded players.
Mario Mandzukic (CF)
At 6'3", Mario Mandzukic is a towering presence in the Croatian attack. The former Wolfsburg, Bayern, and Atletico center forward, known for being a prolific scorer, has the Bundesliga title twice, the Champions League once, and the Serie A once. He has scored 21 goals over 65 for the Croatian national team ("Mario Mandzukic" 1).
Mandzukic was born on May 21, 1986 in Slavonski Brod, Croatia. He signed his first senior contract with second division Croatian side Marsonia in 2004 before moving to first division side NK Zagreb in the summer of 2005. While there, he developed immensely, attracting the attention of large European clubs like Chelsea and Manchester United. However, he decided to sign with Dinamo Zagreb in 2007, where he often played in the role of second striker. Over 112 appearances for the club, Mandzukic scored 53 goals and assisted 27 goals ("Mario Mandzukic" 1). In the summer of 2010, he signed with Bundesliga side Wolfsburg, where he made an instant impact with 20 goals and 12 assists over two years ("Mario Mandzukic" 1). Mandzukic then signed with Bayern Munich in the summer of 2012, where he continued to start. However, he had trouble adjusting to Pep Guardiola's system, and as a result, he left the club in the summer of 2014 for Atletico Madrid. After one year there, Mandzukic transferred to Juventus, where he has helped his club secure the Serie A title already. At Juventus, despite heavy competition from Paulo Dybala and Alvaro Morata, Mandzukic has managed 13 goals and 5 assists over 33 games.
Mandzukic is a prolific goalscorer who possesses good physicality, versatility, stamina, mobility, and aerial ability. Already a tall player, Mandzukic complements that with his superior jumping and heading ability. Compared to other top strikers, he tends to win a much higher amount of aerial duels.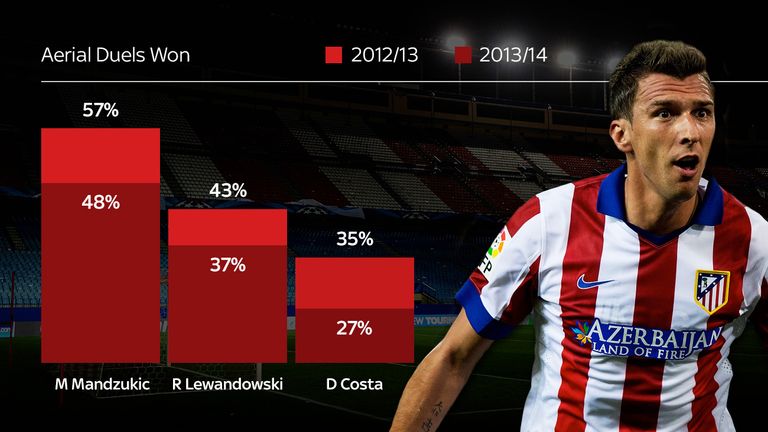 (Bate 1).
As a result, Mandzukic's major contributions to the Croatian side this summer will not just be to head balls at goal inside the box, but also to win knockdowns and hold the ball for the remainder of the team. His physicality and strength will be key to helping the team maintain possession. Someone like Perisic could take advantage of this by making runs behind the defense or by having Mandzukic lay the ball off for a shot at goal. Moreover, Mandzukic is more than just a header of the ball; he finishes well with his feet inside of the box, and he has scored a number of acrobatic goals.
Defensively, Mandzukic will also contribute to the team because of his workrate and stamina. He will be able to consistently put pressure on opposing center backs and potentially help his team win the ball back.
Mario Mandzukic's main weaknesses are his lack of technical abilities. Mandzukic is not the type of player that will dribble through opposing defenses or make runs behind defenders. Having him do so would be a waste of his talents, because ultimately, he plays more like a traditional center forward. That being said, he is not a slow player, and if need be, he can assist on counterattacks with runs as well. Ultimately, despite his weaknesses, Mandzukic should be a significant source of goals for Croatia this summer. Below are five of his best goals from the Bundesliga.
(Bundesliga 1).
How to cite this page: "Croatia Key Players", Written by Patrick He(2016). European Cup 2016 Guide, Soccer Politics Blog, Duke University, http://sites.duke.edu/wcwp/tournament-guides/european-cup-2016-guide/underrated-teams-of-euro-2016/croatia/croatia-key-players/ (accessed on (date)).