I have never played competitive soccer in my life. I have also never played recreational soccer in my life. I have never followed any league or any player at any level of soccer as a fan. Yet, when it comes to naming the rosters and formations of soccer teams, I can converse with almost any fan. How is this possible? EA Sports' FIFA video game.
Due to my avid playing of FIFA, I have learned many of the players, teams, formations, strengths, and weaknesses of footballers. For example, I recently entered a conversation with a passionate soccer fan and someone who does not follow the sport. The soccer-illiterate friend of mine asked the soccer-obsessed friend who was the best player on Chelsea. The soccer fan immediately responded, "Eden Hazard." When I heard his response, I immediately thought back to setting my lineup when I had played with Chelsea in FIFA 15, and remembered that though Hazard was an "88," Costa was a close second at "87." So, I interjected, asking, "What about Costa? Isn't he arguably as good as Hazard?" My soccer-obsessed friend looked surprised at first, and then realized that we had battled in FIFA many times. He nodded in agreement as I explained to my other friend that I based my information entirely on an Xbox video game.
Indeed, FIFA's popularity has taken off in recent years. FIFA has set records since 2013 for the best selling sports video game in the world. Moreover, specifically in America, USAToday wrote an article this past summer proclaiming that FIFA had taken over Madden, an NFL video game, as the most popular sport video game in the US. Many people attribute the growth in the American soccer fan's knowledge to the FIFA video game.
However, the FIFA video game has left a large area of soccer completely untapped: Women's soccer. Particularly in the US, the movement for FIFA to include female players in their existing game or create a new game for the women's leagues has grown. In 2012, a petition against EA Sports on change.org began to gain support.
In the United States, it makes perfect sense for EA Sports to involve female soccer players in some manner. First of all, recent pushes for Title IX requirements in college sports clearly demonstrates the desire for men and women to have equal access to sports and sports fandom. Initiating one of the first women's sports video games would provide EA Sports with amazing press and public relations. Moreover, 40% of American soccer players are female. Furthermore, a recent study disproved many myths about gender and video games as it discovered more females than previously realized play video games. As a result, EA Sports could tap into some untapped demographics by opening the game to female players.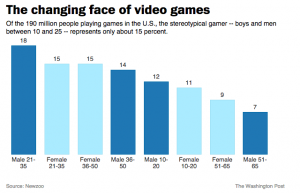 Finally, many Americans have begun to recognize the contrast between the men's and women's national soccer teams. While most people consider it a success for the men's soccer team to make it out of their World Cup group, the women's soccer team has set a standard above that of any men's national team, including Germany, Brazil, and Spain. This American women's soccer team has won two world cups, four Olympic medals, including the past two, and a record-high nine Algarve cups, five more than second-place Norway. Indeed, Abby Wambach is the greatest American footballer of this generation.
Yet, despite the movement's strong support, EA Sports has yet to introduce women into the game. There are some clear reasons, such as logistical. Should the women be able to play the men? If so, who should win? How would EA relatively rate the genders? It is clear that the company would have their hands full with these types of questions. It may be easier for the company to create a new game.
EA has been discussing including women in the game publicly since at least 2013, when producer David Rutter said that they would not be included in FIFA 13, but would be included "soon." Two years later, the company has not advanced the cause. However, the company claims that the delay in the inclusion of women has been due to the desire to ensure that it is "of very good quality, very high value, rather than just an acknowledgement of women in football." They recognize that the Mia Hamm 64 Soccer game, produced by Nintendo for Nintendo 64, was a complete disaster that they would prefer to avoid.
No matter the timing, when EA does finally introduce women to video games, the effect will be profound. Hopefully, by summer of 2016, we will be discussing the squads and formations of the women's teams as the Americans win another gold.