By Kelsey Ontko, Julia Fogleman, and Lucas Nevola
Edited and Updated by Matt Berezo (2013)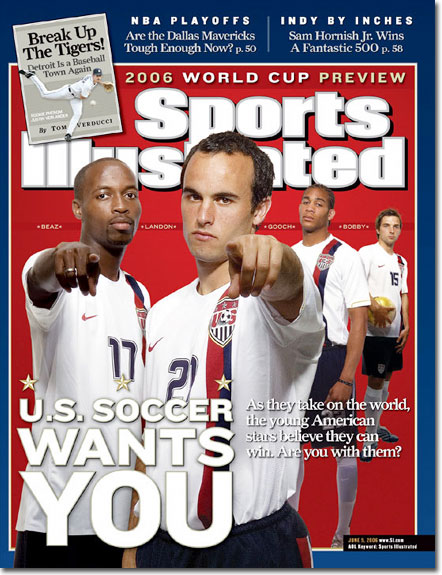 Throughout the late nineteenth and early twentieth century, nations all over the world began the implementation of national sports.  Soccer, known commonly as football to the rest of the world (which further distinguishes America as an anomaly when it comes to soccer), became an international craze, capturing the focus of countries throughout the world, with the notable exception of the United States.  Why was the United States reluctant to adopt soccer into its sports culture?
According Ivan Waddington and Martin Roderick, in each society there is a limited amount of "space" for sports, and once that designated space is filled by one sport (such as football in the U.S.), there is little room for other sports.  They argue that once a particular countries sports fans' conscience is occupied by a sport that is seen as their "national" pastime, there is a diminished capacity for interest in additional sports.[1] Andrei  Markovits argues similarly that in the United States, soccer was "crowded out" by American (gridiron) football and baseball and therefore could not take root in the national culture[2].
Markovits also argues that gridiron football in particular draws upon and expresses a set of values and characteristics that are uniquely American. Since the American Revolution, he argues, the U.S. has strived to distinguish itself as a unique country with democratic principles and capitalistic standards.  Since sport plays such a crucial role in society, the urge to assume a national sport divergent from that of Great Britain ultimately led to the diminished popularity of soccer in America.
Click here to return to the main page on "The Soccer Market in the U.S."
---
[1] Ivan Waddington and Martin Roderick, "American Exceptionalism: Soccer and American Football" The Sports Historian 16 (1996): 49.
[2] A. Markovits, 'The Other American Exceptionalism: Why is there no Soccer in the United States?", Praxis International 2 (1988), 125-150.
How to cite this article: "Why is Soccer Less Popular in the U.S.?," Written by Kelsey Ontko, Julia Fogleman and Lucas Nevola (2009), Edited and Updated by Matt Darlow, Dan Carp, Bryan Silverman and Matt Berezo (2013), Soccer Politics Pages, Soccer Politics Blog, Duke University, http://sites.duke.edu/wcwp (accessed on (date)).