Garrincha faced obstacles that would hold most people back from achieving what he did, let alone having being successful in anything.  His life, although draped in worldwide football distinction, ended abruptly.  He embodies one of the most tragic sports stories of history.  Garrincha rose from the depths of extreme poverty and physical deformation to become one of the greatest Brazilian football players in the country's history.  Rising from nothing, Garrincha found himself playing professionally at the age of 19.  This man was and remains a symbol of hope. Garrincha's life journey was a rollercoaster.  He lived in the worst conditions as well as the best, but the way he lived never changed.  This probably was accountable for his downfall, but one must not forget that it was also responsible for his achievement as well.
After two World Cup championships in 1958 and 1962, Garrincha had very little left to prove.  His status among football gods had been engraved after only five years of international play.  He was known as the best dribbler, not only of his time, but of all time.  In the 1966 Brazil lost the first and only international game with Garrincha in the lineup.  With a 1-3 loss to Hungary, the Brazilian superstar saw his last international competition.  Brazil went on to be defeated without Garrincha, and the reigning champions were sent home in the first round.  Garrincha was called up for this Cup with the knowledge that he was well past his prime.  He played battling a knee injury and out of shape.
Garrincha played a few more years, ending his career officially in 1966. His last time on the pitch was during a farewell game in 1973 in front of 130,000 spectators.[1] Once the spotlight was off of Garrincha's athletic career, the media turned the focus to his personal one.  "Garrincha was portrayed as a charismatic champion, a unique soccer star; seen as a social symbol, he was reduced to his roots, an uncouth peasant who had become a professional player by mere chance, whose behavior was at best that of a simpleton and at worst a case of mental retardation."[2]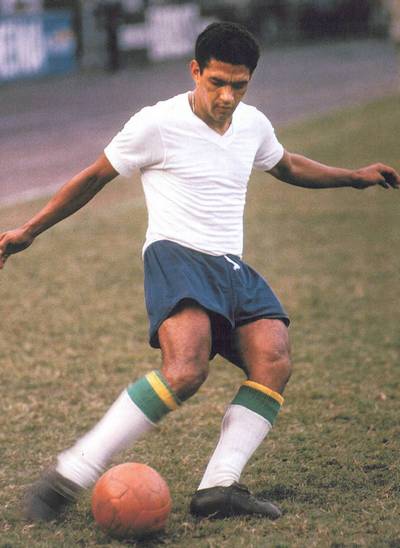 The personal decisions of Garrincha were not accepted by those who praised him just years before.  The media began dive into his personal problems and tried to diminish his status due to his character off the field.  Garrincha was simply alcoholic living a freeloading lifestyle, acting as if there were no consequences for his actions.  He never truly had a chance to mature as a man.  The catalyst that brought him fame and fortune was a game.  He did nothing but play, which never really gave him the opportunity to mature into the responsible person his fans wanted him to be.  He is thought to have fathered at least 14 children, and had a history of mistresses during his marriages.[3] He separated from his childhood sweetheart after having eight children with her for a famous singer.  Garrincha slowly became more and more dependent on others to support him.  He relied on FIFA to provide shelter for him in his waning years.  His image as a world-renowned football star had faded quickly as his disgraceful habits and tendencies for alcohol and irresponsible behavior took over.  As a result of his alcoholism Garrincha caused two serious car accidents, running his father over in one, and then hitting his mother-in-law via car crash, leading to her death.
Garrincha had returned to the environment and activities he was born into.  He was considered by most a premature burn out.[4] After a three-day binge, he was taken to the local hospital under a fraudulent name to avoid heavy press.  Garrincha passed away on January 20, 1983 of cirrhosis of the liver.[5]  He died a predictable death: poor drunk and alone.[6]
After his death the world seemed to ignore all his mistakes in the past few years, overlooked all his wrongdoings and honored him for his accomplishments and the joy he brought through football.  His body was taken to the Maracana soccer stadium on the day of his death.  Crowds of fans, famous players, pop singers waited in line to respect Garrincha for the last time.[7]  On January 21, a day after his death, he traveled on a fire engine to his funeral service.  Ironically, this was the same method of transportation he had experienced a quarter of a century earlier while greeting the public following his 1958 World Cup victory.  Garrincha had returned to glory after his death. Thousands of people who had been touched by Garrincha attended the ceremony, and thousands more waited in the cemetery to see the football legend one last time. The procession to the cemetery, covering only 40 miles, took over two hours by car due to the traffic.  Most celebrities of the time were buried in major cemeteries in Rio, but Garrincha's body lies in an isolated small working class cemetery where it belonged.  The working class is where he entered this world, the working was inspired and awestruck by his art, and the working class are the ones who laid him to rest.  The tone of Brazil on that day is spoken through a sign near Pau Grande that stated, "Garrincha, you made the world smile and now you make it cry."[8]
[kml_flashembed movie="http://www.youtube.com/v/Tk2C4LUvaxc" width="425" height="350" wmode="transparent" /]
Once Garrincha had passed, it seems as though his horrific lifestyle followed him to the grave.  He was not the best of husbands, and certainly not the most fit to raise the number of children that he had brought into this world.  Garrincha knew what he was and what he was not, and so did the world.  He was and is a football icon, with skill comparable to no one.  He changed the world's perception of football and blessed so many with the masterpiece he created on the pitch.  "His death proved to be a dramatic reversal in the slow descending curve of his existence, which had reached its lowest point—a veritable social death—in its last phase, by suddenly highlighting his past triumphs and his status as a legendary figure in Brazilian soccer."[9]
Garrincha, along with providing joy and happiness for everyone but his opponents, also was the root of many people's hope.  He symbolizes an exception to the norm.  His rise to the top transcended his life expectations, bringing to reality a situation of overcoming probability. Garrincha embedded hope of accomplishing dreams in the world.  He was a man of very few words, one who never made a public statement, but instead spoke purely with his body through the game.  This man showed the world that a person with all odds against them can still create magic, and have an impact on millions of people.
______________________________________________________________
[1 Leme de Arruda, Marcelo. "FIFA XI Matches." The Introduction Page of the RSSSF — The Rec.Sport.Soccer Statistics Foundation. Web. 10 Oct. 2009. <http://www.rsssf.com/miscellaneous/fifa-xi.html#men>.
[2] Lopes, José Sergio L. ""The People's Joy" Vanishes: Considerations on the Death of a Soccer Player." Journal of Latin American Anthropology 4.2 (2008): 78-105. Print.
[3] Stevenson, Johnathan. "BBC SPORT | Football | Remembering the genius of Garrincha." BBC NEWS | News Front Page. Web. 09 Oct. 2009. <http://news.bbc.co.uk/sport2/hi/football/7197754.stm>.
[4] Lopes, "The People's Joy" Vanishes, 96, 81, 85
[5] Stevenson, Remembering the genius of Garrincha.
[6] Galeano, Eduardo H. Soccer in sun and shadow. London: Verso, 1998. Print.
[7] Lopes, "The People's Joy" Vanishes, 83.

[8] Lopes, "The People's Joy" Vanishes, 85.
[9] Lopes, "The People's Joy" Vanishes, 86.
Image 1 courtesy: http://www.terra.es/personal2/a930202/garrincha.htm
Image 2 courtesy: http://www.calciopro.com/brasile/garrincha-il-re-del-dribbling/