Han pasado seis años desde que el árbitro marcó un controvertido e inolvidable penal. (Lozano 1) Un penal que devastó los corazones de millones de aficionados mexicanos. Esta injusticia no solo trajo melancolía y rencor, pero fue tan impactante que causó un movimiento mundial. Gracias a las redes sociales, el hashtag #NoEraPenal revoluciono alrededor del mundo en segundos y hasta el día de hoy.
Para los aficionados mexicanos, incluyendo nosotros, el 24 de junio del 2014 fue un dia inolvidable. Estaba sentado en la palapa con toda mi familia haciendo carne asada.  "mexicanos al grito de guerra…" Al momento de empezar, todos con la verde puesta, alegremente cantamos el himno nacional de México. Aunque estábamos a más de 8.000 kilómetros del Estadio Castelao que se encuentra en Fortaleza, Ceará, Brasil, nosotros nos sentíamos como si estuviésemos allí. Nuestra familia era solamente una de las miles de familias que apoyan a la selección mexicana viendo el juego de una forma u otra. Por ejemplo, los vecinos tenían sus chelas bien congeladas, la tele a todo huelo, y las velas prendidas a la virgencita. Anteriormente, México había estado en el Estadio Castelao el año anterior (2013) donde se enfrentó a Brasil para la copa confederaciones de FIFA. (FIFA 1) Ahora, México se encontraba nuevamente en los octavos de final en Brasil listos para enfrentarse a Holanda en la cancha.
En el primer tiempo, ambos equipos no metieron ni un solo gol quedando empatados 0 – 0. Al minuto 48, México tomó la delantera cuando Giovani dos Santos ¡metió un gol! Pasaba el tiempo y la emoción se podía escuchar en la cancha. (ESPN 1) Faltaban cinco minutos y la selección mexicana estaba preparando para celebrar alrededor del Ángel de la Independencia. ¡Llegó el minuto 88 y Sneijder metió un gol! Ambos lados se empezaron a comer las uñas. Se terminó el segundo tiempo y no quedó más que agregar tiempo extra. Cuatro minutos del tiempo extra fue lo que tomo para romper el empate. , el Cuauhtémoc Blanco Holandés, creó un espectáculo al echarse un clavado. (Washington Post 1) El drama de Robben causó la amonestación de Márquez. Si es verdad que hubo contacto, pero Robben pensó que estaba imitando (https://youtu.be/b89CnP0Iq30). (Kalosami 1) Después de un análisis, Proença marcó el penalti inolvidable. ¡El penal que no era penal!
Desafortunadamente, Memo Ochoa no pudo parar el penal tirado por Huntelaar. Todos los mexicanos se agüitaron. Ya casi creaban un lago de lágrimas en el estadio. Estaban tan cercas. Por un pelito avanzaban a los cuartos de final, pero el árbitro comprado decidió regalarles un penal a Holanda. Al contrario, deberían de haber amonestado a Robben por sus actos teátricos. De hecho, al momento que sucedió este penal mal marcado, el hashtag #NoEraPenal inundaba las redes sociales como . (Tinoco 1) (Al pasar los años, no se pudieron olvidar de este pecado. Se crearon , el presidente mexicano lo anunció nacionalmente, nombraron a un bebé "Noé Rapenal", y hasta se hicieron canciones de esta tragedia. (mire Figura 1 & 2) (Ramirez 1) Incluso, se crearon canciones tocantes el penal mal marcado (e.g., https://youtu.be/VUtw1EGMutY). (Marquez 1)
Todo el mundo sabía que México tenía y se merecía la victoria, pero la FIFA no iba a permitir que un equipo latinoamericano le ganara a un equipo europeo en el mundial. De hecho, se volvió a repetir el juego en noviembre del mismo año y México le gano a Holanda 3-2. Hasta el dia de hoy, muchos mexicanos no les ha cicatrizado la herida de ser eliminado del Mundial del 2014. De un punto de vista neutral, declara que si hubo existió la falta y además no se marcó una falta cometida por Héctor Moreno dentro del área durante el primer tiempo. (TUDN 1)
En la copa mundial del 2018 se repitió la historia. Es como un hechizo ante los equipos latinoamericanos. Colombia e Inglaterra habían empatado en el primer tiempo 0 – 0. Al minuto 57, el árbitro les regalo un penalti al equipo inglés poniéndolos en la ventaja. En unos segundos, el renacimiento de #NoEraPenal surgió. Se terminó el segundo tiempo y aun así los colombianos no se dieron por vencido. Con el poco tiempo extra que les dieron, tomaron cada segundo en serio. Colombia no se dejó y alcanzó a meter un gol en el cuarto minuto del tiempo extra. Tristemente, se fueron a penales para desempatar y, otra vez, el equipo europeo continuo a la copa mundial. Asimismo, el árbitro lituano Andris Treimanis repitió lo de Proença. Durante la final del México-Brasil del Sub-21, "marcaron un penal que no era". (mire Figura 3) Eso llevó a que Brasil ganará la final y que los mexicanos dijeran que compraron al árbitro.
Ahora faltan dos años para la siguiente copa mundial (2022) en Qatar. Estamos esperando que se rompa la cadena de triunfos europeos. Las cuatro copas mundiales pasadas las ha ganado Italia, España, Alemania, y Francia.  (FIFA 1) Es hora de que un equipo latinoamericano quiebre este hechizo. Más de media década ha pasado desde que la injusticia se marcó en piedra. En vez de aprender de los errores de uno, los árbitros lo volvieron a cometer.
Figura 1. Meme de "She Wants Da Chorizo. Este meme demuestra una cómica de el tropiezo de Robben a causa de una hojita. (Tinoco 1)
Figura 2. Meme de Daniel Gonzalez. Este meme enseña un acta de nacimiento de un padre de la hincha que nombró a su bebé "Noé Rapenal". (Tinoco 1)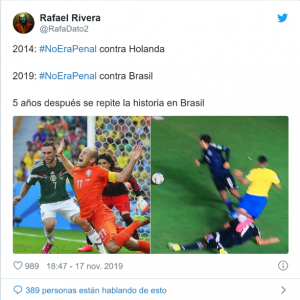 Figura 3. Meme de Rafael Rivera. Este meme enseña la repetición de la tragedia del 2014 en el año 2019. (Marquez 1)
Bibliografía
"A Cinco Años Del 'No Era Penal' ¿Qué Ha Sido De Márquez y Robben?" ESPN, ESPN Internet Ventures, 29 junio 2019, espndeportes.espn.com/futbol/mundial/nota/_/id/5781172/a-cinco-a%C3%B1os-del-no-era-penal-%C2%BFqu%C3%A9-ha-sido-de-m%C3%A1rquez-y-robben
FIFA.com. "2014 FIFA World Cup Brazil™ – Matches – Netherlands-Mexico." FIFA.com, www.fifa.com/worldcup/matches/round=255951/match=300186508/index.html.
"FIFA Men's World Cup History: World Cup Winners, Hosts, Stats." FIFA Men's World Cup History: World Cup Winners, Hosts, Stats | FOX Sports, www.foxsports.com/soccer/fifa-world-cup/history.
Images, Getty. "Arjen Robben Abre La Herida: 'Sí Era Penal.'" Univision, 9 Sept. 2016, www.tudn.com/futbol/mexico/arjen-robben-abre-la-herida-si-era-penal.
Kalosmail, director. La Caida De Edgar. YouTube, 8 mayo 2006, youtu.be/b89CnP0Iq30
Lozano, Luis Esteban. "¿Qué Fue De Pedro Proença, El Árbitro Del NO Era Penal?" ¿Qué Fue De Pedro Proença, El Árbitro Del NO Era Penal?, 30 June 2019, www.msn.com/es-mx/deportes/futbol/qu%C3%A9-fue-de-pedro-proen%C3%A7a-el-%C3%A1rbitro-del-no-era-penal/ar-AADC9cG.
Marquez, Ricardo, director. Eeeerr Puto – Holanda vs Mexico brasil2014. YouTube, 2 July 2014, youtu.be/VUtw1EGMutY
Ramírez, Anel, and El Sol de México. "#NoEraPenal Se Repite La Historia En La Final México-Brasil Sub 21." El Sol De México, www.elsoldemexico.com.mx/deportes/futbol/noerapenal-mexico-vs-brasil-sub-21-final-2019-mundial-se-repite-historia-arbitro-var-memes-4468902.html.
Rivera, Rafael. "2014: #NoEraPenal Contra Holanda2019: #NoEraPenal Contra Brasil5 Años Después Se Repite La Historia En Brasil Pic.twitter.com/D7bEzskMRo." Twitter, Twitter, 17 Nov. 2019, twitter.com/RafaDato2/status/1196213284359290881?ref_src=twsrc%5Etfw%7Ctwcamp%5Etweetembed%7Ctwterm%5E1196213284359290881&ref_url=https%3A%2F%2Fwww.elsoldemexico.com.mx%2Fdeportes%2Ffutbol%2Fnoerapenal-mexico-vs-brasil-sub-21-final-2019-mundial-se-repite-historia-arbitro-var-memes-4468902.html
"So You Think You Can Flop?" The Washington Post, WP Company, www.washingtonpost.com/wp-srv/special/sports/world-cup-2014/dives/#dive/2014-06-29_Roundof16_Netherlands-vs-Mexico_Marquez_Yellow_92.
Tinoco, Armando. "No Era Penal Memes: Mexico Fans Can't Get Over Robben Dive." Latin Times, 11 julio 2014, www.latintimes.com/no-era-penal-memes-mexico-fans-cant-get-over-robben-dive-190631.