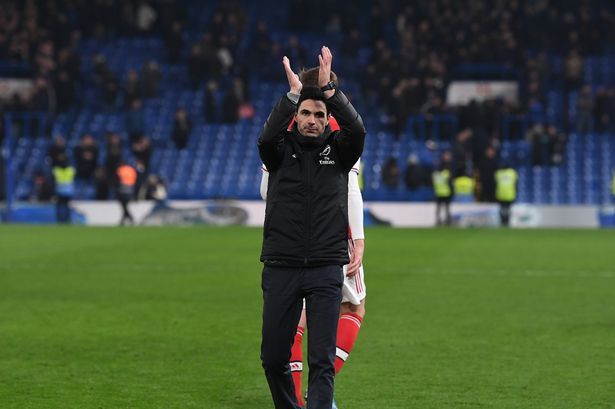 It has been a little over 70 days and 13 games across all competitions since Mikel Arteta took on the role of managing Arsenal. He has the tough job of trying to patch the many holes that riddle the hull of the ship that is Arsenal at the moment. In the short 3 months he's been in charge, already more holes seem to be ready to show up in the near future. Nobody can fairly blame Arteta for the current state of the club, that is the fault of a culmination of factors and no one person in particular. What supporters will speculate about however, is his ability to right the ship. A truth that only time will tell. However, if you ask most Arsenal supporters about him so far, I think you'd get a similar sentiment: Arteta was a good hire.
It is commonly said that numbers don't lie, but in a case like this, I'd argue that they don't tell the whole story. Arteta has actively been the manager for 9 premier league games so far, leading the club to a record of 3 wins, 5 draws, and 1 loss. From this you'd think hiring him has had very little impact on the club, seeing that Arsenal have dropped many points from matches where surely all 3 points should've been had. Yet, if you watch the games, you'd know this isn't the entire truth. There is some argument to be had that Arsenal are still underperforming, which I am absolutely inclined to agree with after the recent Europa League collapse to Olympiakos at home. But the squad under Arteta seems to be a squad showing positive signs of improvement. Besides, Mikel is largely working with the pieces in place from someone else's time in charge.
For starters, it is evident that the players respect his coaching philosophy and they trust him to be the guy to find the club the results it needs. The biggest indication of this shift to me was player attitudes in social media. In general under Unai Emery, players would appear in the media with demeanors that did not show signs of trust or hope for the club. Shortly after the hiring of Arteta, players' outward presences seemed to turn around very quickly. The best example of which is from one of the squad's veterans in Mesut Ozil. As soon as Arteta was appointed, Mesut took to twitter to show his appreciation for his new manager by firing off positive messages for the team after matches against Bournemouth, Chelsea, and Manchester United.
As it turns out, winning over the locker room isn't everything for Arteta. Shockingly enough, winning games tends to be more important in the long term. Even in this regard it is hard to complain with the results. Arteta was brought in after the club went on a winless run under Emery and so just to see that fortune reversed for now is a step in the right direction. With only 1 premier league loss so far coming in a match that Arsenal had an overall good showing in, things could be worse.
Unfortunately for all the Gooners out there, that mindset is the issue. Saying "things could be worse" is another way of saying "eh we're ok" which is accepting mediocrity and is not the Arsenal way. Currently, Arsenal sit at 10th in the premier league, yet only sit 5 points out of a Champions League spot if Manchester City's ban is upheld. Following a heartbreaking exit from the Europa League, qualifying for Champions League via Premier League placement is realistically the club's final hope for this season to end in top flight European Soccer for next season.
It will be interesting to see what this scenario does to motivate both Arteta and his squad for this home stretch of the Premier League.