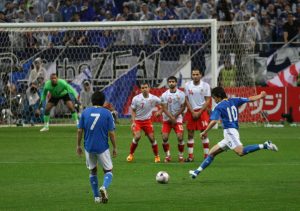 Right now, there is a trend developing in sports. It started in baseball, then made it's way to basketball, and has slowly integrated itself into football. Now, it is making it's way to soccer. What trend is this? Why, sports analytics of course!
What people don't know, is that analytics have been a part of the beautiful game for decades now. A book titled "The Numbers Game" tells the story of Charles Reep, a former Air Force Wing Commander who was tracking play-by-play data for matches, and was a consultant for soccer teams as early as the 1950s. Although it was a bit flawed, Reep determined that a team's probability of retaining possession dropped with each consecutive pass attempt, and that more goals were scored on possessions of fewer than three passes—often on counterattacks. He felt that less passes were better, and he let teams know that.
Although he has been disproven, this way of thinking as early as 1950 is incredible. Reep laid the groundwork for basic analysis of the sport over 60 years ago. Now, the majority of clubs at the top level of soccer have adopted structured analysis processes and hired performance analysts. All 20 Premier league stadiums are equipped with a set of cameras that track every player on the pitch. Data points are collected every second for each player, and will eventually identify every tackle, shot, or pass to gain insight. In training sessions, players wear GPS trackers and other sensors to optimize and analyze their training performance and preparation.
In a new age of sports, clubs are always trying to find some way to get slightly ahead of the crowd. That little nudge can be the difference between winning or losing one match, would and could make all the difference come the end of the season. Teams are now using analytics during practice on the pitch, to making transfer decisions in the board room.
And you know what the craziest part of all this is? Someone was ahead of the game and thought of doing this 60 years ago.
Works Cited
Marr, Bernard. "How Big Data and Analytics Are Changing Soccer." Linkedin. N.p., 25 Mar. 2015. Web. 26 Apr. 2016. <https://www.linkedin.com/pulse/how-big-data-analytics-changing-soccer-bernard-marr>.
Paine, Neil. "What Analytics Can Teach Us About the Beautiful Game." Fivethirtyeight. N.p., 12 June 2014. Web. 26 Apr. 2016. <http://fivethirtyeight.com/features/what-analytics-can-teach-us-about-the-beautiful-game/>.