With an FC Barcelona team that had gone 39 games without losing and a Real Madrid side that had already gone through a change in manager and lost 4-0 in the reverse fixture, Saturday's El Clasico seemed to have already been decided before the match began. In fact, the game started out poorly for Real Madrid, with Barcelona dominating the first 30 minutes with several good opportunities to score. Miraculously, however, despite falling a goal down in the second half and having Sergio Ramos sent off, Real Madrid was able to claw its way to a 2-1 win, namely because of Zidane's choices in tactics and player selection. By analyzing the 4-0 loss earlier in the season, Zidane was able to make adjustments to the team that would be more effective against Barcelona.
Back in the November El Clasico, coach Rafael Benitez opted for a 4-4-2 formation, with only Toni Kroos and Luka Modric as the central midfielders. One of the biggest problems with this was the lack of a defensive midfielder that could cover the back line, freeing up the more creative midfielders. Moreover, with just two central players, Real Madrid found itself overwhelmed by Barcelona's midfield. Below is a picture showing how Real Madrid's line-up left a void in the midfield during the attack (Bird 1).
(Bird 1).
Zidane learned from this mistake, opting for a 4-3-3 formation that included Casemiro, Kroos, and Modric, ahead of both James Rodriguez and Isco. In defense, the formation became more of a 4-5-1, with even Cristiano Ronaldo tracking back to defend.  The inclusion of Casemiro was a game-changer, because he effectively provided cover for the defense and was able to stop both Messi and Suarez. During the attack, he stayed back, giving him opportunities to intercept, tackle, or pressure if the attack broke down. Just as importantly, his defensive role allowed Kroos and Modric to player higher up the pitch, allowing them to make creative plays through passes and runs to better threaten Barcelona.
Tactically, Real Madrid did not press high up the pitch when defending, instead allowing Barcelona to have more possession. This involved all three central midfielders as well as Bale and Ronaldo on the wings. Real Madrid did press occasionally, either with Modric or Kroos, but this was done cautiously. This suffocated the Barcelona midfield, which found it much harder to play effective passes. Barcelona was forced to play more long balls and sideways passes, a massive deviation from its typical playstyle (Arvind 1).
(Arvind 1).
Sitting deeper, Real Madrid became more of a threat on the counterattack, particularly in the second half. Barcelona struggled down the flanks the most, with both fullbacks pressing too far high up the pitch and neither of the wingers providing defensive cover. To make matters worse, Messi played a much more central role, and with the clogged midfield of Real Madrid, his options were hampered severely. This also allowed Real Madrid to play a more narrow formation when defending.  Ultimately, both Bale and Ronaldo were able to take advantage of the space down the wings, linking up with their respective fullbacks in order to attack more effectively.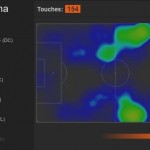 (Arvind 1).
Despite the many positives of Real Madrid's midfield and attack, however, its defense was vulnerable at times, making a number of errors that could have easily gifted Barcelona the game. In the ninth minute, Sergio Ramos failed to deal with a fairly easy aerial ball against Suarez, letting Neymar through on goal. Neymar squared the ball for Suarez, who inexplicably missed an open goal. Throughout the game, he made a number reckless challenges, including in the 26th minute where he appears to foul Messi at the edge of the box (though the referee did not call a foul), and later on in 49th minute where he fouled Suarez from behind, both times already on a yellow card. Ultimately, Ramos was sent off in the 84th minute after receiving a second yellow card for fouling Suarez from behind a second time. This was Ramos's fourth red card in an El Clasico, a Real Madrid record.  Pepe also made some errors, losing the ball early in the second half as well as marking poorly in the 56th minute, leading to Pique's goal from a corner kick.
Overall, Real Madrid played well and deserved its win against Barcelona. Much praise needs to be given to Zidane, who, in his first El Clasico, was able to find a formula that was able to counter Barcelona's main strengths. By crowding the midfield and relying more on effective counterattacks, Real Madrid was able to stop Barcelona's penetrative style that has dominated teams all season.
Works Cited
Arvind, Om. "El Clásico Tactical Review 2016: (FC Barcelona 1 – Real Madrid 2)." SB Nation. N.p., 3 Apr. 2016. Web. 04 Apr. 2016. <http://www.managingmadrid.com/2016/4/3/11353706/el-clasico-tactical-review-2016-fc-barcelona-1-real-madrid-2>.
Bird, Liviu. "Iniesta Stars as Barcelona's Tactics Shut out Real Madrid in Messi's Return." Sports Illustrated. N.p., 22 Nov. 2015. Web. 04 Apr. 2016. <http://www.si.com/planet-futbol/2015/11/21/el-clasico-la-liga-barcelona-real-madrid-tactics-iniesta-messi-ronaldo>.