First, I'd like to say that even if you can't read French this video is worth watching because this sport is hysterical and should be played everywhere and by everyone.
Règles du jeu: 14 joueurs sont enfermés dans des bulles gonflables et sont encouragés à rebondir une dans l'autre quand ils se battent pour la possession de la balle. Deux équipes de sept joueurs sont chacun habillé dans les sphères en plastique avant de courir et tapé dans le ballon.
Bubble Football est un nouveau jeu qui est très drôle où les joueurs de foot jouent à l'intérieur de costumes gonflables de rebond. Ce jeu a été créé par Lee Moseley au Royaume-Uni. Ce nouveau type de football réunit un tout nouveau sens au contrôle de la balle parce que les joueurs s'affrontent à l'intérieur de ces bulles géantes. Le jeu peut coûter jusqu'à £ 400 pour toute la journée avec 14 costumes de bulles. Mais ce jeu est très en demande et un tournoi géant avec 34 équipes aura lieu en Décembre. Les investisseurs qui n'avaient pas vu le potentiel du produit initialement ont refusé Lee. Le fanatique de football a financé le jeu entier avec le soutien de son épouse. Le sport peut maintenant être trouvé à travers le Royaume-Uni.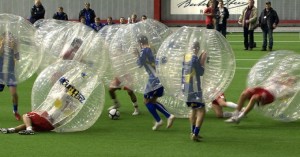 Lee a dit: « Je pense que la première fois que vous jouez, vous êtes un peu inquiet. On va seulement penser que ça va mal quand quelqu'un vous frapper et vous pousser. » Il dit aussi que les costumes de bulles sont très sûrs même si nous voyons que les bulles retournèrent et frappèrent facilement sur ​​leur dos comme les tortues. Apparemment il ne fait pas mal du tout parce que vous êtes dans cette bulle et si vous tombez correctement vous pouvez rebondir tout de suite sur vos pieds. Une des parties les plus difficiles de se remettre en place, c'est parce que vous vous moquez beaucoup d'autres personnes. « Il y a eu des moments différents où cinq personnes sont impliquées dans rebondissant sur l'autre, les gens sont coincés sur leurs têtes où les bulles ont restés à l'envers, son hilarants … Il change vraiment le jeu parce que vous ne pouvez pas établir le contact avec les pieds des gens quand vous arrivez d'abord à la balle, donc vous devez frapper les gens à la place."
Comme le football régulier peut devenir très intense, Bubble Football est censé être plus allègre et drôle. Les règles ont tendance à être beaucoup plus détendu et les gens puissent vraiment s'amuser et apprécier le jeu. Tout le monde devrait l'essayer.
http://www.nydailynews.com/news/world/new-bubble-football-puts-soccer-players-bouncing-inflatable-suits-article-1.1472820