Patrick Viera. Thierry Henry. Zinedine Zidane. The list goes on and on, but these are a few of the more recent bastions of French football that have brought glory to the streets of Paris and the beaches of Marseille, players who were widely considered to be some of the world's best. Viera's power and guile coupled with Henry's wit, agility, and clinical finishing dominated the Premier League at Arsenal, while Zidane dazzled fans, opponents, and teammates alike while climbing to global superstar status at Juventus and Real Madrid, the most storied clubs in Italy and Spain respectively. A World Cup victory in 1998 and Euro Cup glory in 2000 marked the peak of modern day French football. Euphoria stemming from those victories was ephemeral; a disastrous 2002 World Cup, which saw France finish bottom of their group, was cause for warning. The following two snapshots, however, best capture the inception of their decline:
Although France may have vaulted back into relevance during the 2006 World Cup, in part made possible by Zidane's emergence from retirement, the renowned midfielder's vicious, albeit provoked, head-butt of Marco Materazzi shown above rather succinctly quelled any momentum they may have gained by reaching the finals against an Italian side in Berlin, Germany. Since that moment in time, the French national team has underperformed while being marred by such controversies as Henry's deliberate handling of a ball, directly responsible for preventing the Republic of Ireland from World Cup qualification while booking the French side's tickets to South Africa, the dismissal of Nicolas Anelka from the team during a dismal 2010 World Cup performance, training boycotts, further suspensions to stars such as Samir Nasri, Jeremy Menez, and Yann M'Vila for various immature infractions, etc.
Today, France is on the verge of a critical World Cup qualifying tie with UEFA lightweights Belarus. Although not entirely pivotal in terms of securing second place behind a dominant Spanish side, but more so as a morale boost, the French team is desperately in need of a resounding victory. Les Bleus will likely dispose of the last place team in UEFA's Group I, but France's goal drought is more than concerning. Real Madrid striker, and France's number 9, Karim Benzema has not scored an international goal in 14 months, while the team itself has failed to score in 479 minutes—more than five games. These stats are astounding from a team that fields the likes of Franck Ribéry of Bayern München, recently named 2012/2013 UEFA European player of the year, Samir Nasri of Manchester City, the aforementioned Karim Benzema of Real Madrid, and various other stars that are more than capable of turning the tide of any game.
Perhaps there is more unrest in the player ranks. It would not be the first time a French team failed to fulfill its potential due to an unruly dressing room. Or maybe the players have failed to grasp debutant manager Didier Deschamps' footballing philosophy. More alarming is the prospect that Deschamps' philosophy could well fall short altogether. Club success, at Olympique de Marseille in Deschamps' case, of course does not automatically translate into triumphs at the international level. Tomorrow's game against Belarus will provide some limited insight into these issues. Whatever the problem is, France needs to start scoring goals if it expects to compete in UEFA's second round of World Cup Qualifying, which includes eight runners up from the first round of qualifying, likely talented sides such as Croatia, Greece, Sweden, and Montenegro, among others.
As a completely biased Arsenal fan, I say Deschamps should include in-form Olivier Giroud in his starting XI. This listless French side is desperate for change. Utilizing both Giroud and Benzema in a 4-4-2 could prove fruitful, as Giroud's hold up play, ability to win headers, and neat flicks and touches ideally would dovetail with Benzema's running off the ball. If that doesn't work, Les Bleus can always call on the classic covert handball to goal strategy. It worked for Maradona: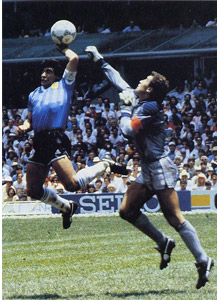 and Henry demonstrated his best impression. Not ethical by any means, but where would the beautiful game be without a little controversy?