A football club cannot be successful without cultivating new young talent to supplement older veterans. This changeover is essential to continue moving forward. Clubs all over the world pay particular attention to developing their future stars for many reasons. If a club nurtures its younger players with the correct support and coaching the result will likely be a successful record on the field along with a healthy balance sheet. The prime examples are FC Barcelona and AFC Ajax, where the core of each team has emerged from the depths of their youth programs at La Masia and De Toekomst respectively. The Ajax youth academy is also prized for having filled the Dutch National team for years, and instilling the approach of "Total Football" in players.
Each has different styles to rearing football prodigies, but the goal is the same, to produce players to play for the first team. Ajax looks at their young players as a business investment, giving them everything they need to succeed and pays particular attention to not wearing their young athletes out for fear of losing their capital.  And they certainly should for they routinely sell players they have trained in their academy for millions of euros. Their academy stresses that development and technique is the key to success. Rarely are wins and losses considered when determining which players will make it to the next level at such a young age.
.
Barcelona begins enrolling players in their academy (pictured above) at age 7, and they follow a rigorous schedule with little time for unsanctioned activities from dawn until dusk. While Spain and the Netherlands let the football tutelage specifically up to the clubs, France also employs a national training center in addition to club academies. These approaches are time proven to produce world class footballers that save their parent club's millions in transfer fees. They have a structured plan to develop players and give them all the tools necessary to achieve. The question is, however, whether they give them the ability to live a normal childhood. People will argue that great players were never normal but what about the children who won't earn World Footballer of the year? One of the costs of the academy system is that the single-minded focus on athletic training can leave players who ultimately don't make it in the professional world without alternative skills or professional options.
For aspiring soccer players in the United States there is no real equivalent to these structured environments. Athletes are largely left to their own devices to figure out how to succeed. That is what I experienced growing up in Pennsyvlania.
I began my playing career like most young American children — in youth soccer. Seriously, is there a handbook somewhere that instructs all parents to enroll their children in youth soccer? It seems like almost everyone played on one soccer team or another during their childhood. But most won't remember the team's name — or the rules of the game for that matter. I, however, found a love for the game and progressed from one local youth select team to the next. First it was a county team, then a regional team, and then my local club team, Leeds United — which later became Pennsylvania Classics.
This is where Zarek and I began playing together at age 11. Although we played many games, it's not clear to me now how many of them were truly worthwhile. We did a lot of traveling with Pennsylvania Classics and other select teams simply to get more practice and more exposure. I also competed for my high school team for three months of the year. That was a great social experience, but it disrupted my practice schedule with my club team. The other select teams were often apart of the  U.S. Youth Soccer Olympic Development Program. In trying to progress towards the highest levels of the game, we tried to balance playing for these different teams as well as Pennsylvania Classics, but it wasn't always easy.
Among players, everyone's goal was to be asked to join the U.S. U-17 Men's national team residency program in Bradenton, Florida. That program was the only place were you could get a high level of training on a daily basis. The program was modeled after the French Football Federation's National Institute of Football at Clairefontaine. You could be scouted for U.S. U-17 team with Pennsylvania Classics at any of the number of tournaments we played in or on any of the various Olympic Development Teams. There was no clear path to attain the ultimate goal so we tried to do it all.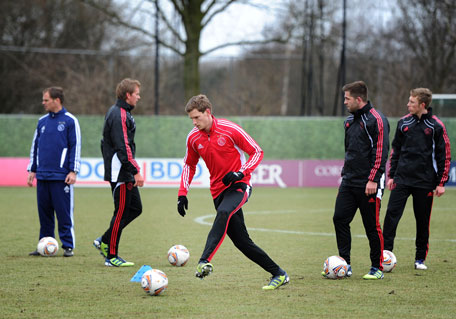 U.S. Soccer finally figured out that players, myself included, were playing way to many games with little meaning. So, they created the U.S. Soccer Development Academy Program; a league that has  78 clubs in the U.S. and Canada and  culminates each year with a National Championship game. The "Development Academy" lays out a structured format for all elite players to compete against each other. It also has a set of guidelines for coaching instruction and puts an emphasis on development over winning games. Players are asked to forgo their other commitments, specifically high school soccer. This eliminates the need to play for multiple teams and allows them to concentrate on one avenue for success. At the same time, as Kyle Martino has noted, while high school soccer may disrupt club practices, it does provide an important avenue for social growth. The question is how to balance a pursuit of a professional dream and a normal childhood. Is it even possible?
My team later joined the development academy and saw a marked improvement in the competition. The Montreal Impact Academy is going to field two teams to join this very league in the coming year in the U-15/16 division and U-17/18.  Outside of the MLS clubs with youth teams in the "Development Academy," there is no direct path for youth players to take to a professional team.
Many MLS clubs are giving their youth players the support and coaching they need but most importantly a clear path to the first team. Youth players can achieve their goal by being offered a Homegrown Contract which allows them to sign for the MLS team without entering the draft. Andrew Lewellmen argues that Homegrown Contracts are the future of MLS as the league looks to capitalize on its investment in youth systems. The Montreal Impact have a very defined youth academy and have already shown that they are willing to sign deserving players to homegrown contracts. Our first team often plays the academy team; this gives them an opportunity to see the level they must attain. The Impact have stated that they modeled their academy off of the famed youth systems in France, Spain and the Netherlands mentioned above  but curtailed it to specifically support the Quebec soccer community. It is set up with soccer schools, U-12 and U-14 teams that compete in the Quebec soccer league. U-16 and U-18 teams that will compete in the U.S. Soccer Development Academy and the U-21 team that will compete in the Canadian Soccer League.  Karl Ouimette is a prime example of progressing through the academy as he is the first Montreal Impact player to be signed to a homegrown contract. Karl signed on June 5th 2012 and he commented that, "Being the first homegrown player is an honor and it is due to all the hard work I did with the academy. It also proves that the academy program trains players to be able to play with the first team." He has certainly proven that the academy is a strong component of any successful club and specifically the Impact.
The club draws players from other Quebec clubs that have close to 85,000 players. The academy has a full time staff that is focused solely on coaching soccer players. Players in the Montreal Academy system have an advantage because they are seen on a regular basis by the coaches and administration of the first team. This would hopefully lead to a professional contract similar to Karl's. Montreal is not the only MLS team with a youth system, every other club has an academy in some form or another. Most recently Toronto FC just unveiled their new academy structure that is looking to compete with the NCAA. In contrast I went to college at Duke University and eventually entered the MLS draft. Things may have been different had I had the opportunity to play for an MLS academy team before college. I certainly would have benefited from competing against better players. Though I do agree with Alexi Lalas, I feel that I was able to mature and grow as a person in college and learned to handle myself for the x number of hours that I was not on the field. I also grew considerably as a player. Could I have grown more if I had played in a less restrictive NCAA regulated environment where a prolonged season replicated a professional season? Possibly, but I will never know. I enjoyed my time in college and think it was a beneficial experience for me, not to mention I value my education. Is college for everyone, clearly not. Each player must figure out what is best for them.
There is no right way to accomplish your dreams but it is hard to argue that MLS academy systems and most European academies are giving players the tools necessary to succeed. What you will see is a movement to the MLS academy system and more and more players will be produced from the academies. The question is are all of these academies the correct balance of soccer and life at such a young age? At the end of the day there is no right answer for everyone, each individual is different and will take a different route to achieve their goals. Talent will always be recognized one way or another.