I've just returned from several days in Cape Town, where I saw the Uruguay-Netherlands game and once again learned the limited power of football to offer up moral clarity. After the Ghana match, I was sure I'd be able to take out all my rage and spleen at the Uruguayans in the next game, savoring their defeat by the Dutch. Then I had a conversation with a ten-year-old stalwart Uruguayan fan on the plane to the Cape, and out went my certainty. Friends lamented that it was once again only going to be European teams at the end, so Uruguay became the last hope of the rest of the world. I didn't particularly lament the Uruguayan defeat, but enjoyed the game mainly because it was quite riveting to watch, smooth, fascinating. And the mood in the town was excellent, if a bit over-orange at times. The fan below, along with several other Dutch fans, had produced a funny kind of hybrid get-up, aiming to combine African and Dutch elements.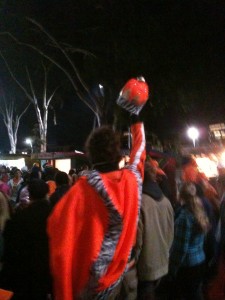 South Africa seems like a bit like a jocular battlefield in the wake of a war between many nations in which almost all are doomed to defeat. Everywhere you go you see bleary-eyed fans of various denuded nations. I couldn't bear to look in the eye of English fans for a few days, and then the same thing happened with Brazil fans and Argentine fans. Now it's the Germans who look red-faced and shattered. The street-side merchants are down to two national flags now. I'm still wearing my twisted Ghana scarf, and you can see tattered flags of all thirty-two nations here and there. But now we have to choose: red or orange?
Obviously the whole thing is structured this way to guarantee the maximum number of people the maximum amount of pain. It's even worse than if we all just supported one national team, since we all keep adopting teams, which then lose in turn. That was the story told to us by some kids at a winery outside the Cape yesterday: they supported Bafana Bafana, then Ghana, with some supporting Brazil too, then Argentina. Germany would win, one told us confidently. "Naw, they're trash, it'll be Spain."
Still, this World Cup has delivered a particularly stunning set of turn-arounds. Argentina seemed on its way far into the tournament — they certainly had me convinced — until they ran into the brilliant Germans, who seemed unstoppable, playing a pleasing football and offering up a different image of Germany to the world and to itself, until they were stopped in turn by a Spanish team we suddenly remembered were predicted to win this Cup. It was a riveting game, perhaps the best of the tournament, with the Spanish seeming to have totally figured out how the German team worked. Holding the ball for several minutes at the beginning was a classic playground trick — you can't get it from me! — that worked wonders. And Puyol must now receive some kind of statue, like the one in the Nike commercial that Ronaldo clearly doesn't deserve.
But it was also particularly hard for those who were excited, as I was too, by the style of the German team, by what it's victory might portend within the country itself. With their elimination, some noted wryly, the only African player left in the tournament — Boateng — is now gone.
Already the end is near. You can feel it here, where a few World Cup themed advertisements on the highway have been replaced with the more perennially useful advertisements for funeral services. One more massive show to end what has been a remarkable few weeks. A time without stressful and exhilirating football looms, beckoning as both relief and silence.